October 6, 2009
Top 5: Quick getaways over the Christmas and New Year holidays
Looking for great options for a short international trip over the Christmas and New Year holidays? Our luxury travel experts have selected five of their favorite destinations.
1.) Marrakesh
A week in Marrakesh promises over-the-top luxury, thriving traditional culture, great shopping and dining, and plenty of outdoor options. We recommend using Marrakesh as base for five or six nights to explore the surrounding area. An excellent private guide is essential in Morocco, and we arrange activities such as in-depth explorations of the ancient medina, Moroccan cooking classes, tours focused on decorative arts, gardens and architecture, and shopping for exquisite tiles, Berber carpets, pottery, lanterns, fashion accessories and house wares. We also highly recommend a day tour to the Atlas Mountains to visit a Berber market, have lunch at a luxury Kasbah, ride camels and perhaps do some hiking or take a hot air balloon ride. Another recommended day tour is to the whitewashed seaside town of Essaouira. We book the city's best luxury resorts–the Amanjena and the newly re-opened La Mamounia–as well as a few select traditional ryads. The resorts are exclusive and decadent getaways in and of themselves, with beautiful Moroccan interior design, gardens, and spas.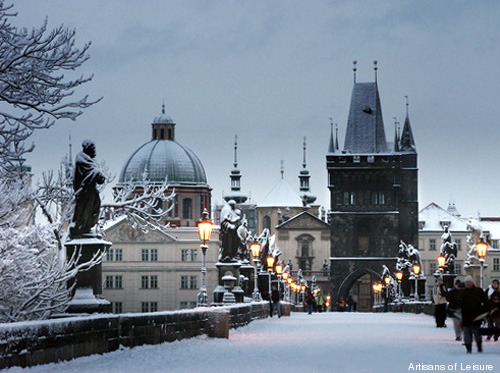 2.) Vienna & Prague
Vienna and Prague are a great combination any time of the year. December is a particularly magical time, when Christmas markets fill town squares with small stands selling handmade wooden crafts and delectable baked goods, streets twinkle with Christmas lights, pedestrians warm themselves with steaming cups of mulled wine and hot chocolate, and a light dusting of fresh snow adds sparkle to the towers of Prague and the palaces of Vienna. Each city also offers interior worlds sure to charm travelers–ornate cafes serving delicate pastries, incredible museums resplendent with art stretching across the centuries, and revered concert halls reverberating with classical music, a highlight of the region. We arrange private drivers and guides for insider-access, hard-to-get tickets at local performances, luxury accommodations, and a private transfer between the cities. A six-day trip, with three nights in each city, is plenty of time to experience the highlights of Prague and Vienna.
3.) Egypt
The mild winter season is an ideal time to tour Egypt, a trip-of-a-lifetime for many travelers. Egypt's most impressive cultural highlights–Cairo, the Pyramids, Aswan, the Nile River and the temples of Luxor–can be experienced in as little as a week (though most travelers opt to spend 10 to 14 days). Traveling with your own Egyptologist and a private driver greatly enhances any tour of Egypt, granting access to sites when the crowds are away, and allowing you to tour at your own pace and according to your interests. Throughout December, travelers can enjoy the spirit of Western-style Christmas and the festivities surrounding Coptic Christmas (celebrated on January 7), such as Coptic holiday music and kahk, special cookies eaten to celebrate the arrival of Coptic Christmas and the end of the fasting that leads up to it. Our "A Week in Egypt" tour is one recommended option, and we also can customize private Egypt tours such as Cairo and Alexandria, Cairo and short Nile cruises, or Cairo, the Pyramids and time at a resort.
4.) Rome
Rome wasn't built in a day, and it can't be seen in a day. A week, however, generally gives culturally inclined travelers enough time to see Rome's most interesting ruins, churches, museums and neighborhoods in a leisurely and in-depth manner, especially when accompanied by our expert local guides. Most attractions remain open during the holidays, and some even host seasonal festivals or construct special Christmas displays. Rome is also a great base for excursions to nearby gardens and ruins, such as Villa d'Este and Villa Adriana (Hadrian's Villa), or farther afield to the timeless landscapes–and great food, wine and culture–of Umbria and Tuscany. The temperature is comfortable over the holidays, and many families particularly enjoy touring the ruins, enjoying the great food, taking a few excursions, and enjoying luxurious hotels such as Hotel de Russie and La Posta Vecchia.
5.) Istanbul
A week is the perfect amount of time to explore endlessly fascinating Istanbul. We love the balance of old-meets-new, and we design tours to emphasize the best of ancient Istanbul (such as the Hagia Sofia, the Blue Mosque, the Harem at Topkapi Palace, and the bustling traditional markets and restaurants) and the city's contemporary culture (art galleries and museums, upscale shops, and fashionable rooftop restaurants).  Istanbul also offers Turkey's best luxury hotels, including urban resorts like the Ciragan Palace and the Four Seasons Hotel at the Bosphorus.
Destinations: Austria, Czech Republic, Egypt, Europe, Italy, Middle East, Morocco, Turkey
Tags: Christmas, Christmas Markets, cities, culture, December, European getaway, family, family travel, festivals, food, gardens, getaways, holiday travel, holidays, interior design, international, January, luxury resorts, luxury travel, markets, New Year, once-in-a-lifetime, ruins, shopping, short trips, spas, tours, travel, trips, vacation, wine