May 15, 2023
Just Back: A Luxury Honeymoon in Morocco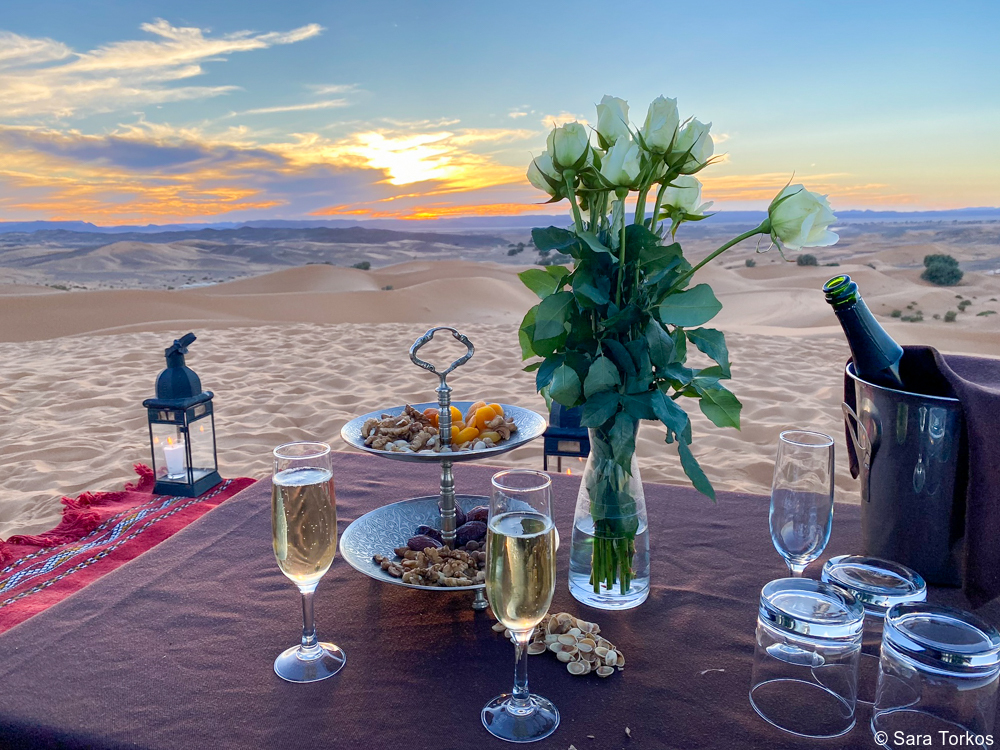 Artisans of Leisure travel specialist Sara Torkos just returned from a luxurious honeymoon in Morocco. We caught up with her to find out about her favorite places and experiences, including cultural touring in historic medinas, active touring in the Atlas Mountains and staying at ultra-luxury hotels and tented camps.
Q: How did you decide on Morocco for your honeymoon?
A: We wanted a good mix of our interests, including in-depth cultural experiences, active touring and luxury hotels with great spas. Morocco had been on our bucket list for a while after hearing so many of our family and friends share how much they loved their travels there. It's also one of our most-requested destinations at Artisan of Leisure, so I wanted to see what all the fuss was about!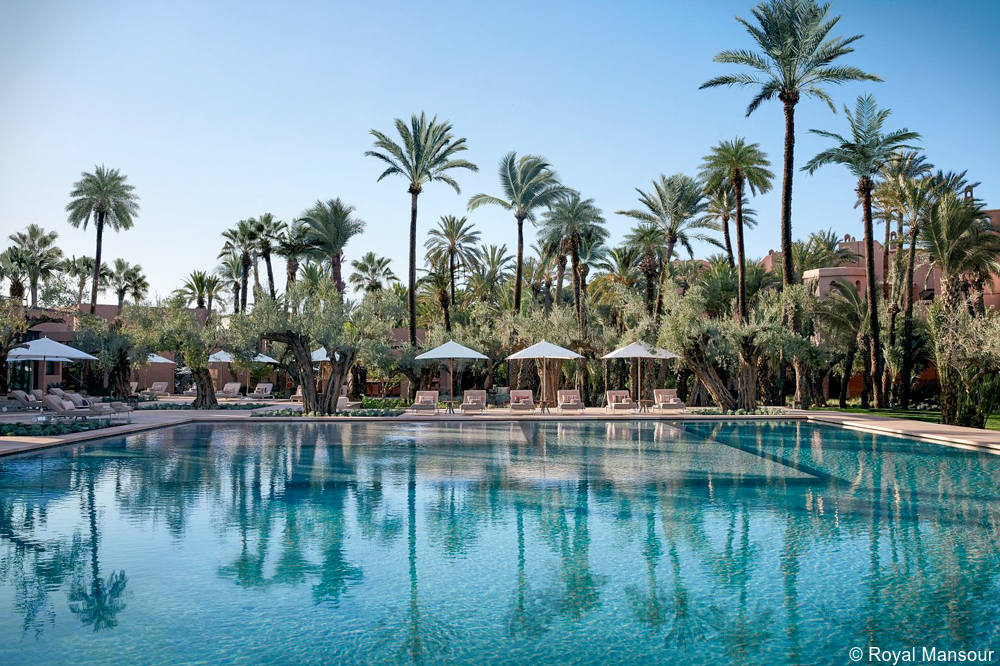 Q: Where did you go?
A: Our itinerary had a lot of variety over two weeks: Fez, the Sahara Desert, the Atlas Mountains and Marrakesh.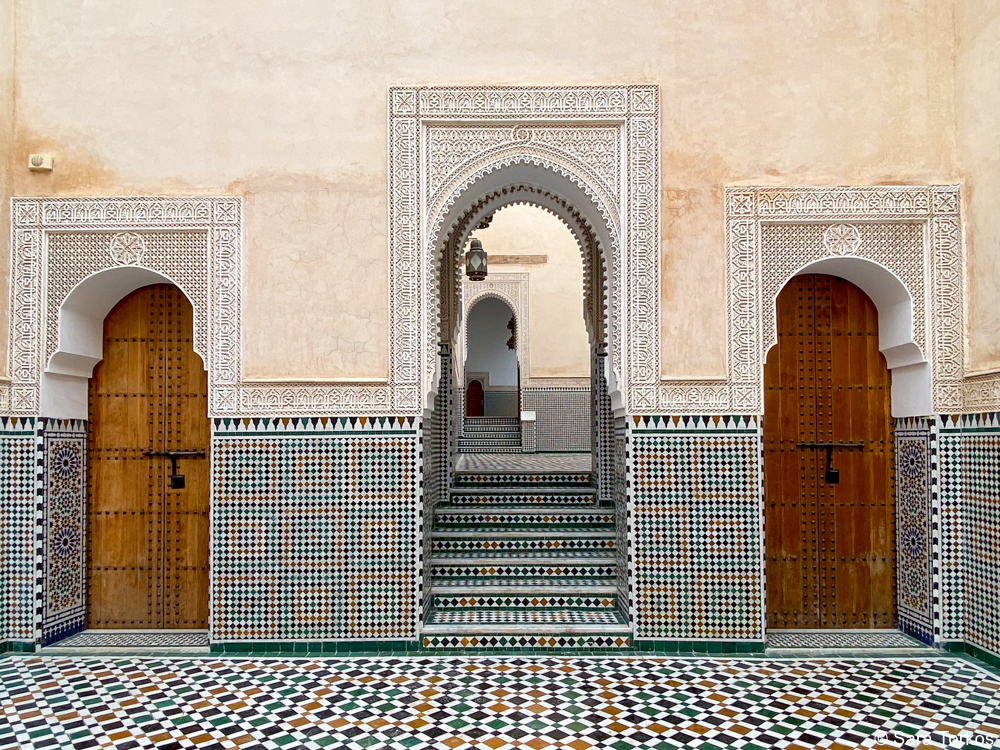 We started in Fez, which was a great introduction to Morocco's history and culture. Fez is known especially for its well-preserved, UNESCO-listed medina (historic center). We loved exploring the medieval streets, browsing the souks and people watching.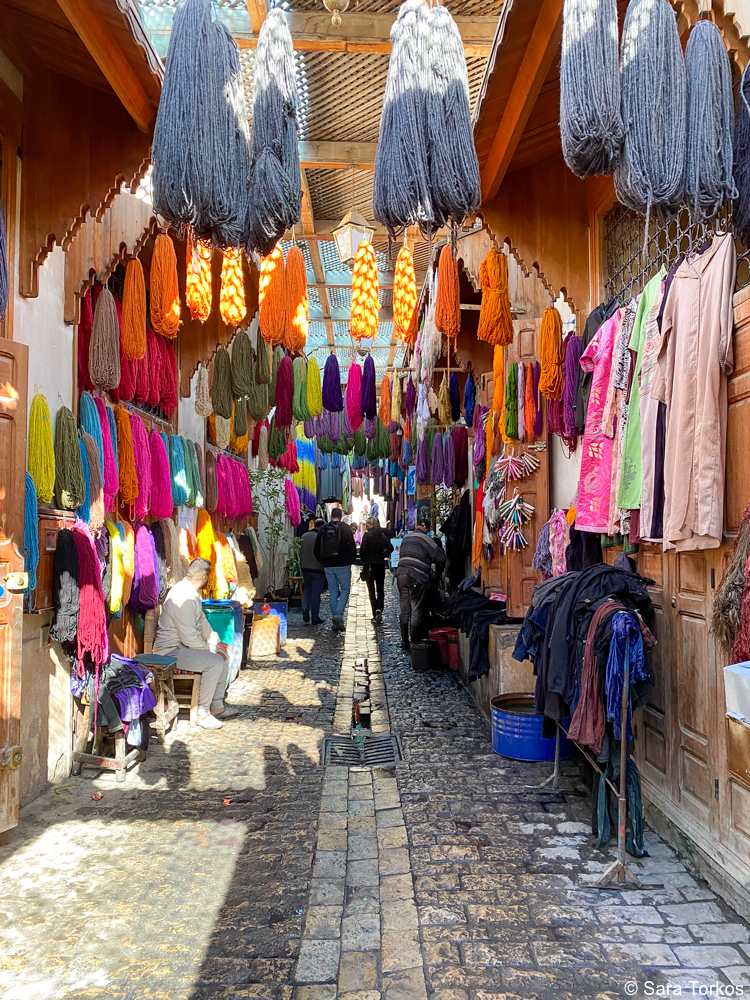 We visited the famous Fez tanneries and the workshops of ceramicists, yarn makers, blacksmiths and metalsmiths.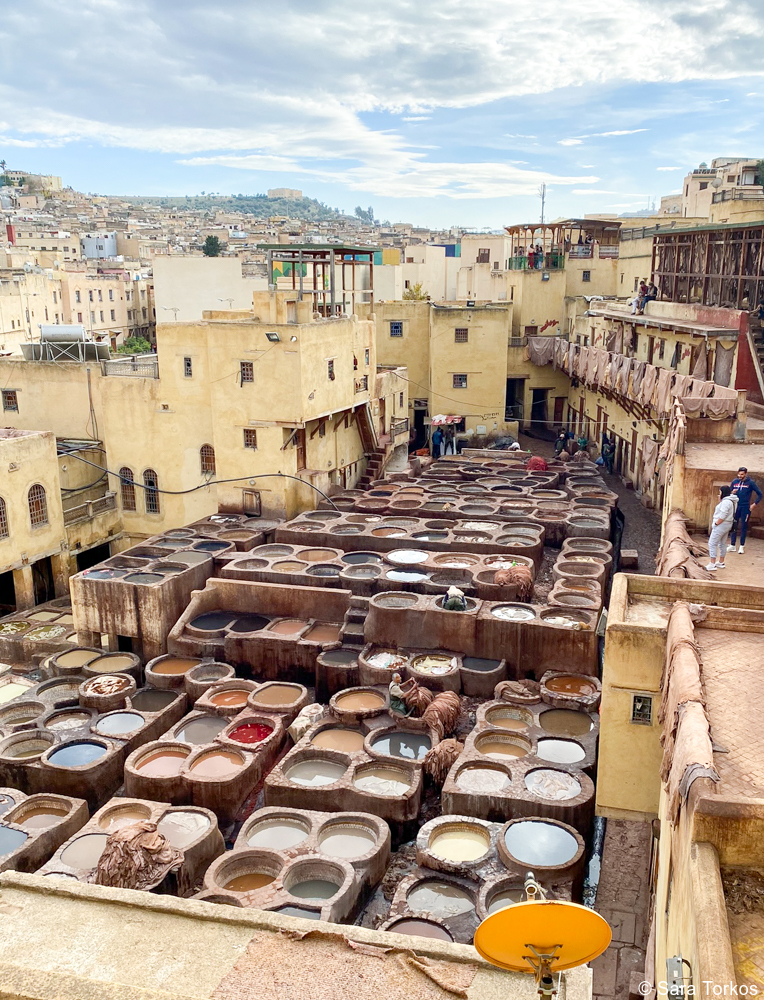 One day, we took a private excursion from Fez to see the ruins at Volubilis, an excavated ancient Roman city that reflects the vast reach of the Roman Empire.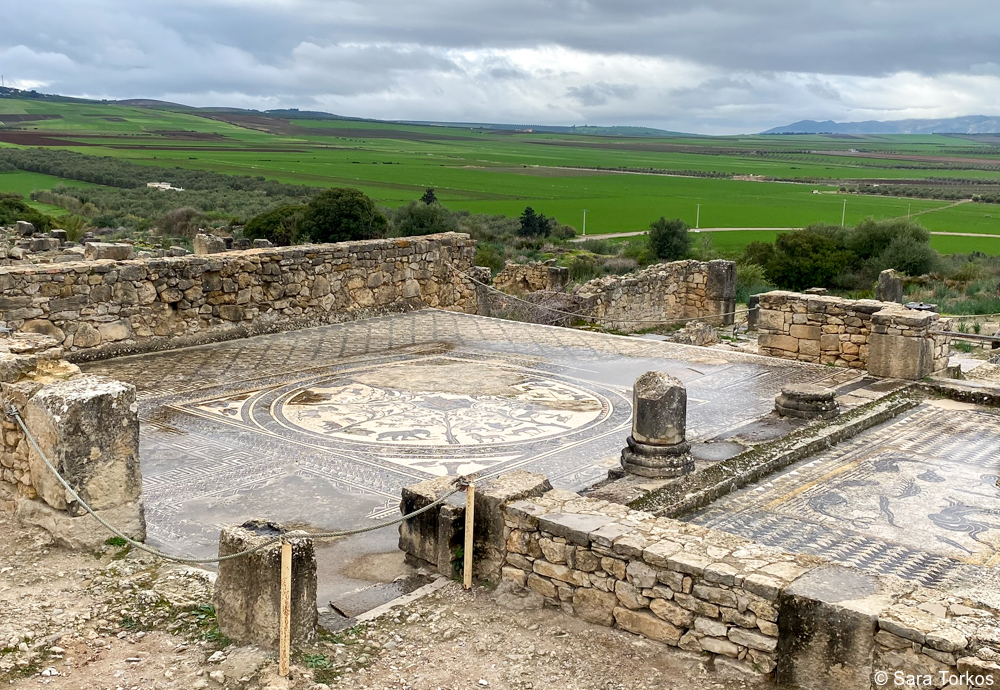 We enjoyed touring the archaeological site and learning about its fascinating history with our private guide. The beautiful, well-preserved mosaics in the ruins of once-grand houses were a highlight.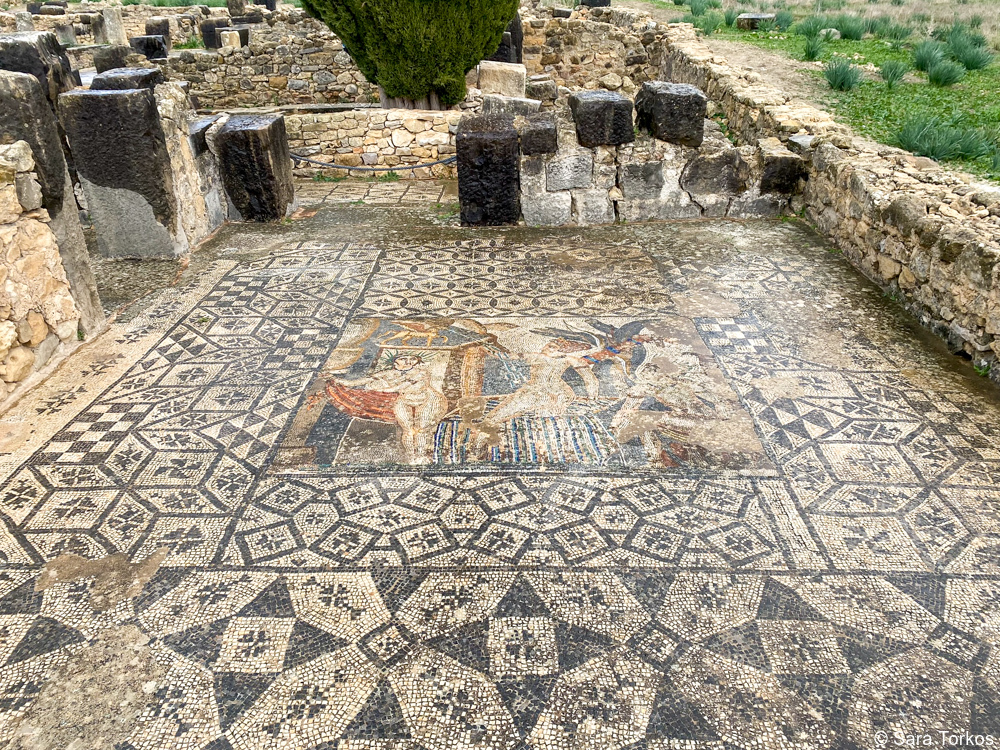 Next, we visited the Sahara Desert, where we took a 4WD to reach our private tent at a luxury camp in the vivid orange dunes.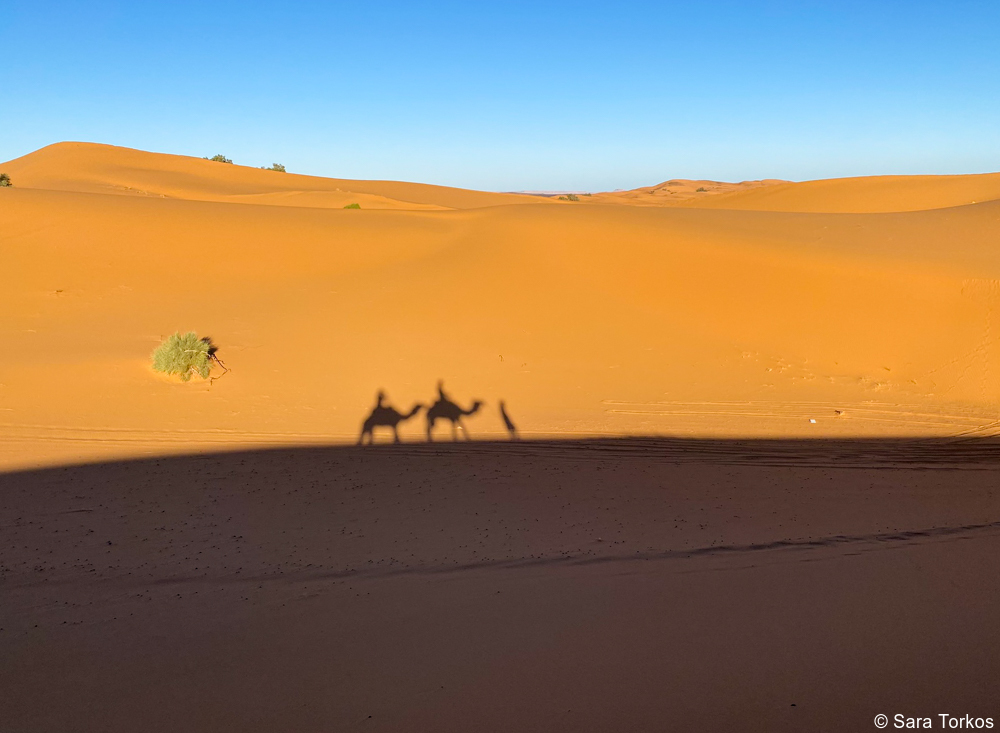 We went for a sunset camel ride to the top of the dunes, where we were surprised with Champagne and snacks to celebrate our honeymoon.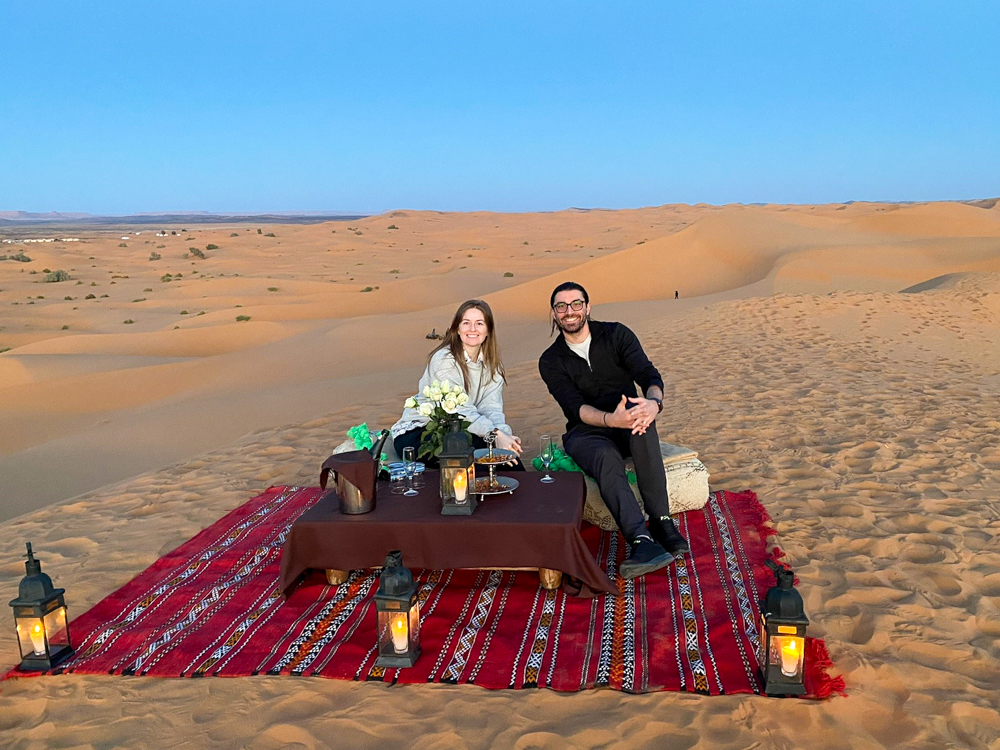 When we returned to the camp, we had dinner under the stars accompanied by traditional Berber music.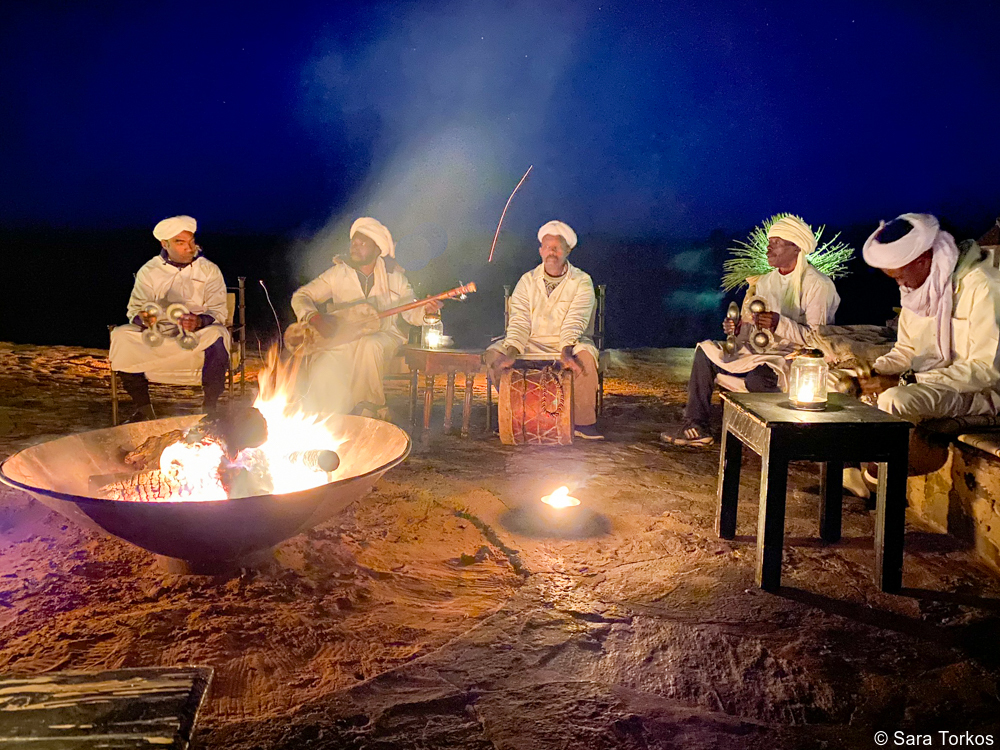 We also spent several days relaxing at Dar Ahlam, a 19th-century kasbah (fortress) in a palm grove near Ouarzazate at the edge of the desert that has been turned into a luxury hotel.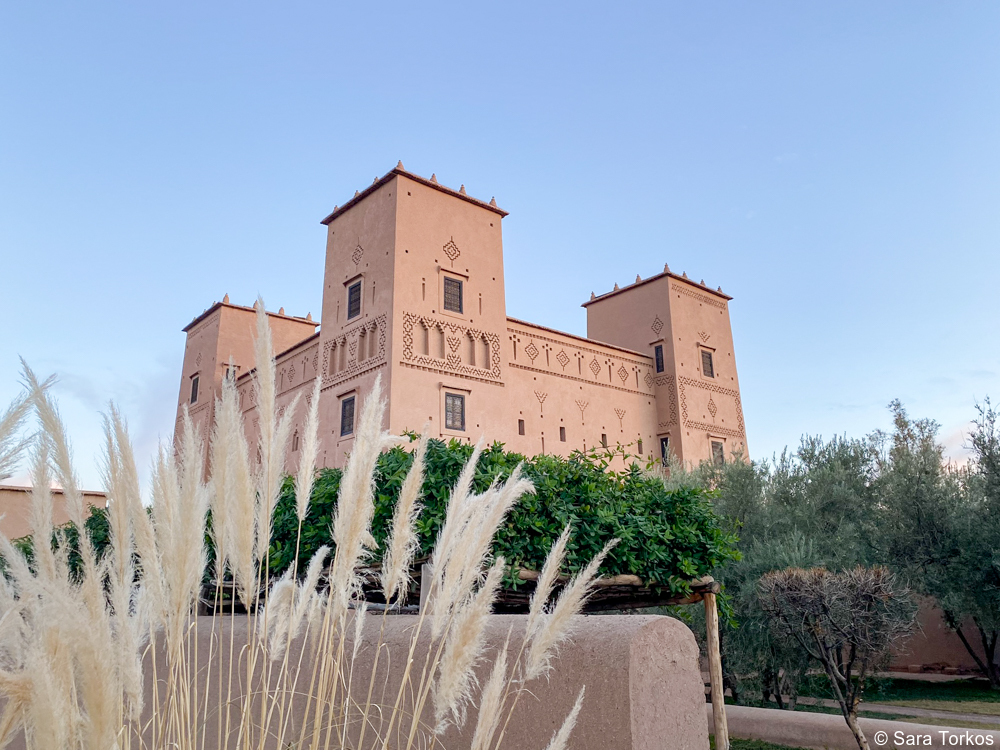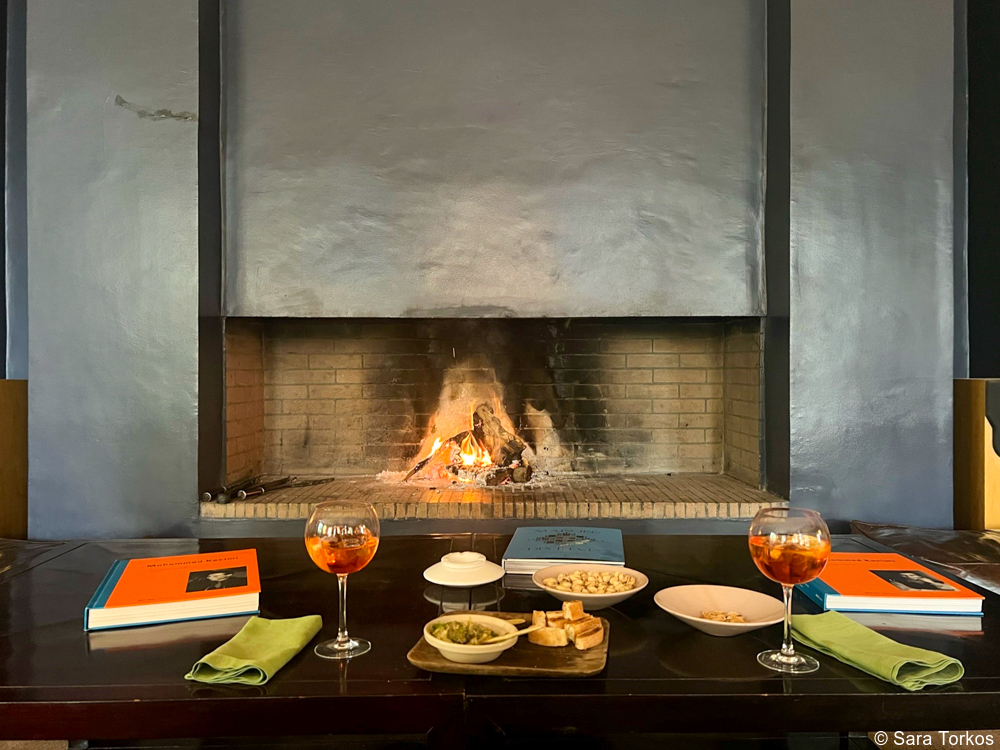 After several days in the tranquil oasis, we changed course and went hiking in the Atlas Mountains. It was a very difficult hike, especially in winter temperatures, but the views at the summit of Mount Toubkal (the highest peak in Morocco at 13,671 feet) were spectacular.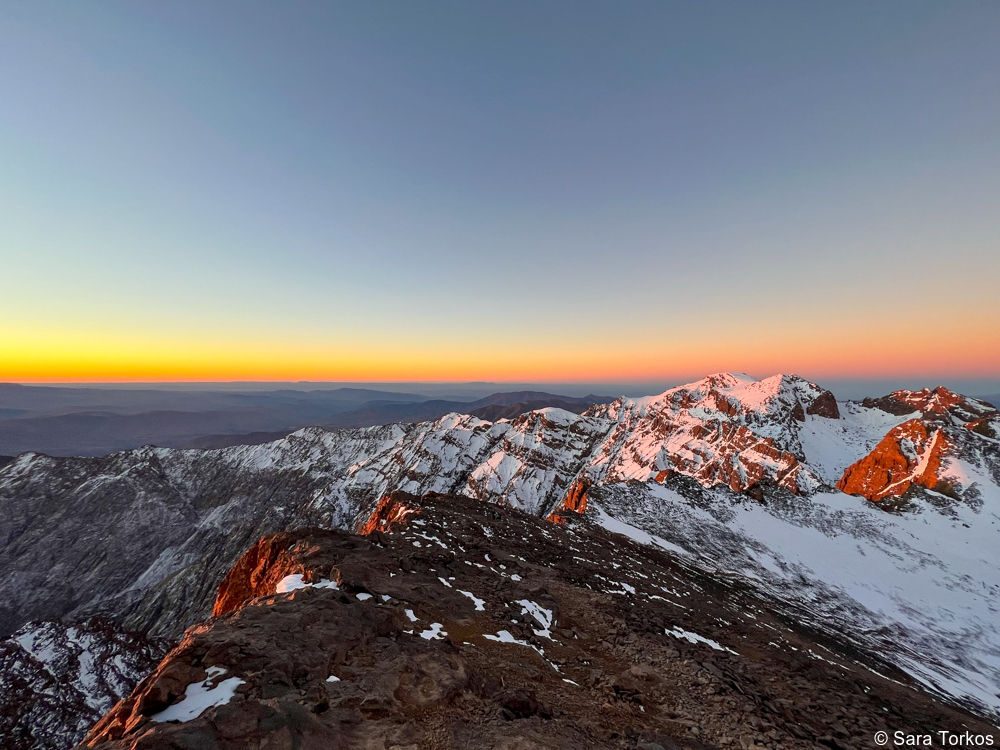 We concluded in Marrakesh, which I thought was a great way to end our private tour of Morocco. It's such an amazing destination for culture, food, architecture and design, gardens and shopping.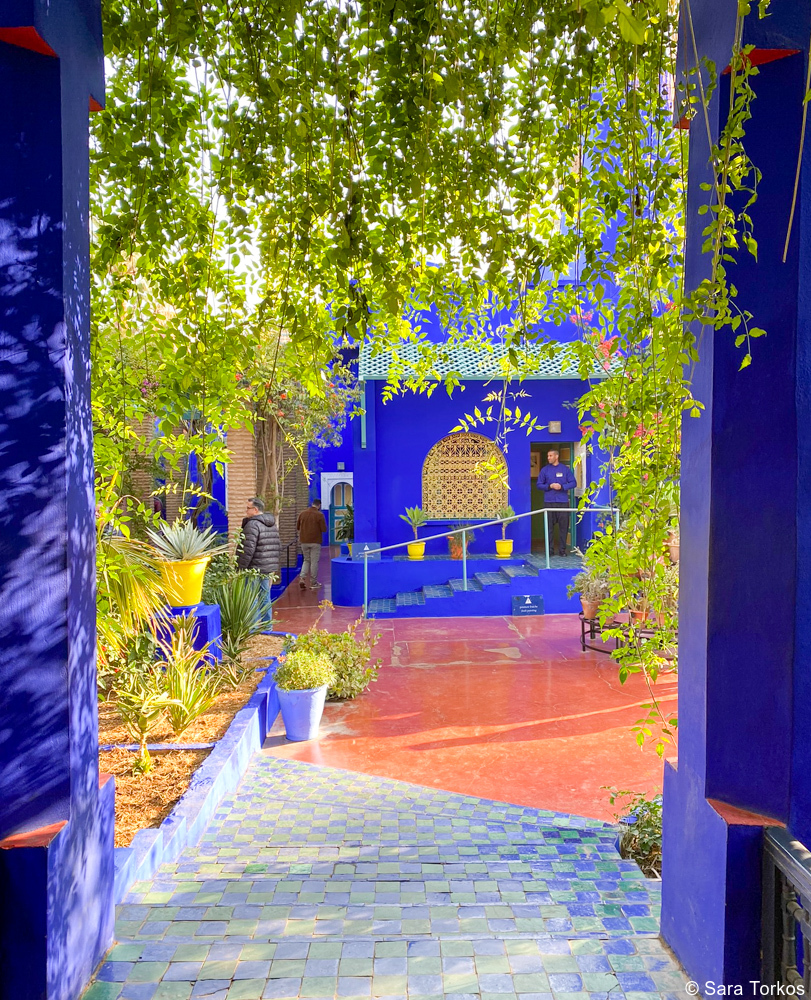 It has a rich and complex history—including Berber, Arabic, French and Spanish influences—and we were glad we had a private guide who explained things so well.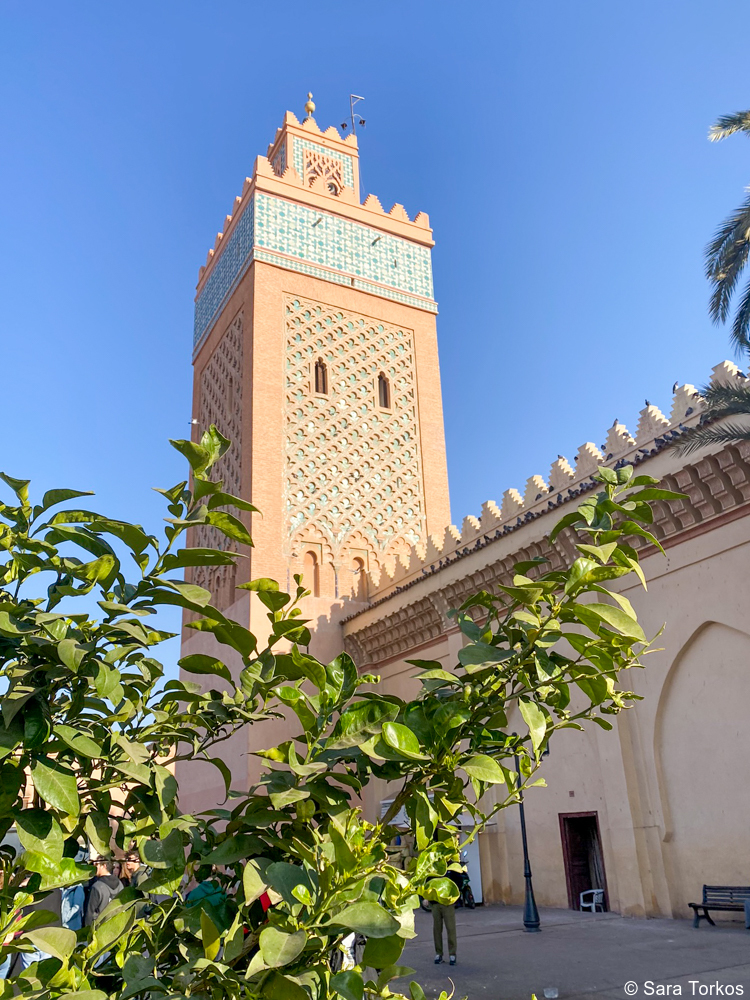 We loved visiting the gardens of Marrakesh, including the famous Jardin Majorelle (Majorelle Garden) and Le Jardin Secret (Secret Garden), a palace complex with traditional Islamic garden design.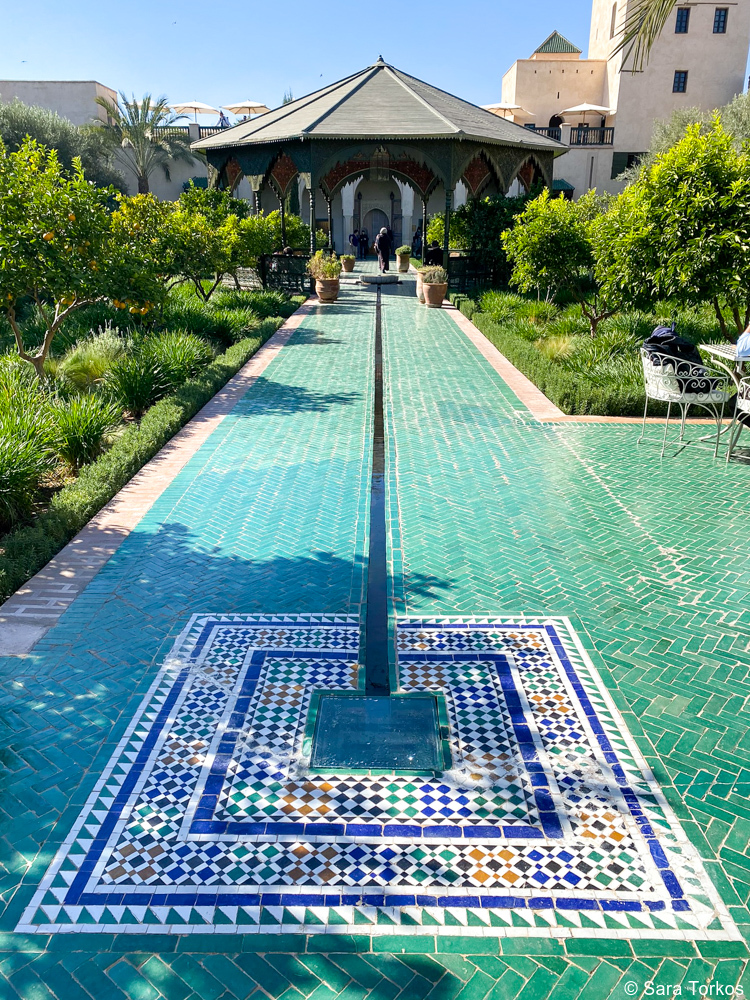 One of our favorite museums was the Musee Berbere (Berber Museum), a compact museum located in the Majorelle Garden. The collection, made up of hundreds of objects acquired by Yves Saint Laurent and Pierre Berge, is an interesting overview of the history and culture of the Berber people of North Africa. Nearby is the Yves Saint Laurent Museum, which is great for travelers interested in fashion.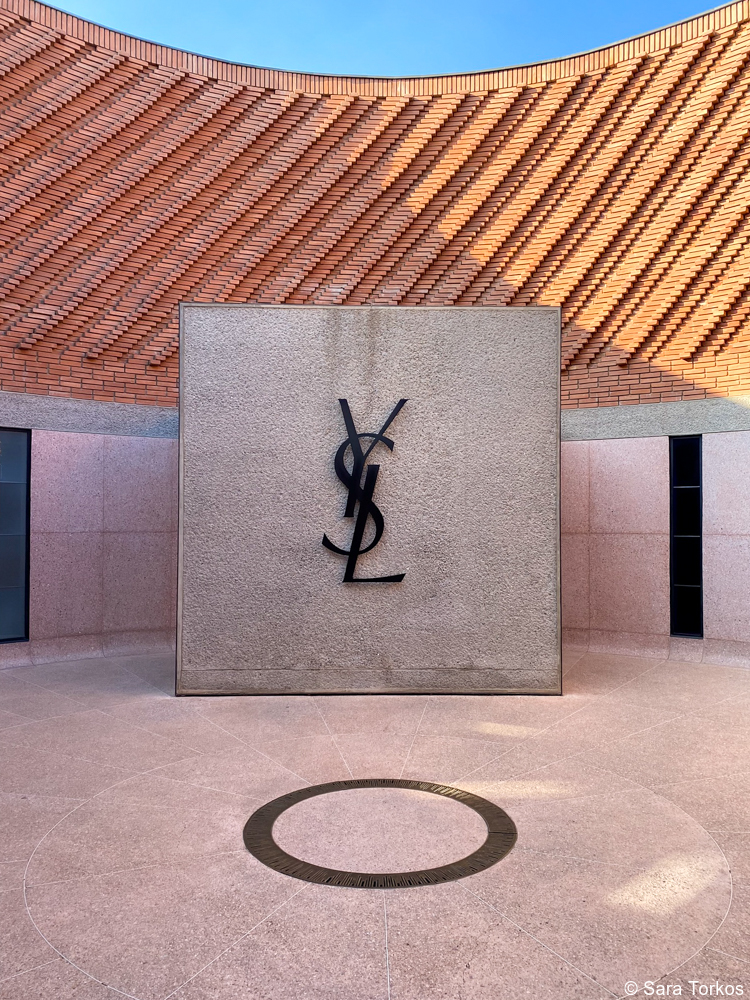 Shopping in Marrakesh was a highlight, and I loved the experience of browsing local crafts in the souks as well as high-end interior decor and antiques in upscale boutiques.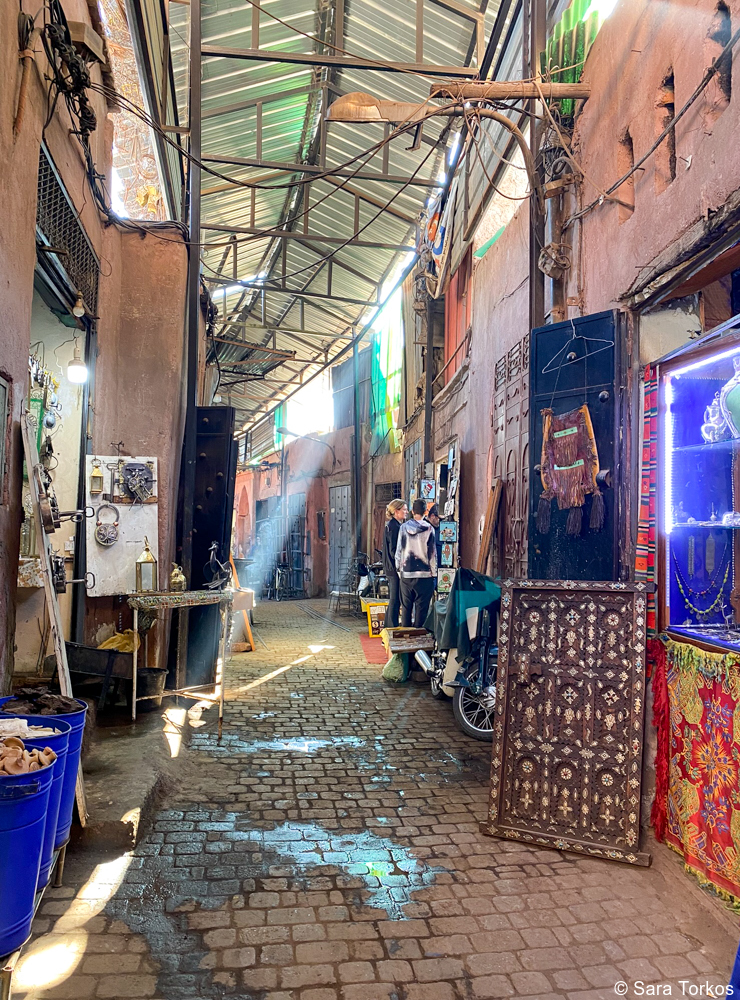 Q: What were some of your favorite exclusive cultural experiences?
A: Morocco has so much to offer, but exploring the souks in Fez and Marrakesh with our guide was a highlight for us. Not only was it a great introduction to the culture and history of the country, but our guide took us to the most interesting shops and artisan workshops. And, because all the locals know him, we never felt pressured to buy anything.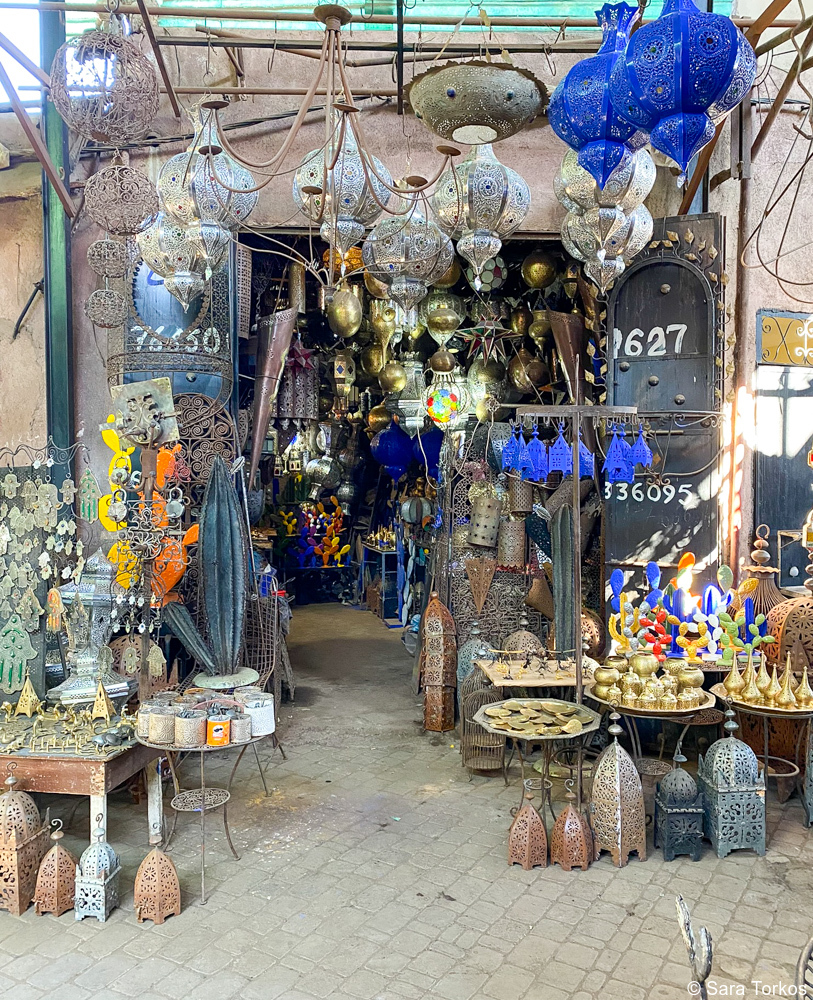 We especially enjoyed meeting local ceramic artisans in Fez. We watched how the pieces were made from beginning to end, including throwing the clay on a wheel and firing and hand painting the items.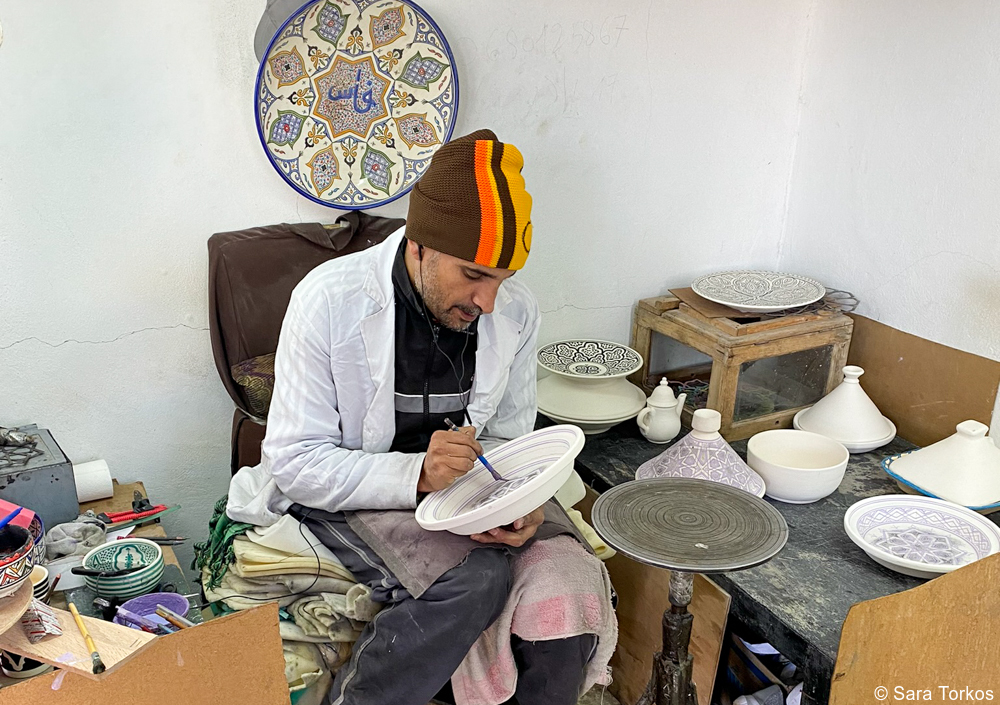 One day we went to a cooking class in a village outside Marrakesh. We met with the owner of the cooking school and learned about its mission to empower local women through cooking and employment opportunities. We enjoyed walking around the gardens (a lot of the food is grown on site) and learning how to cook a variety of local dishes, including tajine.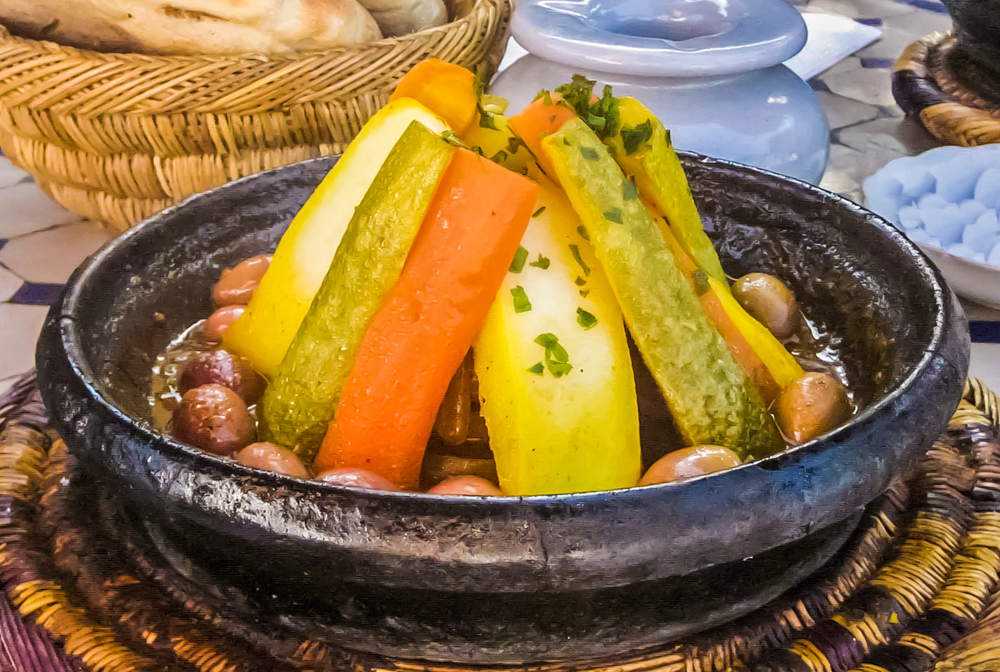 Q: Tell us about active touring in Morocco. 
A: We usually hike whenever we travel if possible, and Morocco was no exception. Mount Toubkal is the highest summit in North Africa, and we knew we had to give it a go. I'm so thankful we did because it was the absolute highlight of the trip.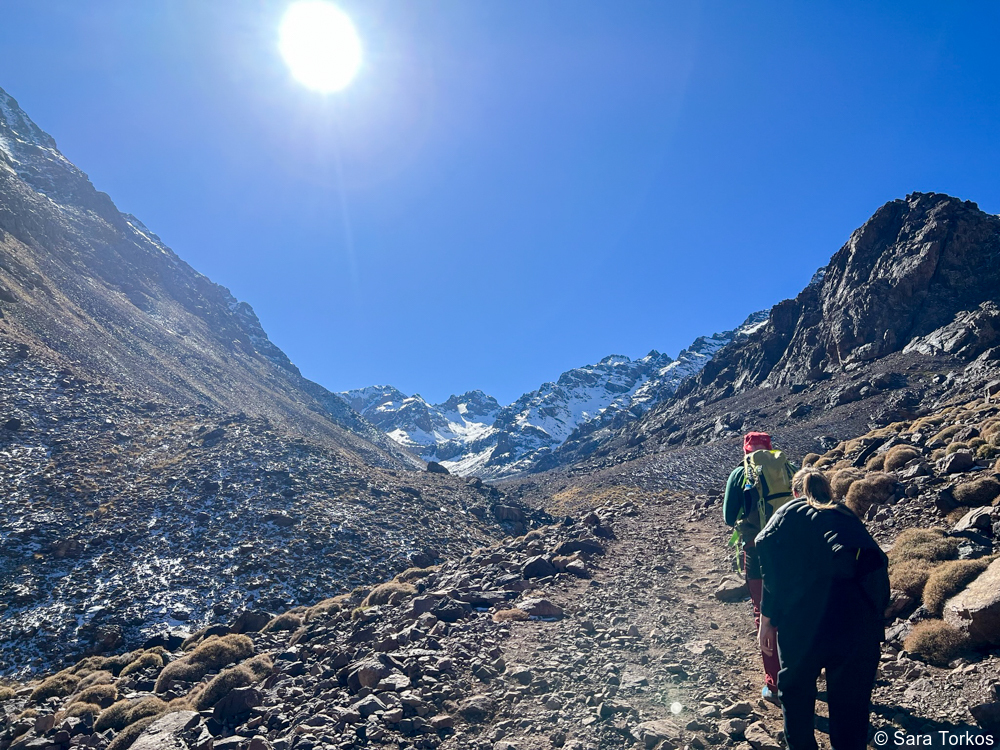 We had an amazing local Berber guide who taught us about the history of the Atlas Mountains and the Berber people. Another great part of the experience was having a private chef with us, so we always had really good fresh meals.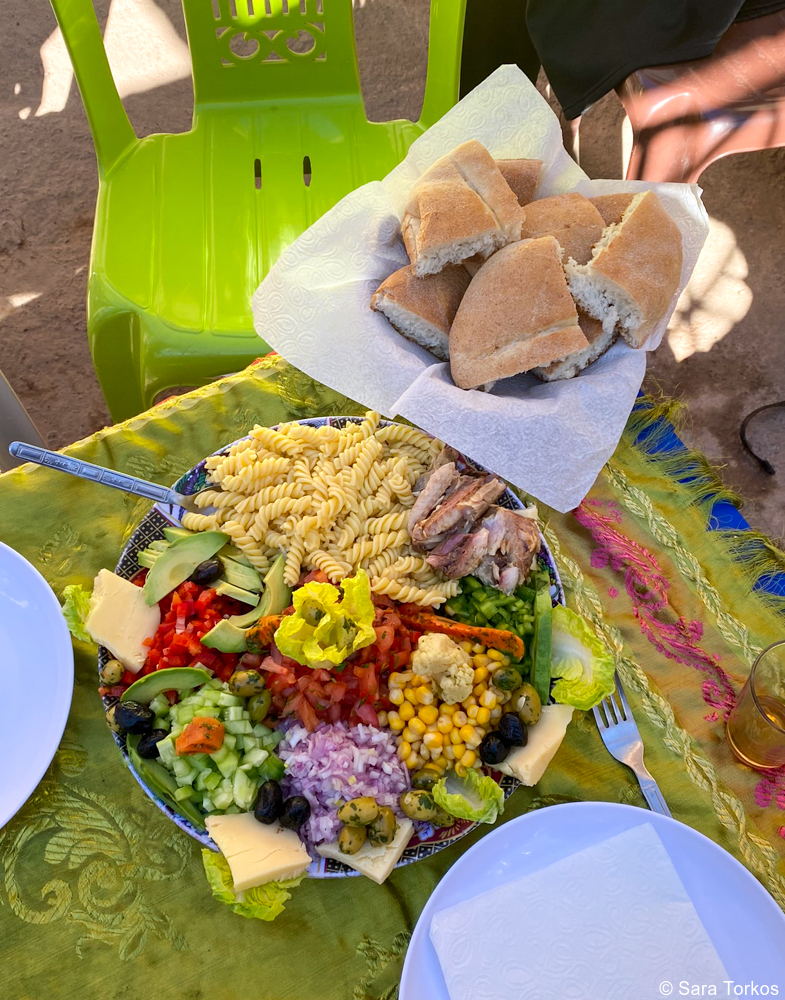 We spent the night in a rustic mountain hut and reached the summit of Mount Toubkal at sunrise. It was really challenging but so rewarding. The views of the Atlas Mountains were spectacular!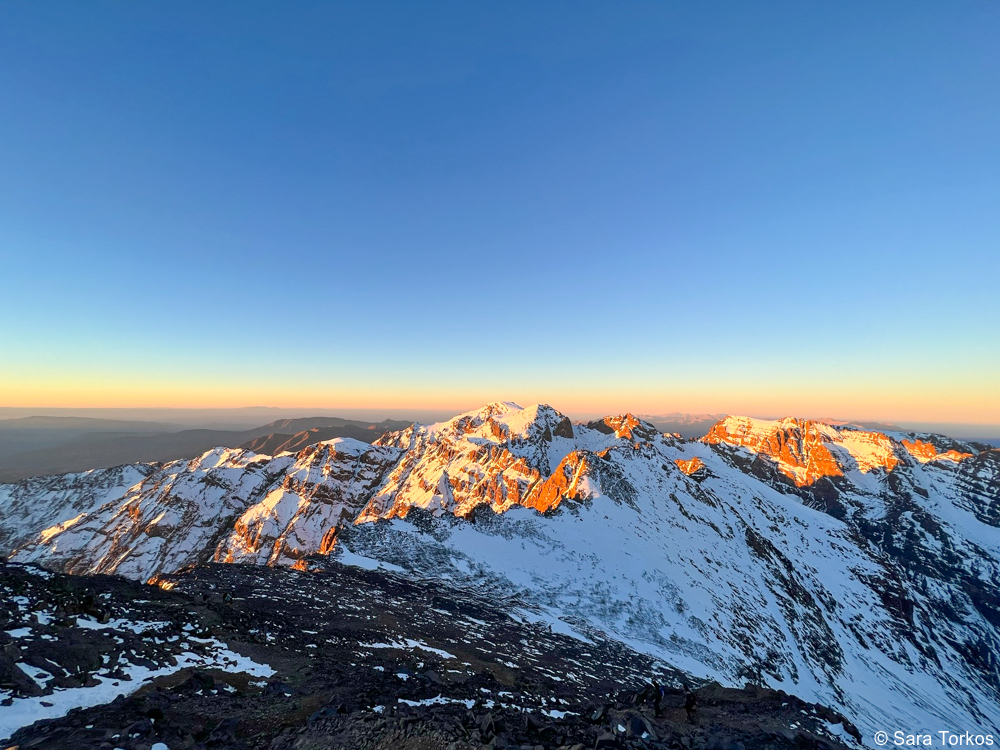 The Atlas Mountains have a range of hiking and walking options to suit different ability levels. For interested clients, we always arrange this with a local Berber guide.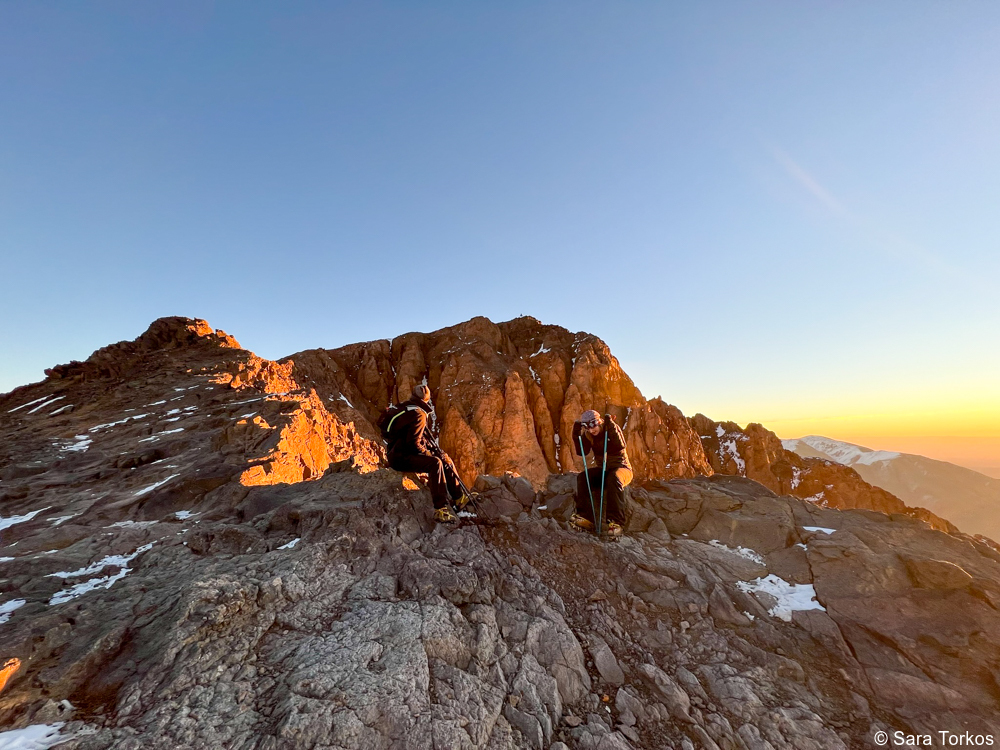 When exploring the Atlas Mountains, Artisans of Leisure travelers usually stay at Kasbah Tamadot, a luxurious mountain resort owned by Richard Branson. Another option is to have us arrange a private day excursion from Marrakesh with a stop for lunch at Kasbah Tamadot.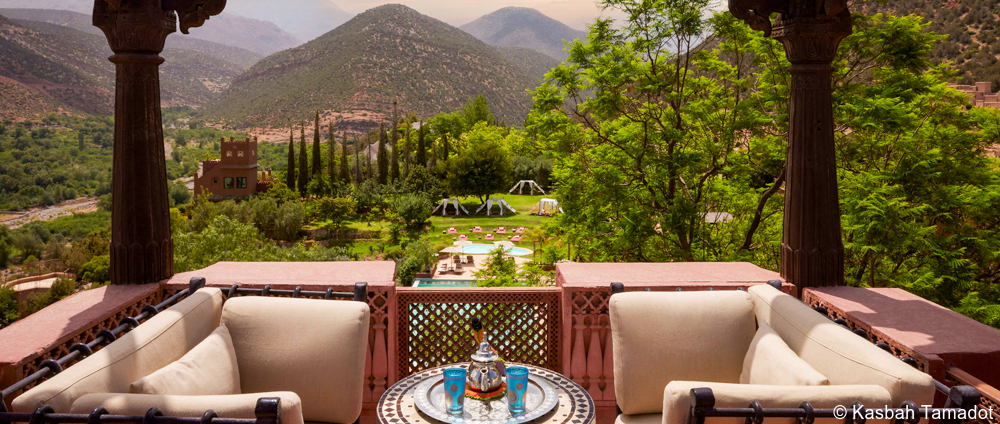 Q: What were the most memorable meals?
A: After touring the Roman ruins in Volubilis (just outside Fez), we had a delicious meal in a beautiful private home on a hilltop overlooking the city of Moulay Idriss.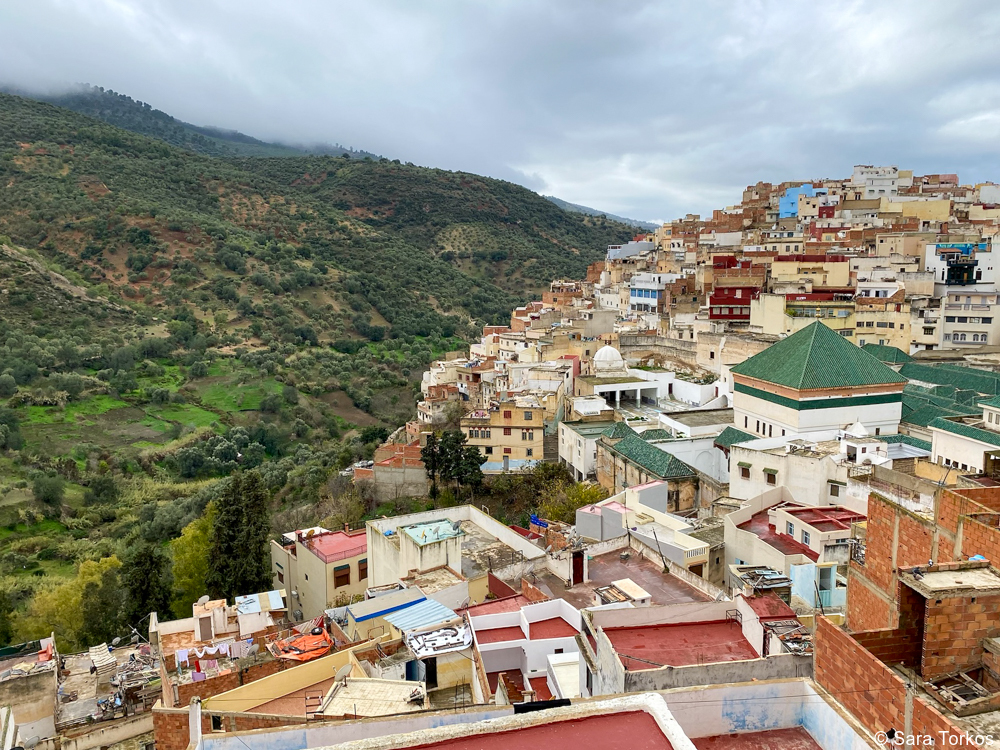 This is an insider, off-the-beaten-path experience, and we loved the home cooking and design-forward interiors.
We also really enjoyed the meals at Dar Ahlam. They don't have a traditional restaurant but instead they create memorable, unique meals throughout the day served in different spots around the property. Every meal is private and customized, and they're never served in the same location twice.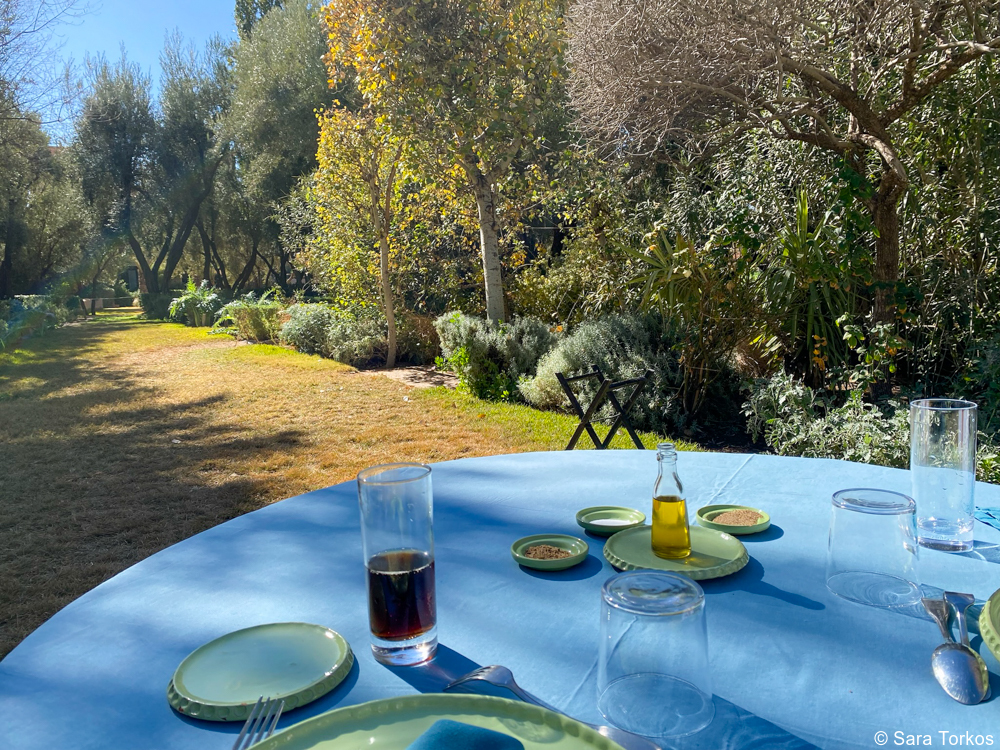 One of our other favorite meals was at La Mamounia—upscale, with excellent food, a great atmosphere and a live jazz band.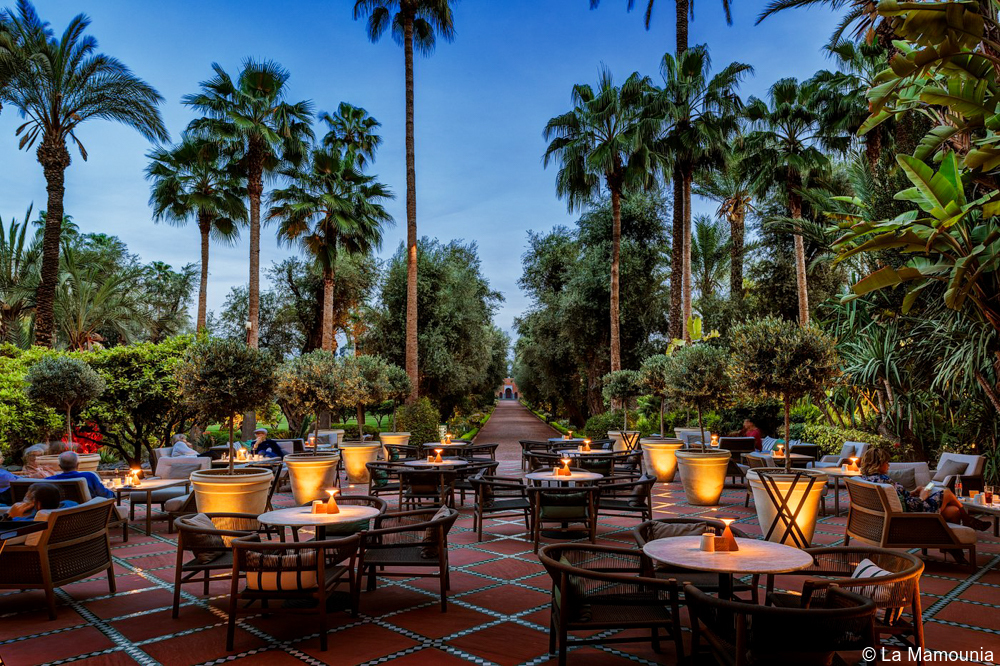 Q: How were the resorts and luxury tented camp?
A: In Fez, we stayed at Riad Fes, a lovely traditional riad in the medina. It's in a great location, the service is excellent, and the decor is stunning, with colorful tiles, carved stuccowork, splashing fountains and a leafy courtyard with a reflecting pool.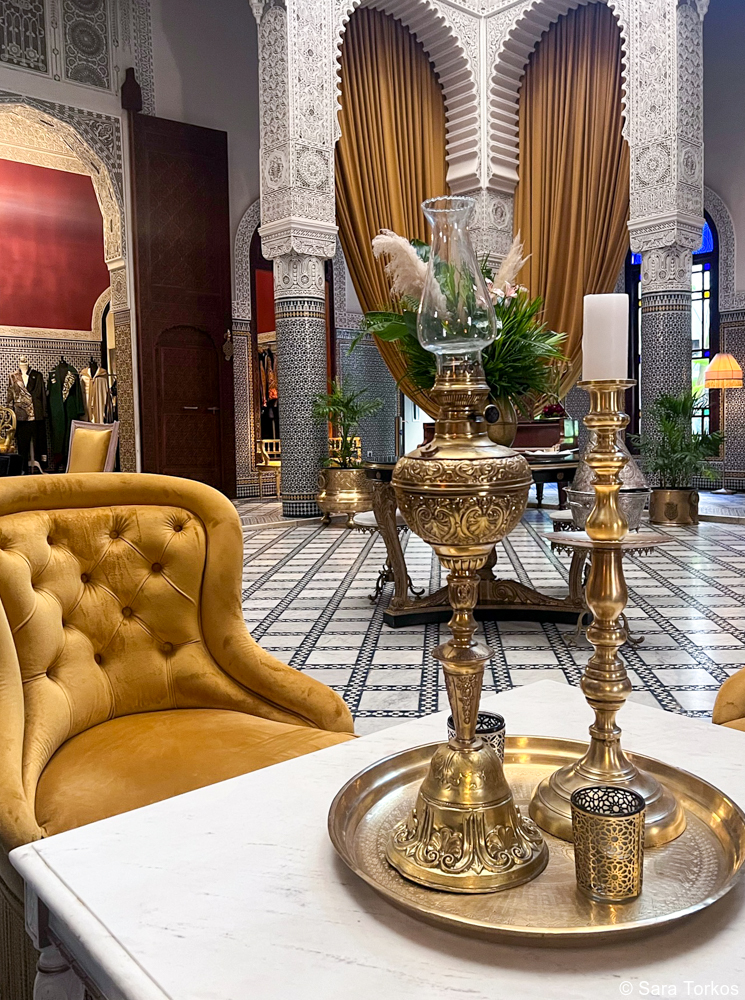 It also has a luxurious hammam and great dining.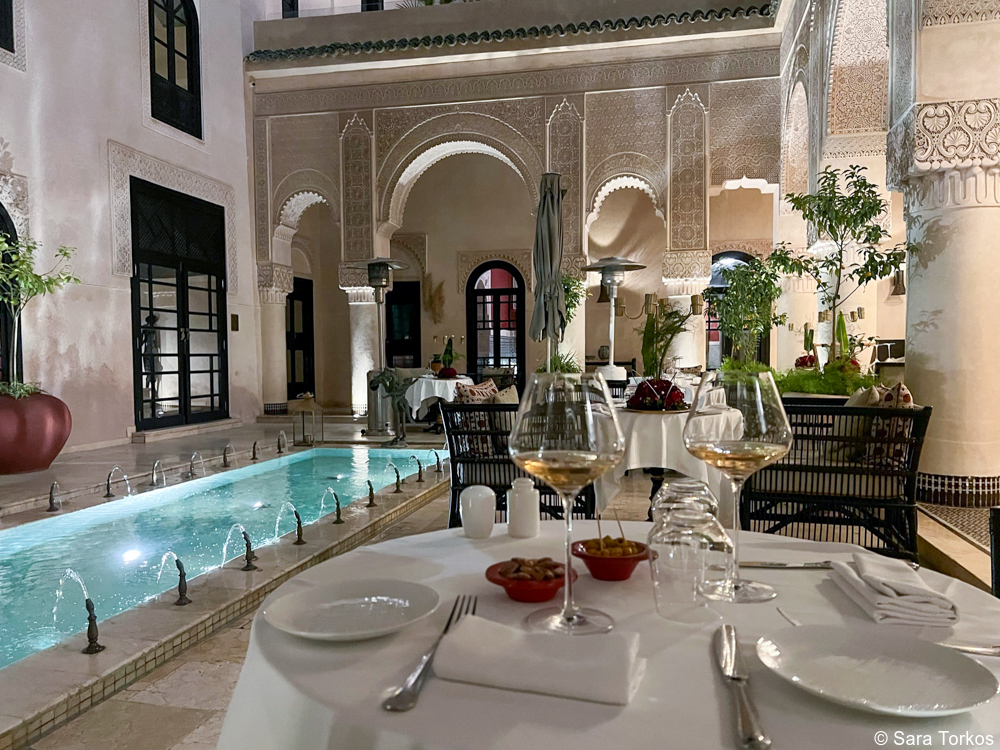 A highlight for us was the rooftop bar, where we had sunset drinks on our first night overlooking the medina.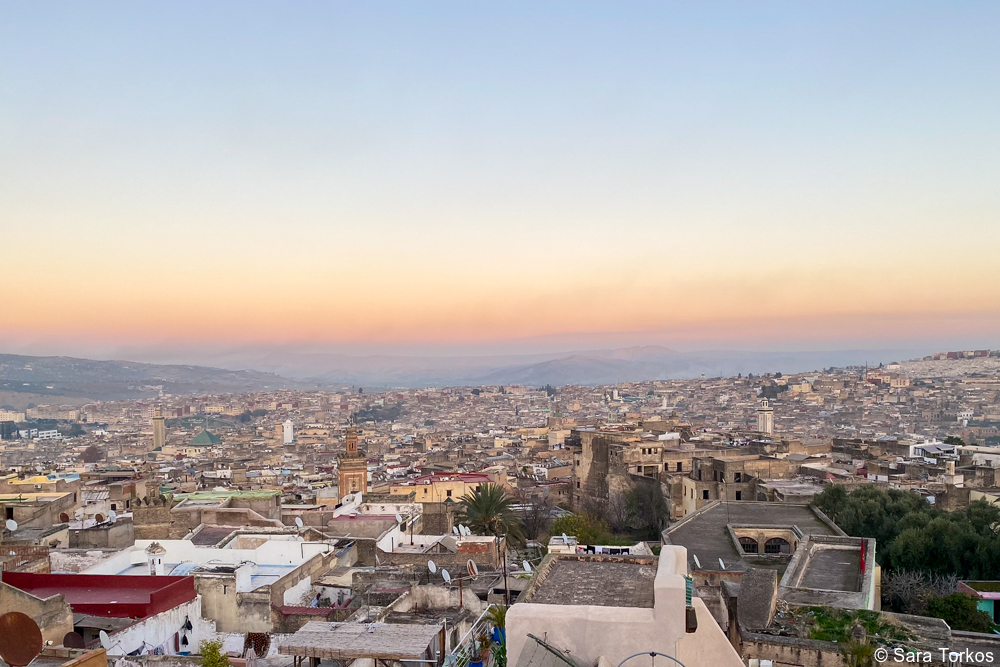 In the Sahara Desert, the tented camp is off-the-beaten-path but is a great luxury camping experience. We had a private climate-controlled suite with a king-size bed and an en suite bathroom with running water.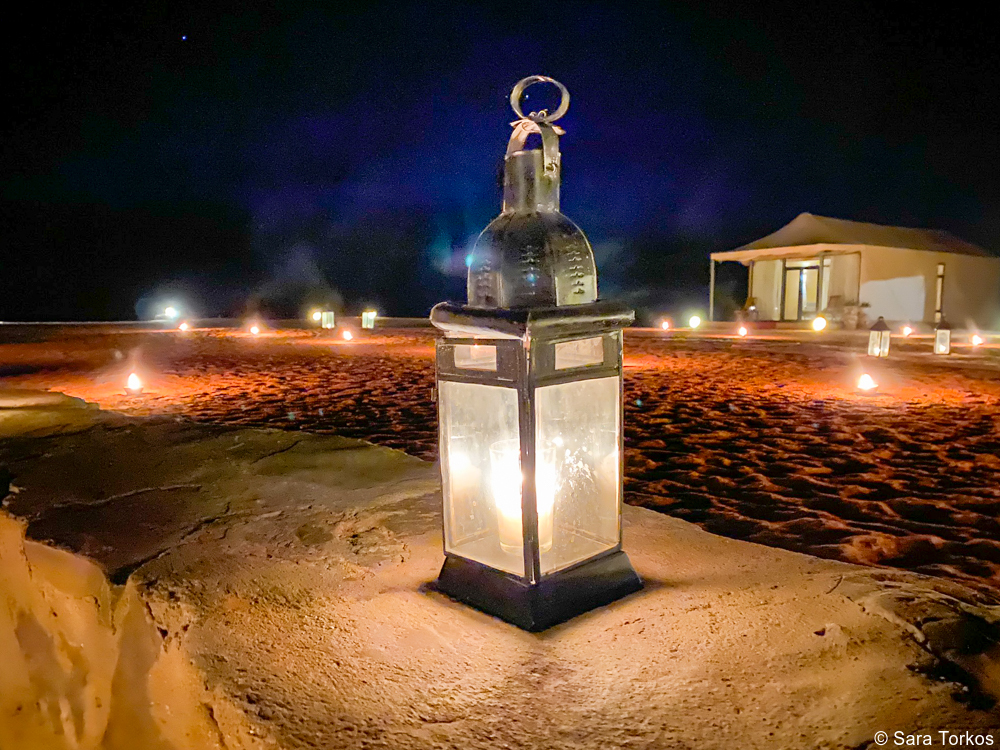 We loved watching the sunrise over the dunes from the glass doors of our tent.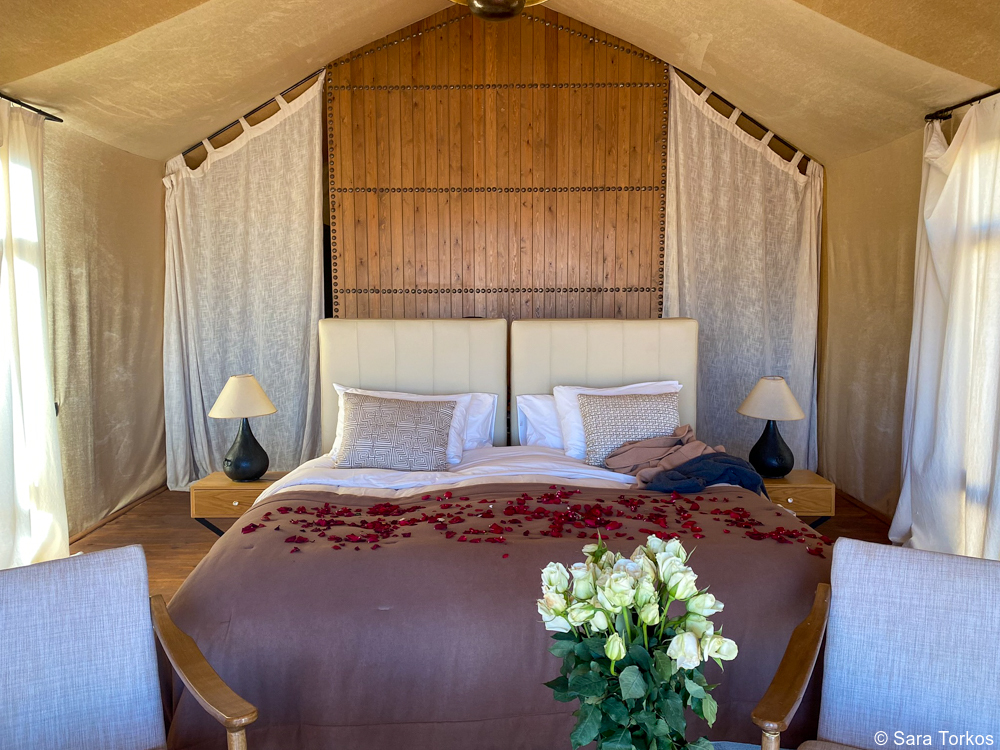 Dar Ahlam at the edge of the desert was one of my favorite places we stayed. They have done a great job at combining the historic atmosphere of the building with modern amenities, and I loved the tranquility of the surrounding gardens.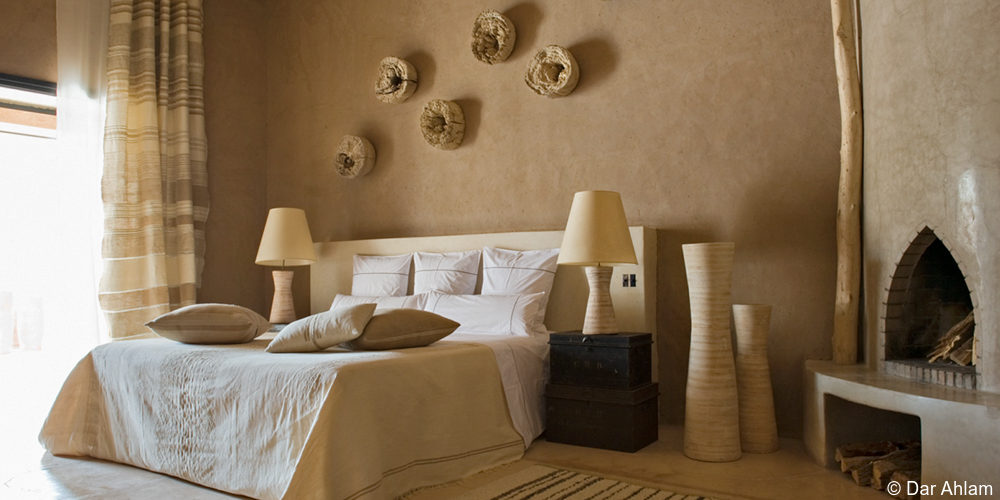 In Marrakesh, we stayed at Royal Mansour and La Mamounia, favorite hotels of Artisans of Leisure travelers. Royal Mansour is a wonderful escape from the busy medina that feels like you're in a beautiful, quiet village. Unlike a traditional hotel, the rooms are all separate riads, which are absolutely spectacular—very spacious and deluxe, with amazing architectural details and private rooftop plunge pools.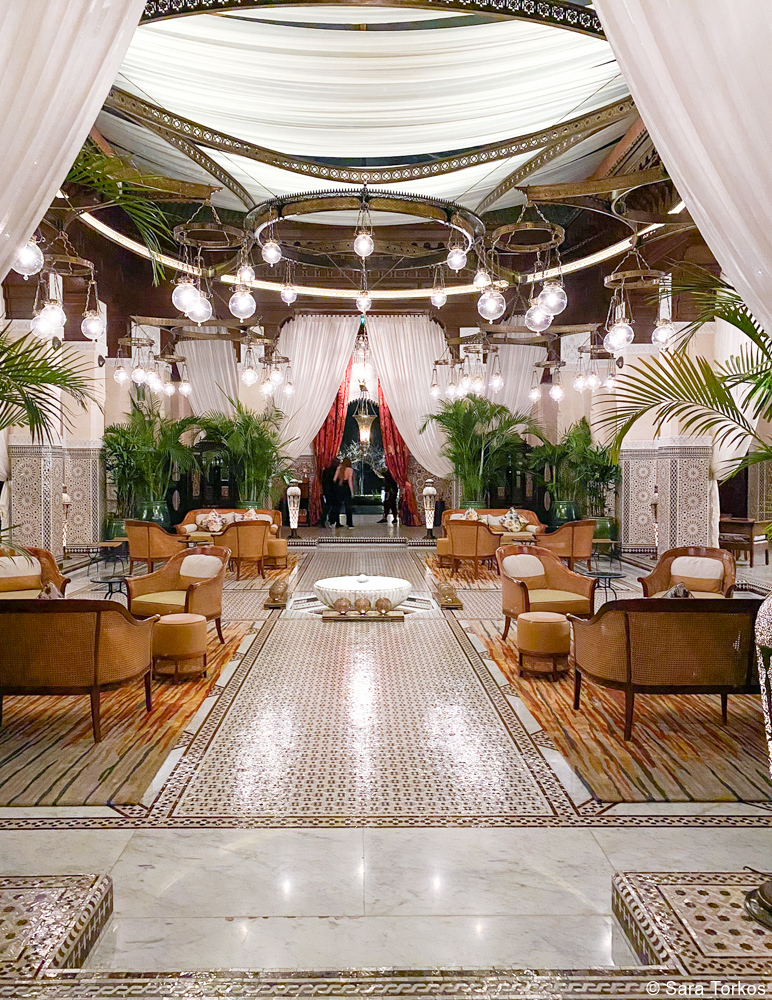 La Mamounia is the legendary grand dame of Marrakesh.
It's a large hotel with many amenities, including high-end restaurants, a bar with live music, a big pool for families, beautiful gardens, upscale boutiques and a fabulous spa.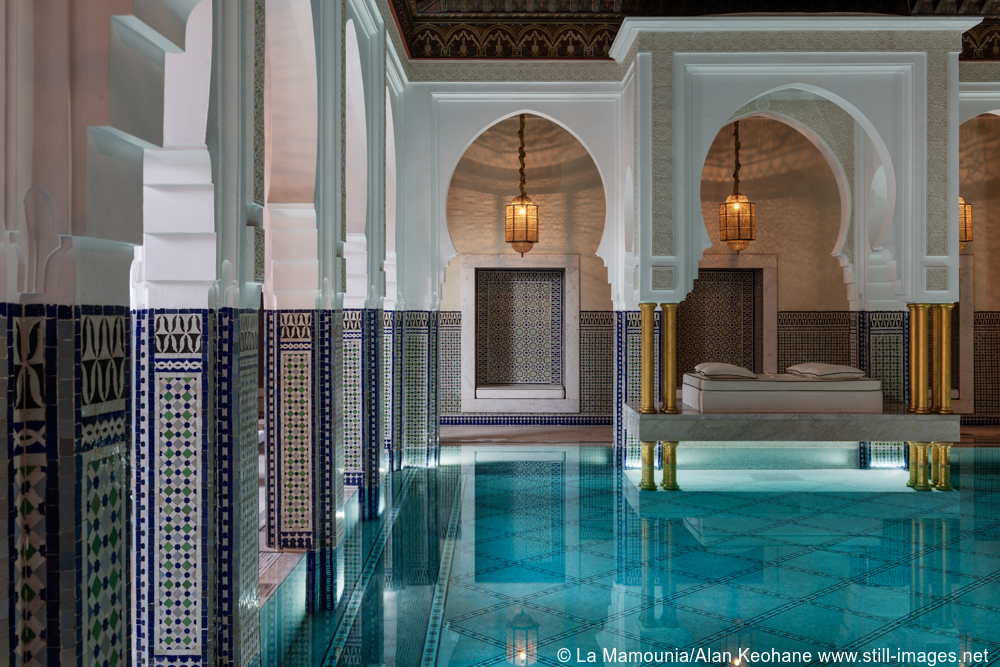 La Mamounia has something for everyone in a very luxurious way. Our suite had a wonderful outdoor terrace that overlooked the gardens.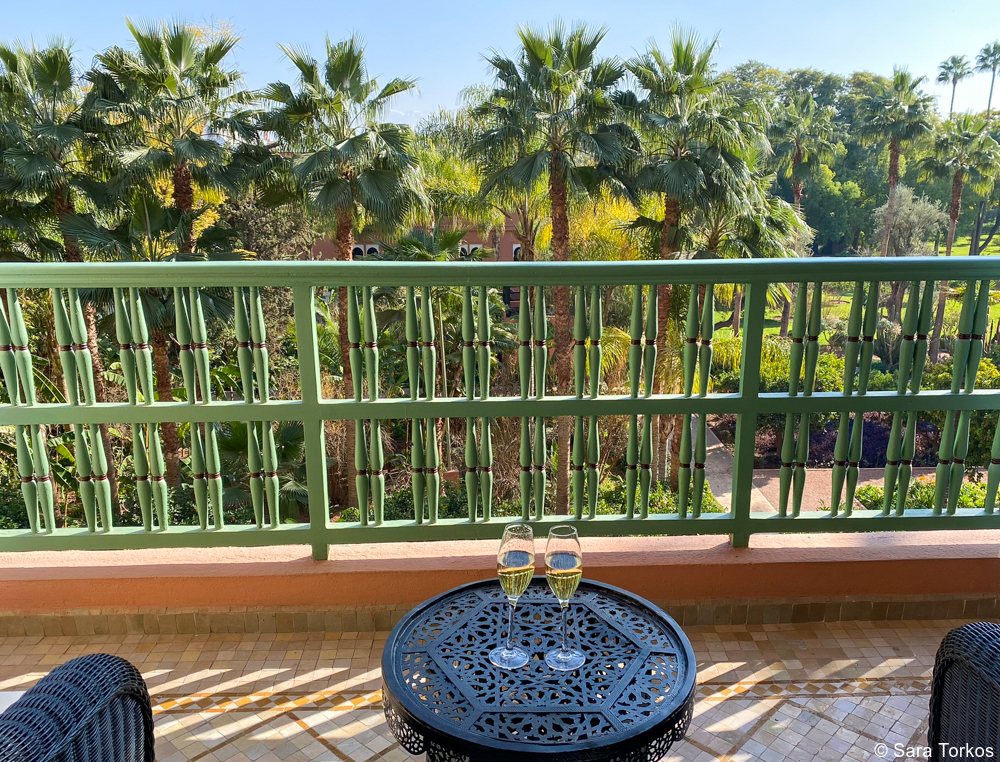 Q: Morocco has such incredible crafts. How was the shopping?
A: Morocco has great shopping: Moroccan lamps, Berber rugs and so much more. The best shopping was in the Marrakesh medina and in Gueliz, an upscale Marrakesh neighborhood with many high-end boutiques and restaurants. We resisted buying an entire fountain but plan to return for it in the future. In the meantime, we bought hand-painted tajines and antique door knockers.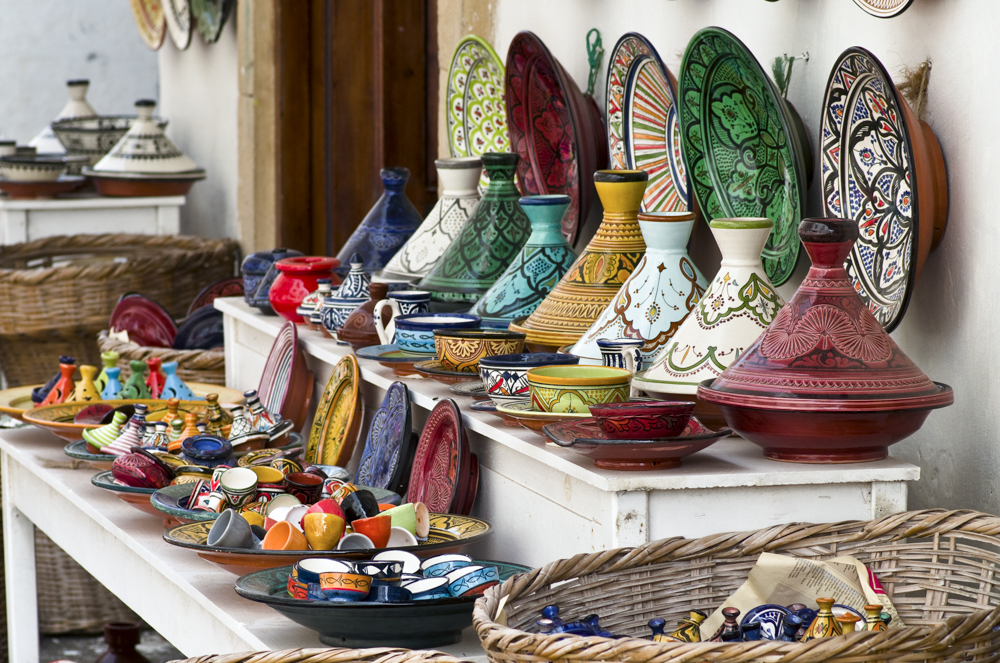 Q: What do you recommend for first-time visitors to Morocco?
A: Fez, Marrakesh and the Atlas Mountains offer a fantastic combination of historical and cultural touring, mountain landscapes, Berber villages and artisanal crafts.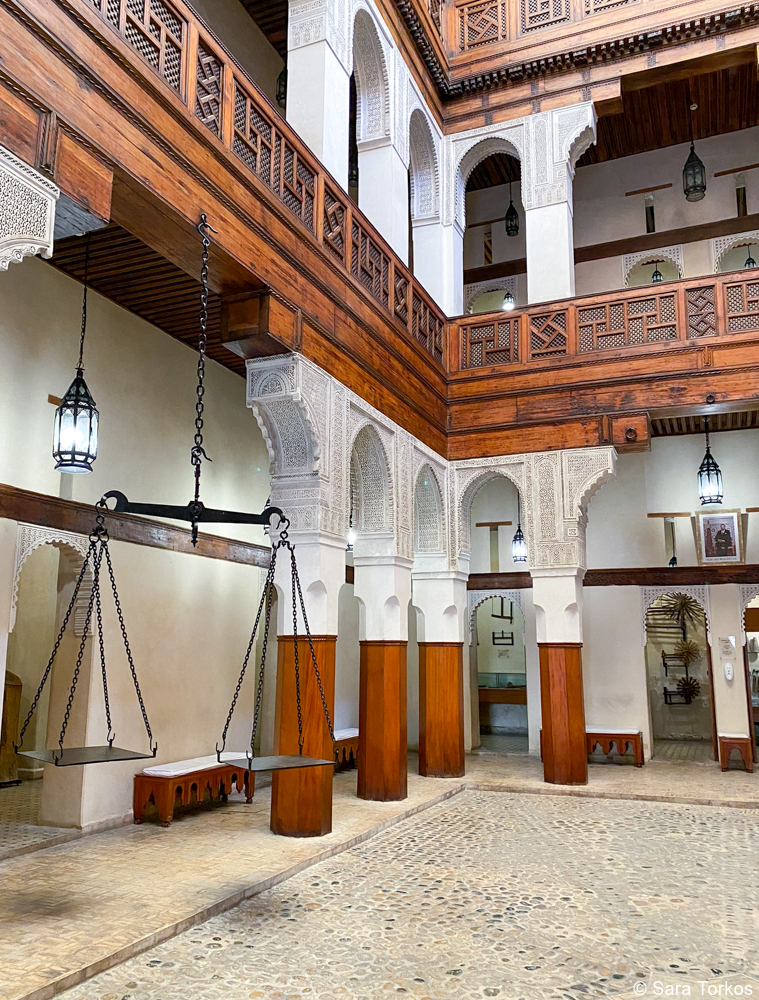 Q: What about repeat visitors?
A: I would recommend the Sahara Desert and a stay at Dar Ahlam.
Q: What would you recommend for travelers interested in combining Morocco with another destination for a longer, multicountry tour?
A: My favorite combinations would be Morocco with Paris (which we actually did on this trip) or Lisbon.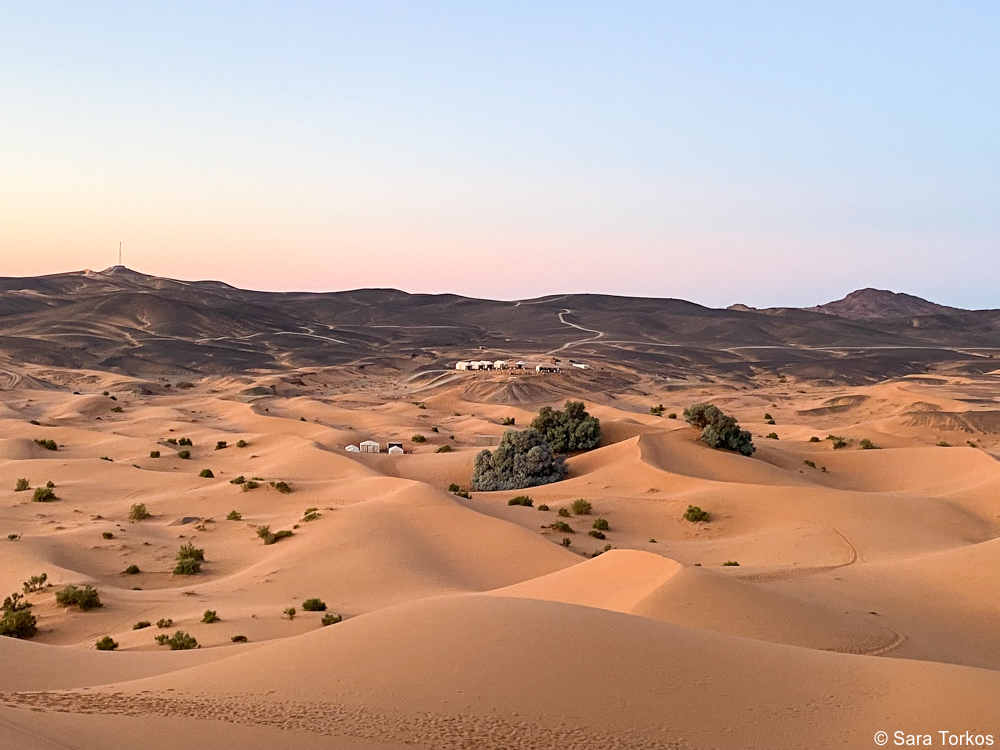 Q: What makes an Artisans of Leisure tour of Morocco so special?
A: We are known for our Morocco expertise and can arrange a variety of specialty insider touring, exclusive experiences, insider cultural touring, meetings with local experts and private appointments.
We really appreciated the local escort guides and drivers—they take care of you from beginning to end, they're friendly and knowledgeable about the culture and history, and they know the local shopkeepers.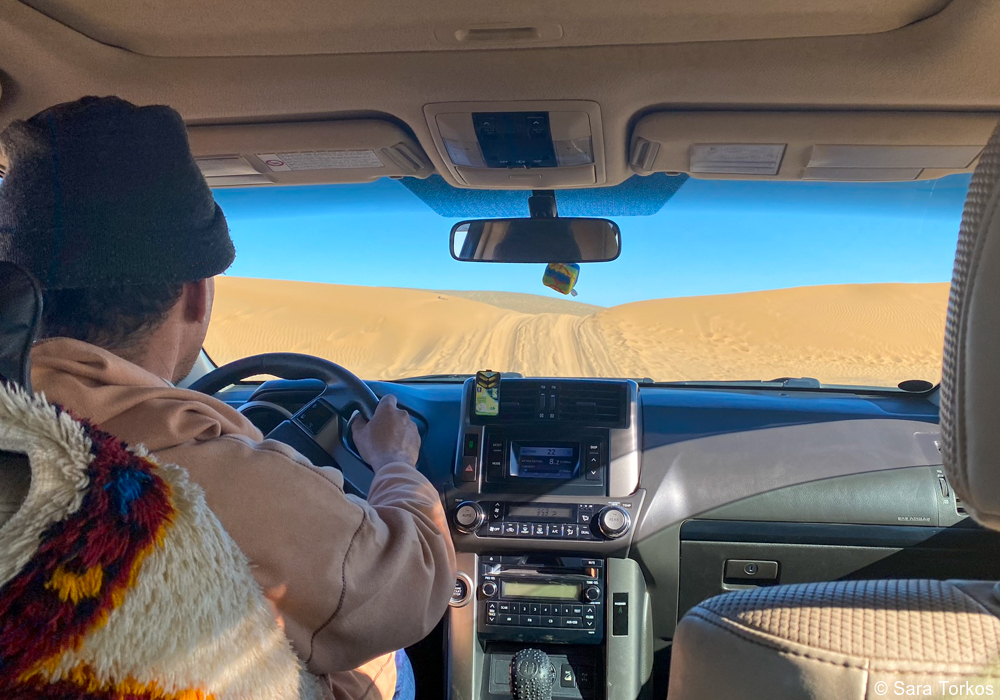 Q: Where are you planning to travel next?
A: South Korea with Artisans of Leisure!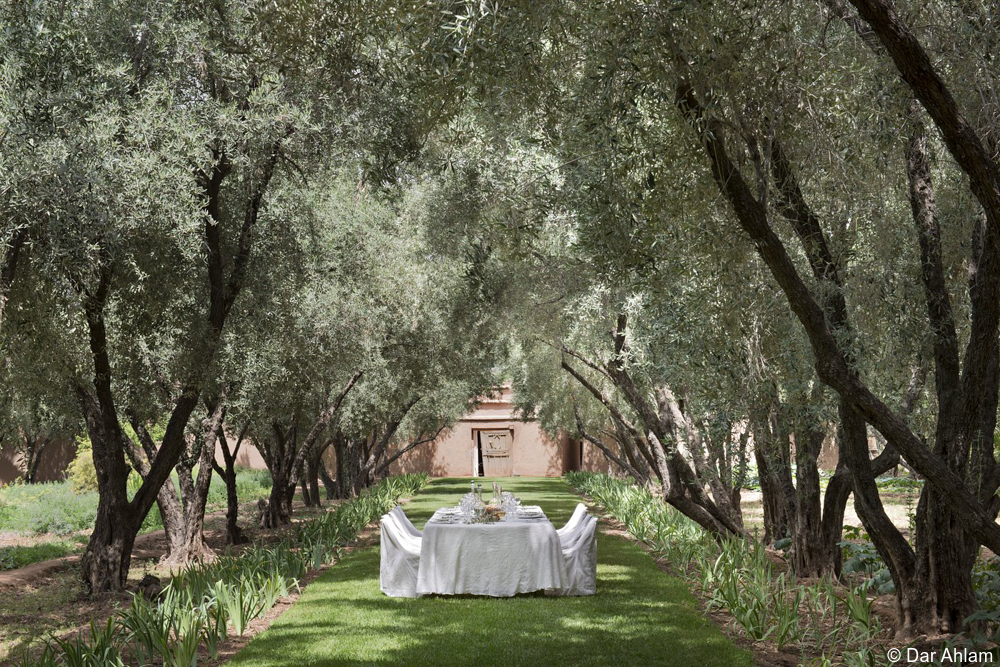 Contact Artisans of Leisure to begin planning a luxurious honeymoon in Morocco or a customized private luxury Morocco tour.
Tags: active Morocco tours, Atlas Mountains, Atlas Mountains hiking, Dar Ahlam, Fez, Fez medina, Fez tanneries, guided hiking tours, hiking in Morocco, insider Morocco, La Mamounia, luxury desert camps, luxury honeymoons, luxury Morocco tours, Marrakesh, Marrakesh medina, Marrakesh shopping, Marrakesh tours, Morocco, Morocco experts, Morocco honeymoon, Morocco honeymoons, Morocco luxury, Morocco shopping tours, Morocco tours, Sahara Desert, Sahara Desert tour