November 14, 2014
Just Back: Bhutan
Bhutan is an ideal destination for travelers wanting to experience very traditional culture and explore beautiful valleys in the foothills of the Himalayas.
Punakha Dzong is considered the most beautiful dzong (fortress-monastery) in Bhutan, especially in spring, when the surrounding jacaranda trees are in bloom. Found throughout the country, dzongs are an essential part of traditional Bhutanese culture.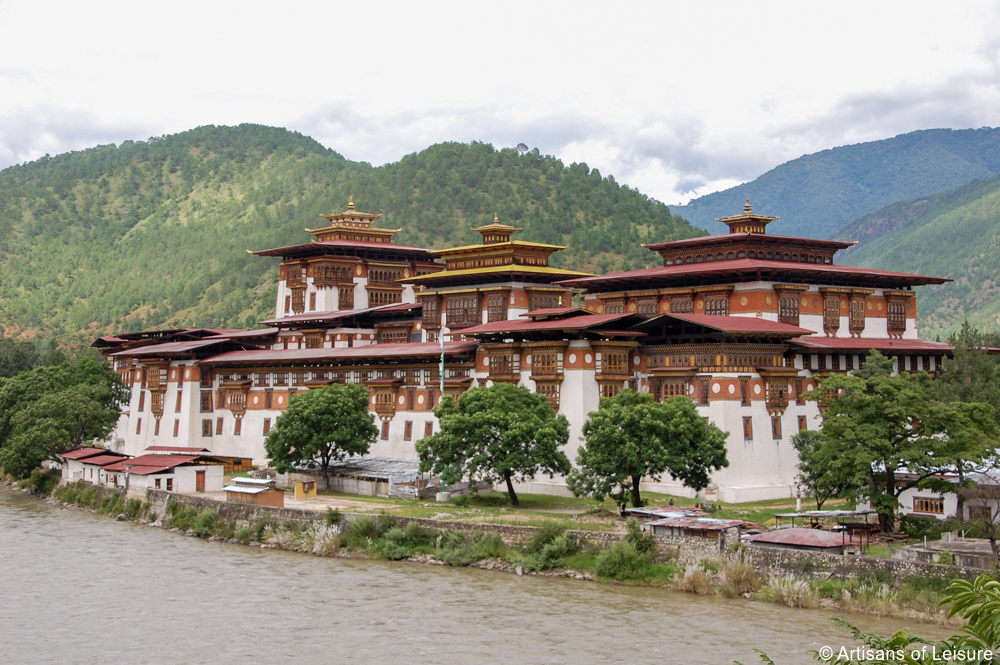 The river winds past forest and verdant rice terraces as it flows through the Punakha Valley, among the most picturesque parts of Bhutan.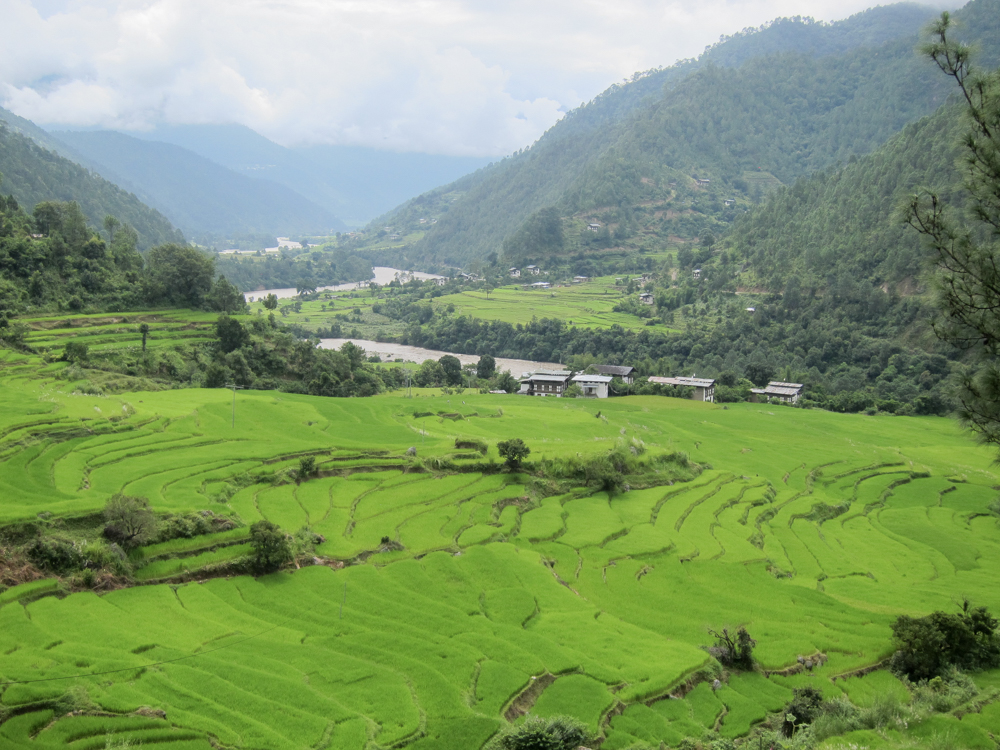 We can arrange private hikes in the beautiful Punakha Valley. Walking the trails is a great way to meet locals and learn about Bhutanese culture.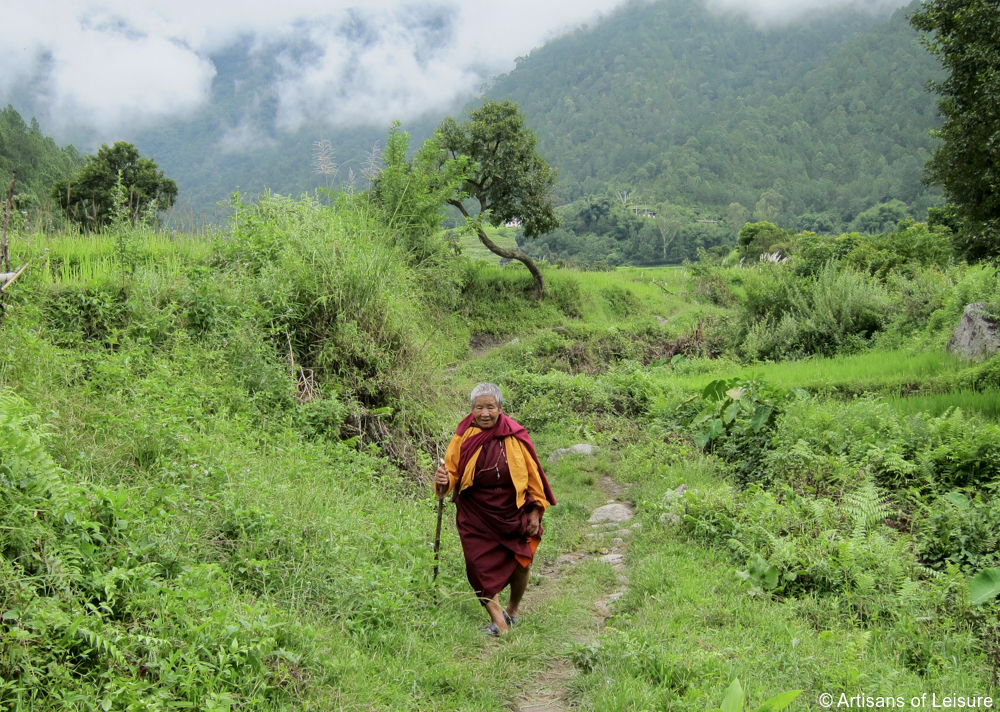 Amankora Bumthang is our preferred hotel in Bumthang, one of Bhutan's most culturally interesting regions.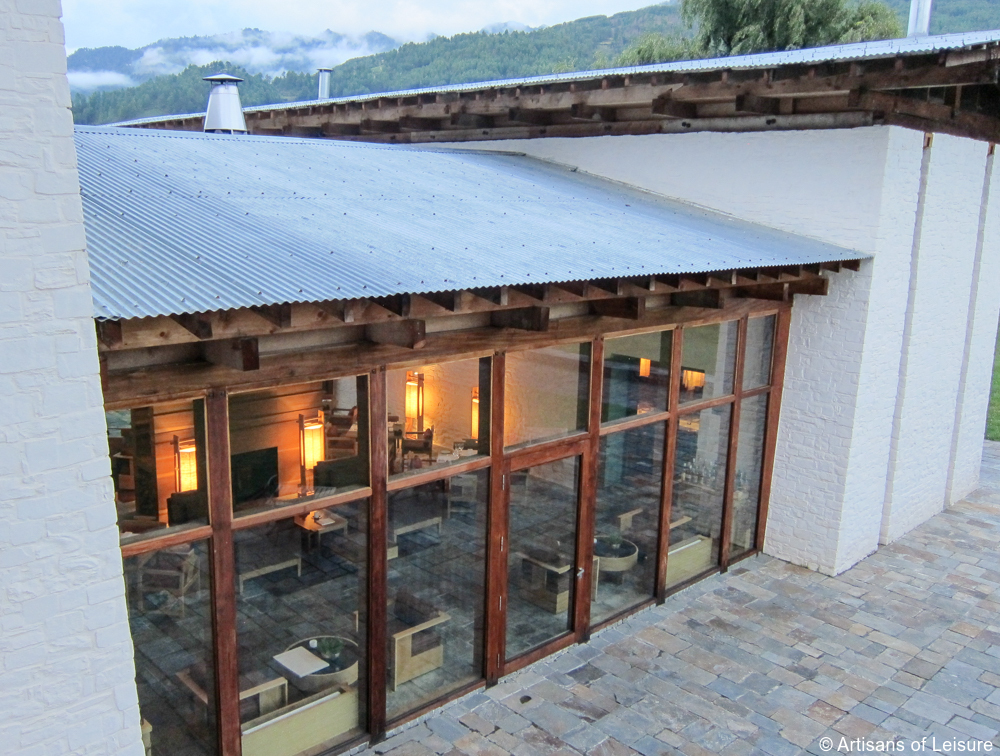 Comfortable and modern, the suites at Amankora also have traditional Bhutanese touches such as a bukhari (wood-burning stove) that's very welcome on chilly nights.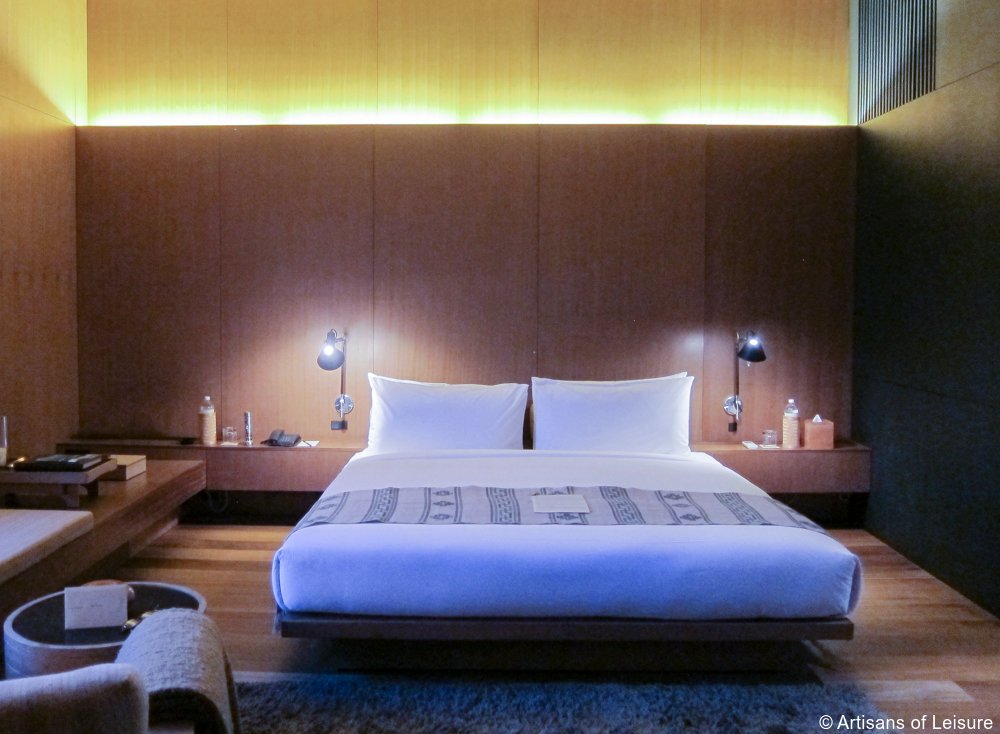 Amankora Bumthang overlooks a historic palace and monastery and the hills beyond.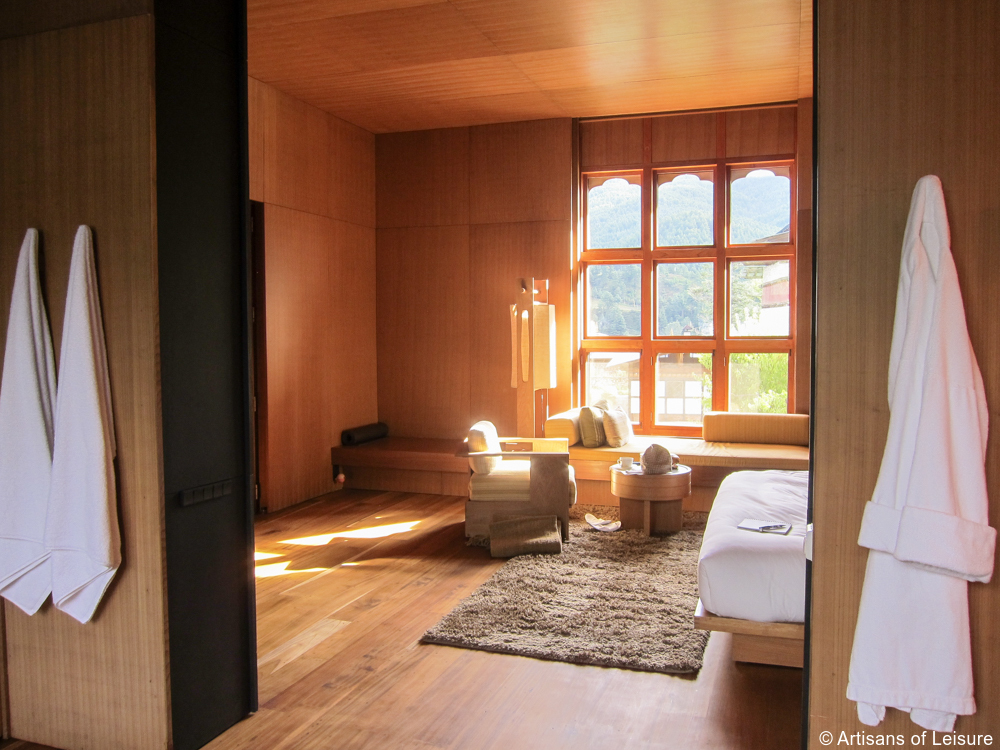 Traditional ngaja (sweet milk tea) and cookies.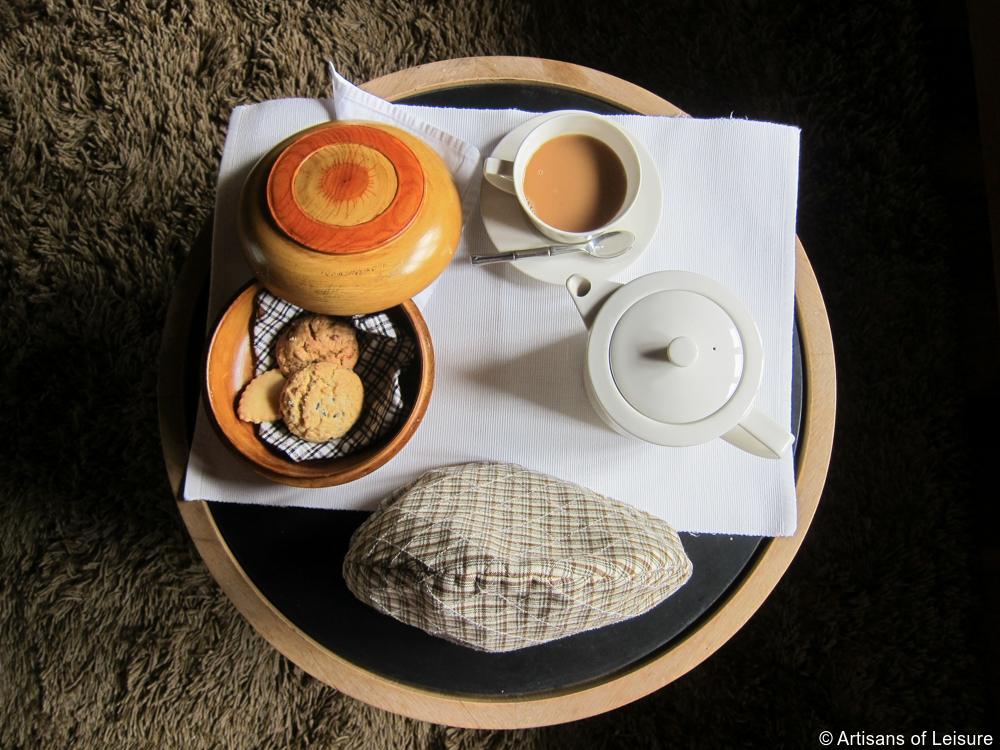 Artisans in Bumthang are known for producing high-quality yatha, colorful, hand-woven wool textiles used to make clothing and handbags.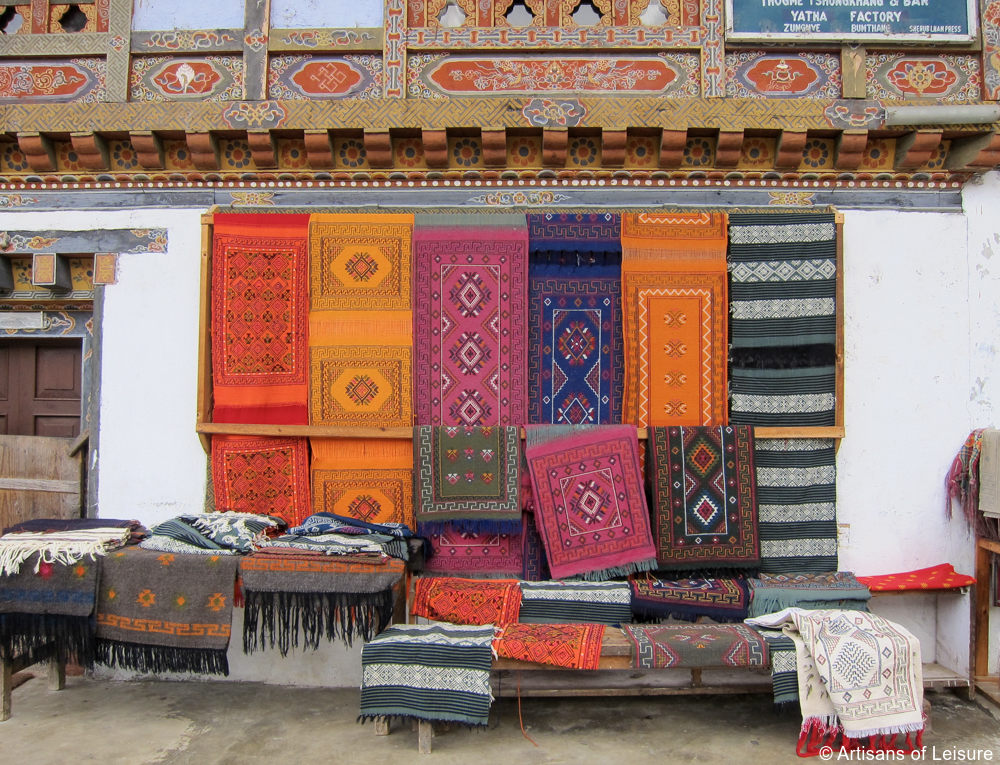 We watched a weaver at work during our visit.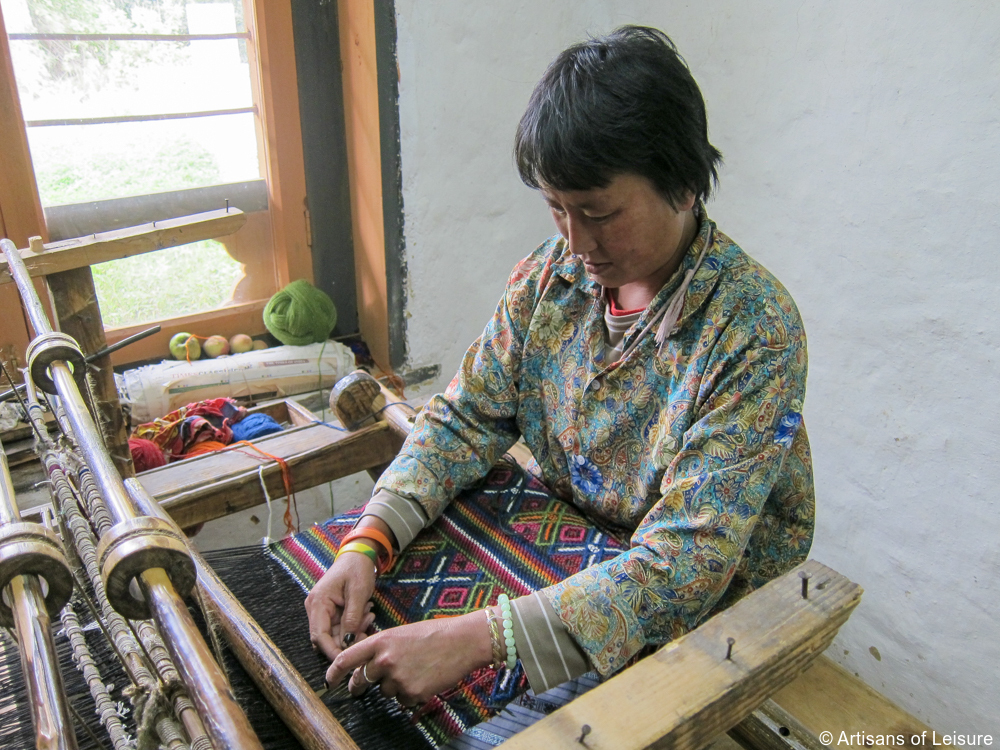 Apple orchards are a common sight in Bumthang, a major producer of apples, apple juice and apple cider.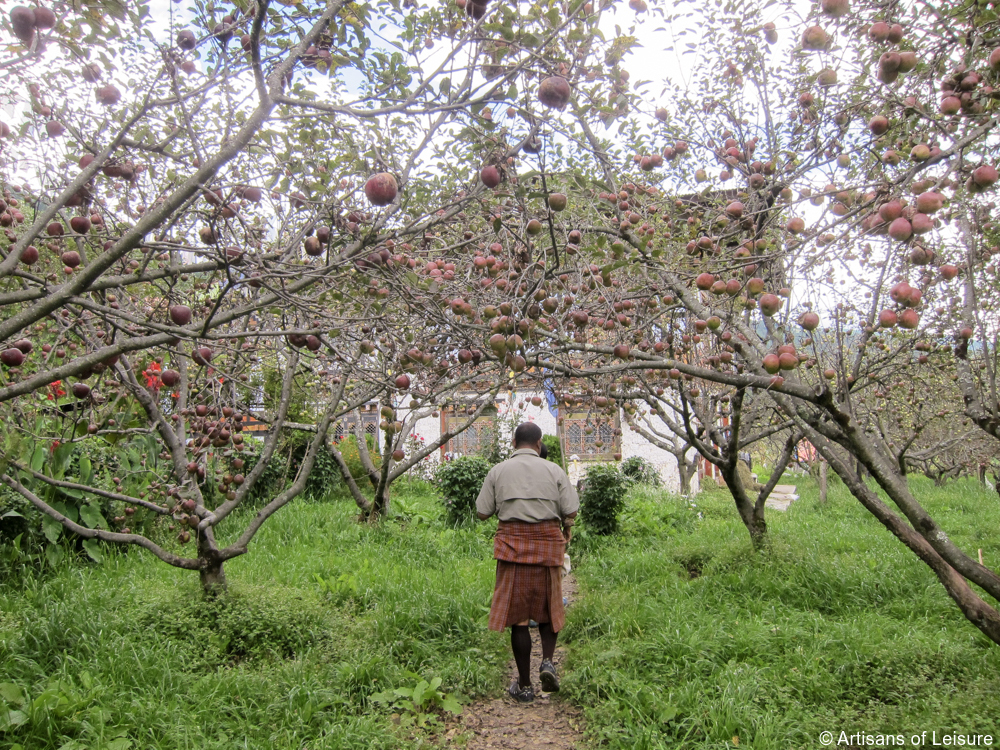 We can arrange lunch or dinner at a local farmhouse, which is a wonderful experience (and a great meal).
On this occasion, our hostess served traditional suja (butter tea) with lunch.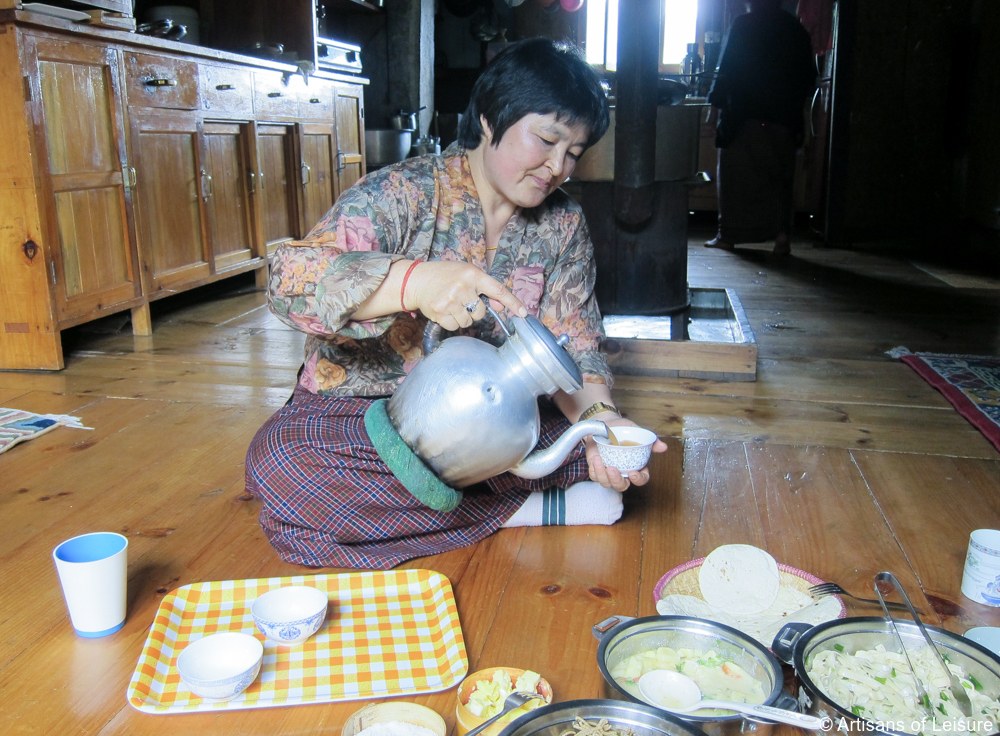 Our delicious lunch included ema datse (chilies and cheese)—the ubiquitous national dish of Bhutan—as well as buckwheat noodles and buckwheat pancakes. Though uncommon in much of the country, buckwheat is a staple in Bumthang.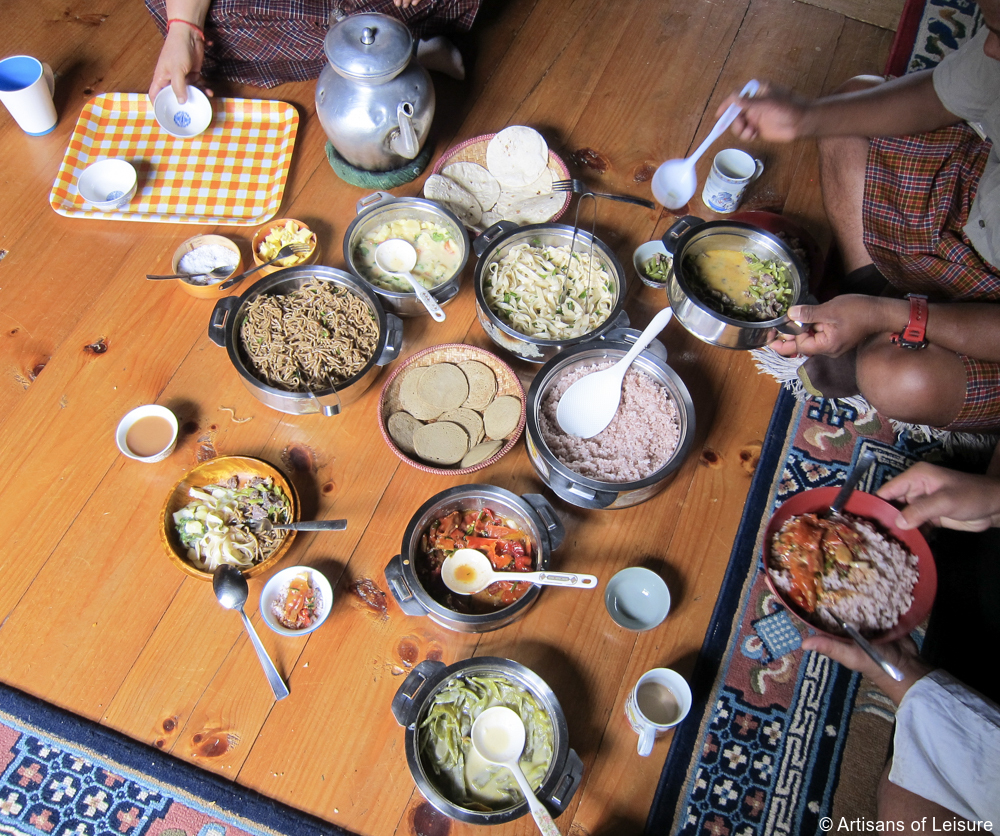 The Bumthang region has a number of interesting historic temples and monasteries. The body print of Guru Rinpoche, the founder of Tibetan Buddhism (the religion of Bhutan), has been preserved here at Kurjey Lhakhang Temple.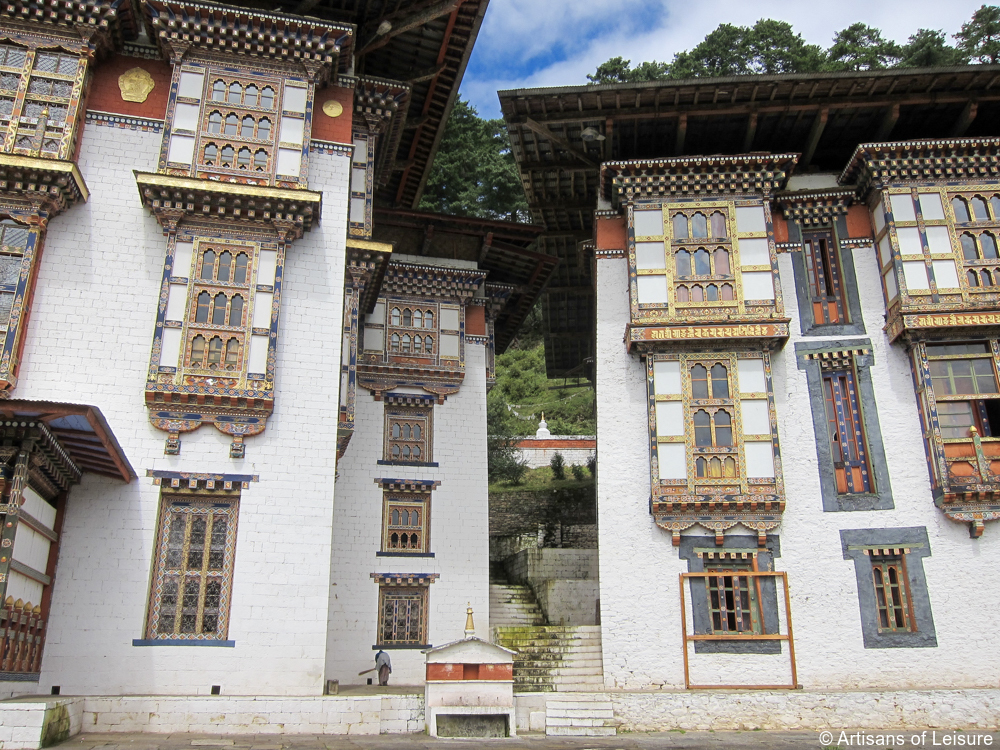 A fresco at beautiful and ancient Jambay Lhakhang Temple, also in Bumthang.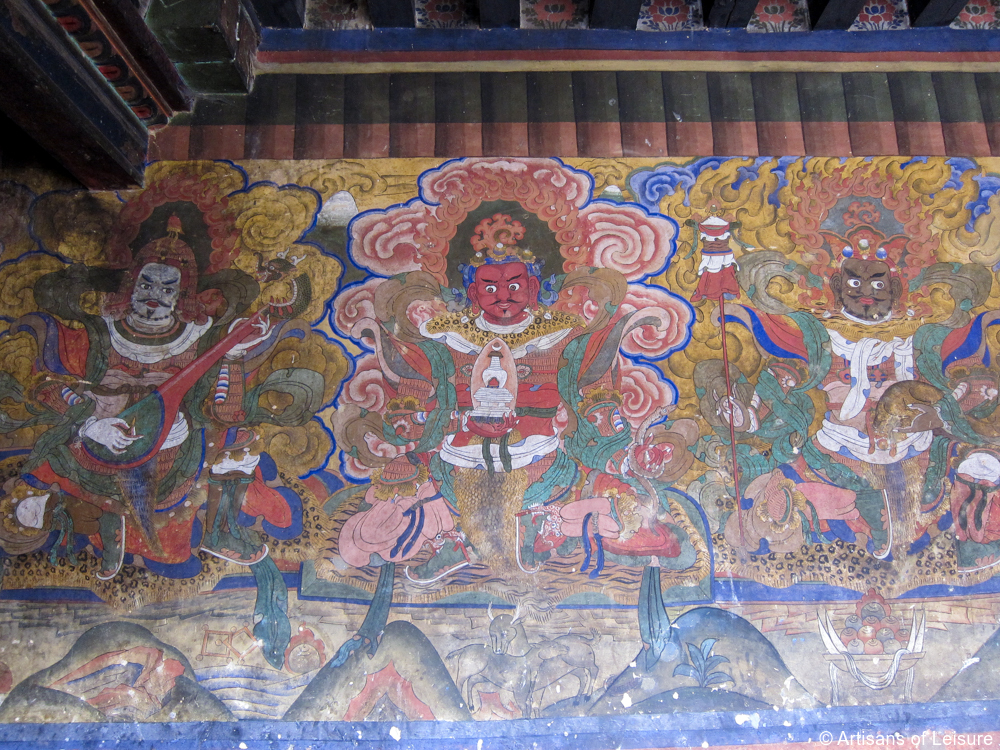 Most afternoons, monks at Lhodrak Kharchu Monastery in Bumthang practice debating. They often slap their hands and stomp their feet to make their points, as is typical among Tibetan Buddhist monks.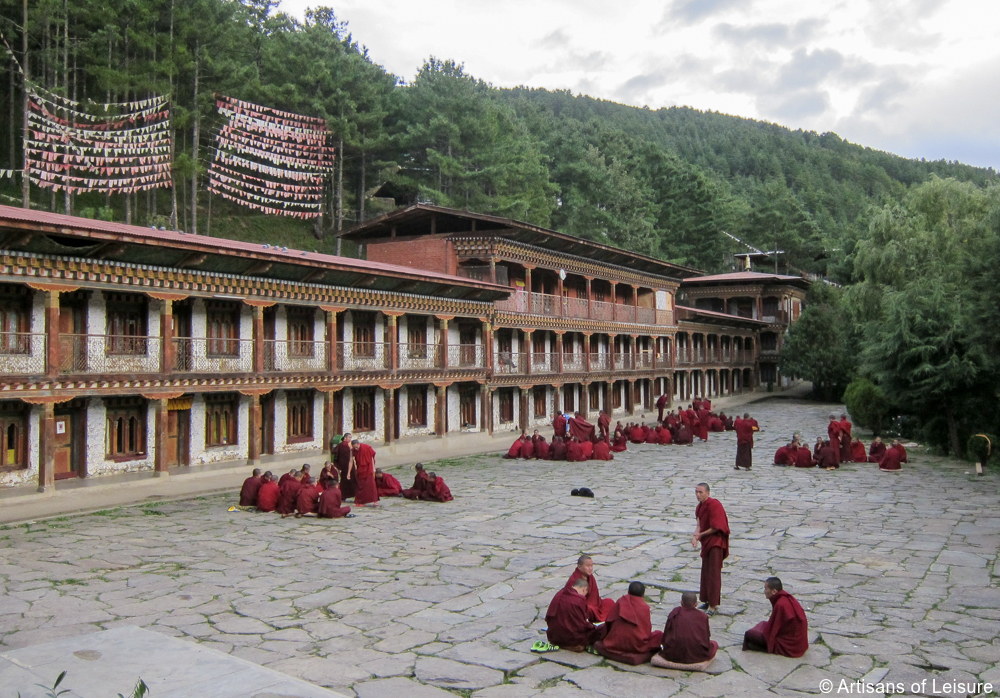 Prayer flags are omnipresent in Bhutan, especially on the sides of hills, mountains and bridges. These Bhutanese tourists are stringing flags at Burning Lake, a holy site in Bumthang.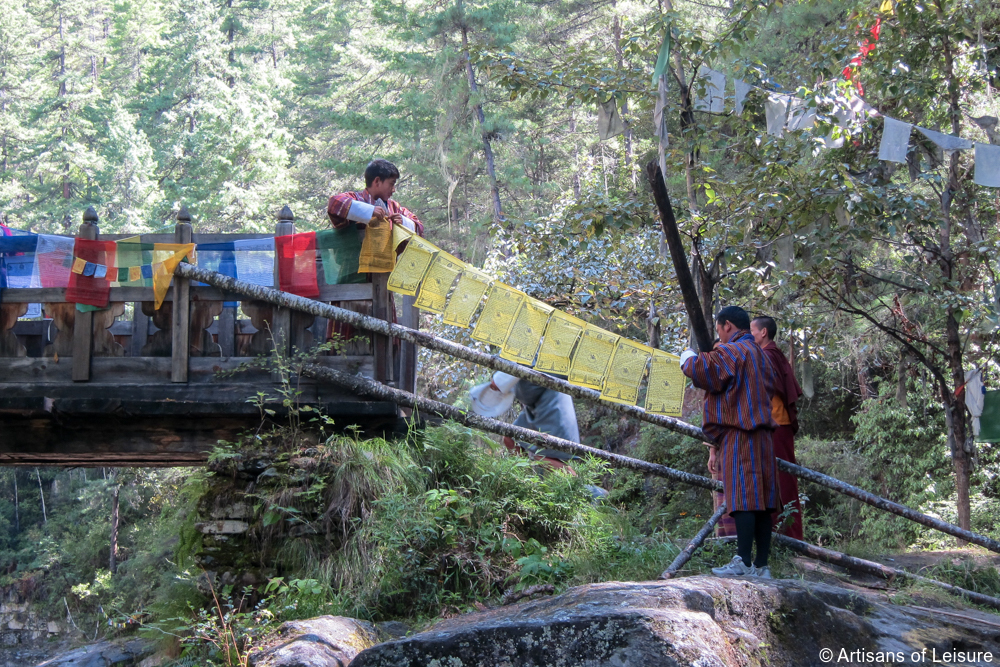 Tsa-tsas—the small, stupa-shaped statues scattered on the ground—are left as offerings at shrines and other sacred sites, as well as along roads and near holy caves.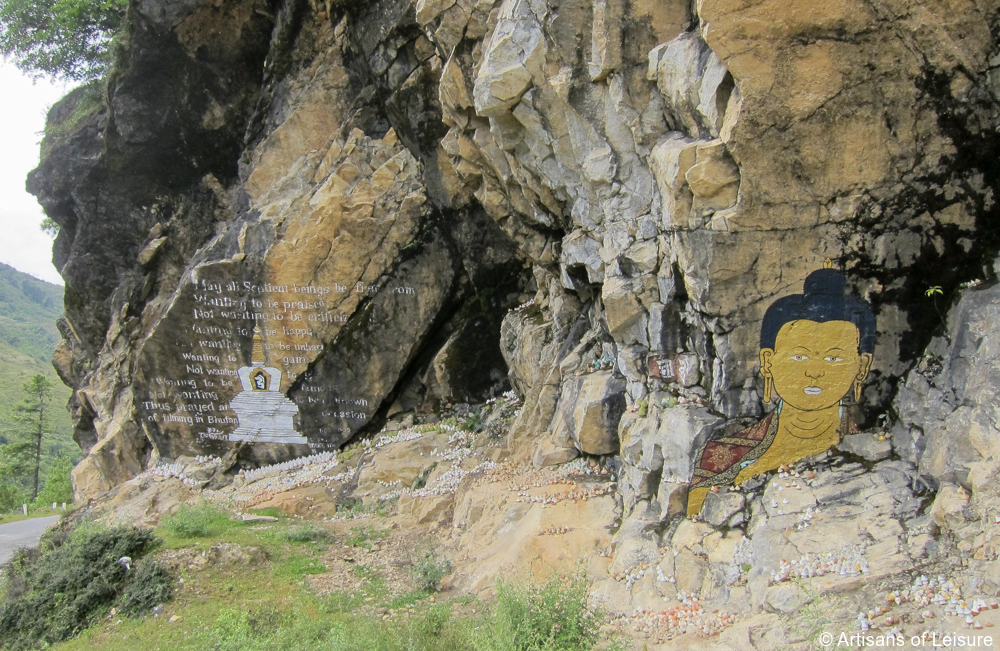 The Community Milk House is part of a local dairy cooperative.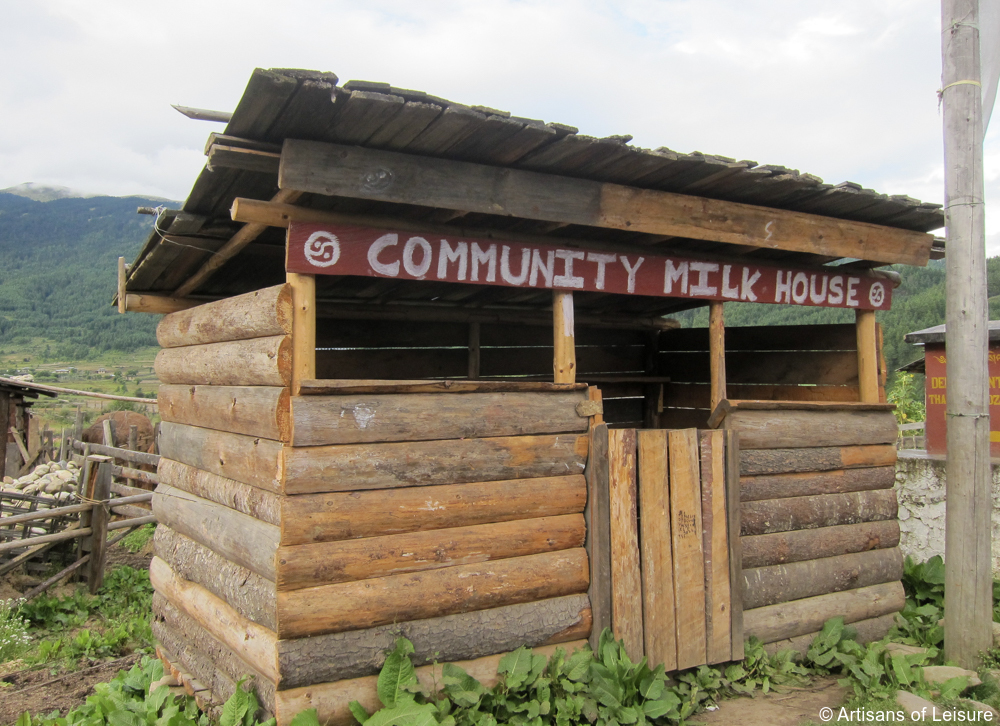 We can arrange a visit to a cheese factory in Bumthang to see the cheesemaking process. This cheese press is squeezing out moisture.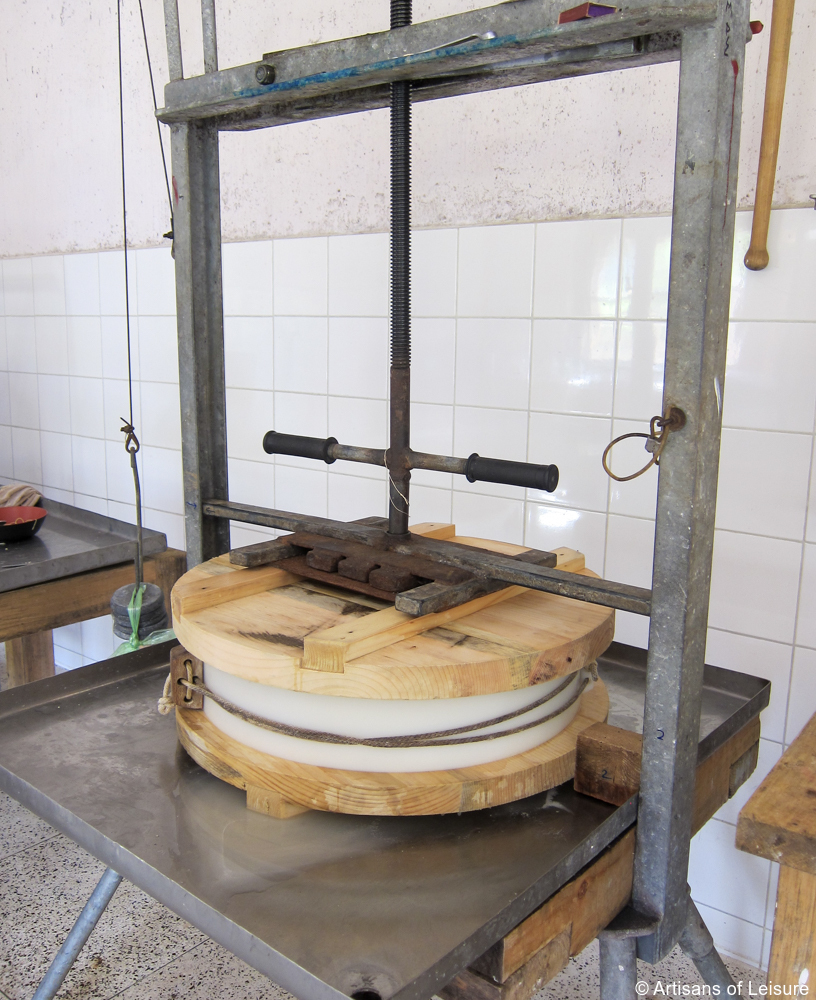 At the end of the process, the cheese is left to age.
We can also include a tour of a nearby brewery and arrange a beer and cheese tasting.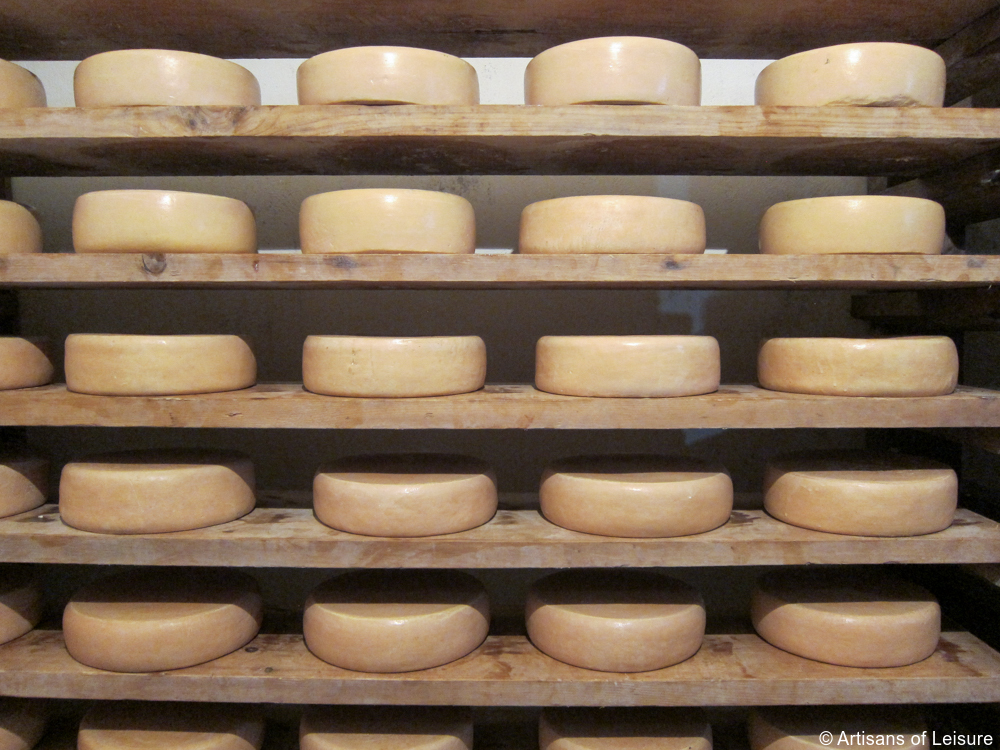 Thimphu, the capital of Bhutan, is home to one of the largest Buddha statues in the world.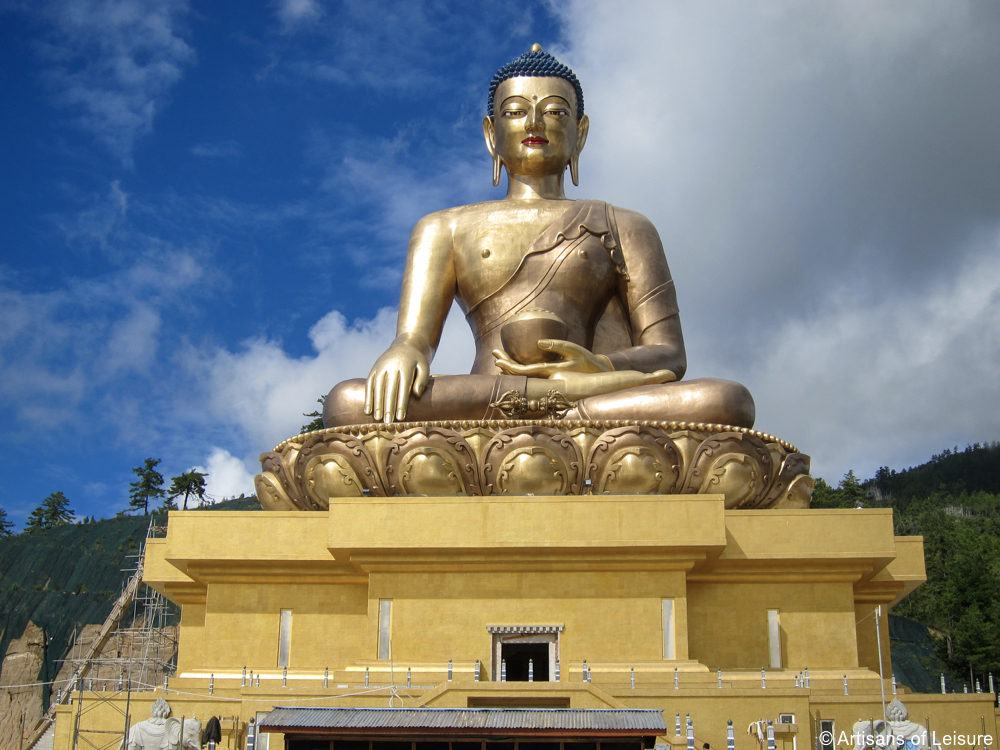 A highlight of a stay in Thimphu is visiting the National Memorial Chorten in the morning to see locals circumambulating and spinning prayer wheels on their way to work.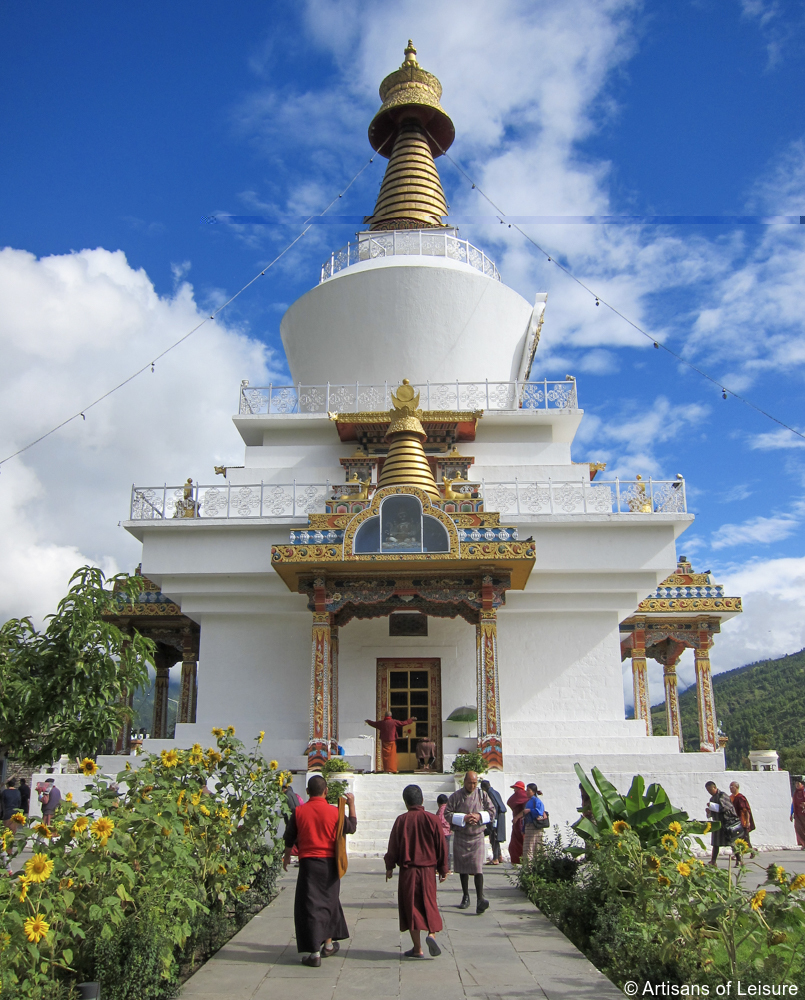 Devotees walk around the chorten (the Tibetan word for stupa)…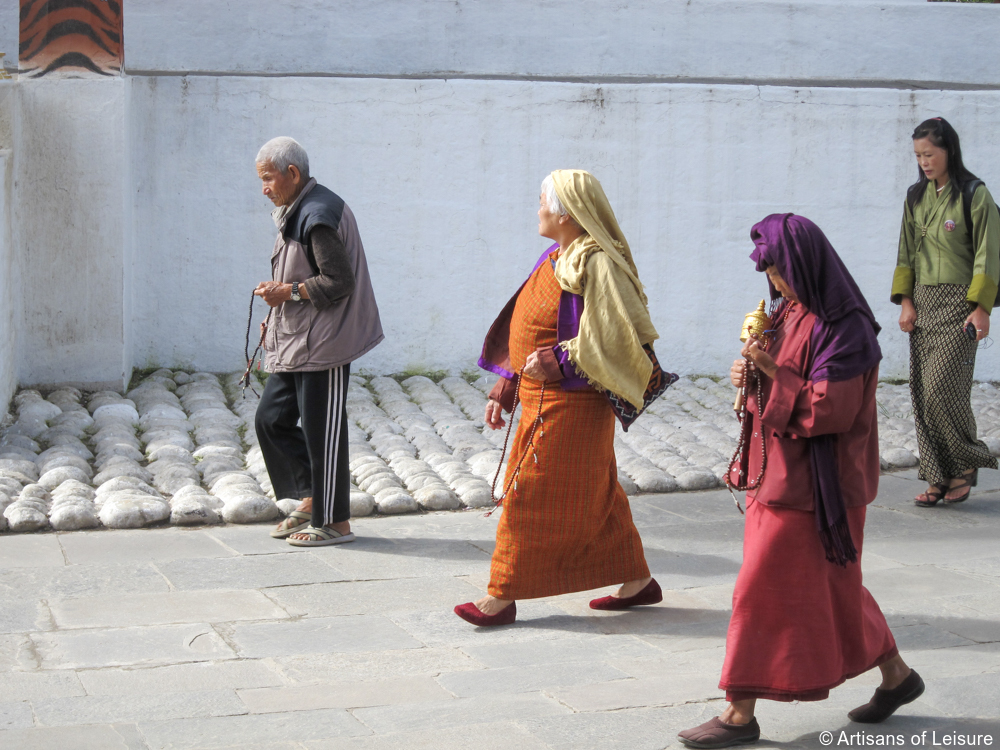 …and turn these prayer wheels.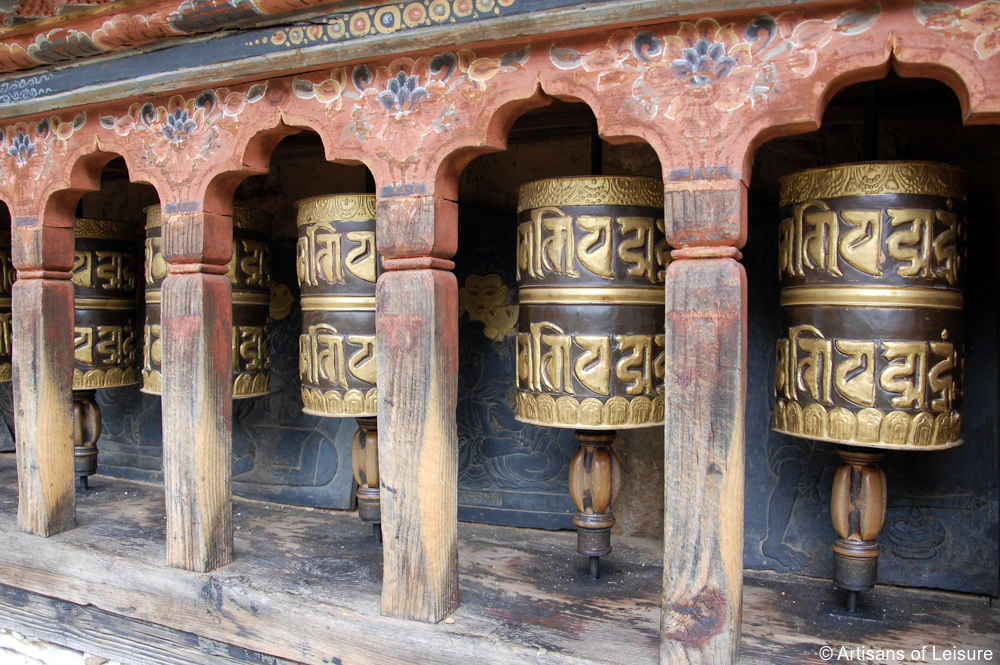 Astrology is an important part of daily life in Bhutan, where it plays into government decisions and the dates of national holidays. We can arrange readings with astrologers in Thimphu and elsewhere.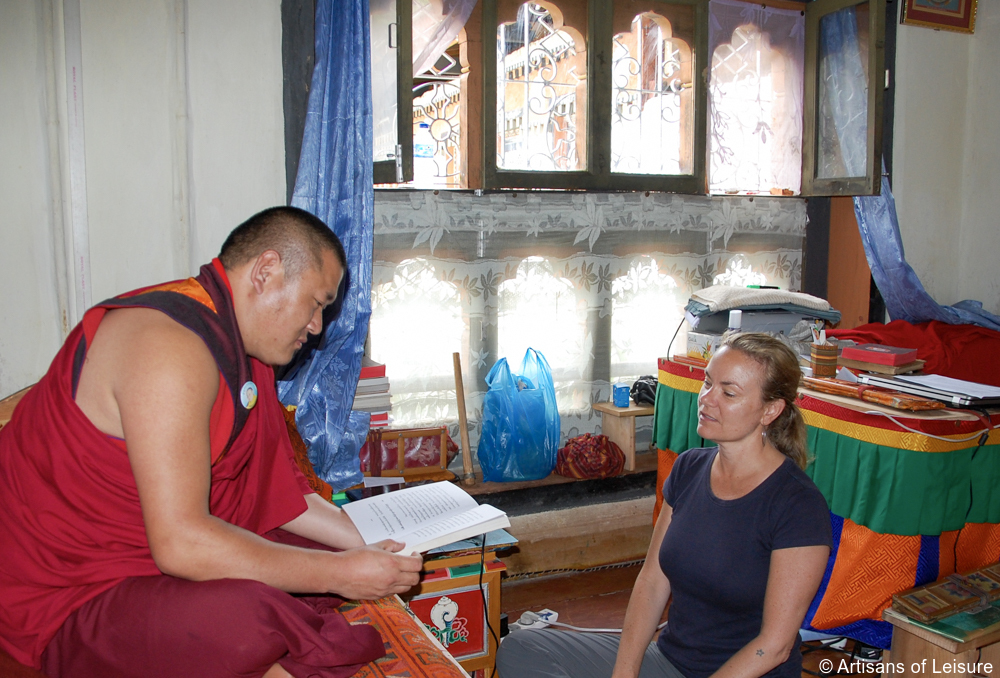 Schoolchildren on a field trip to see takins, the sheep-like national animal of Bhutan.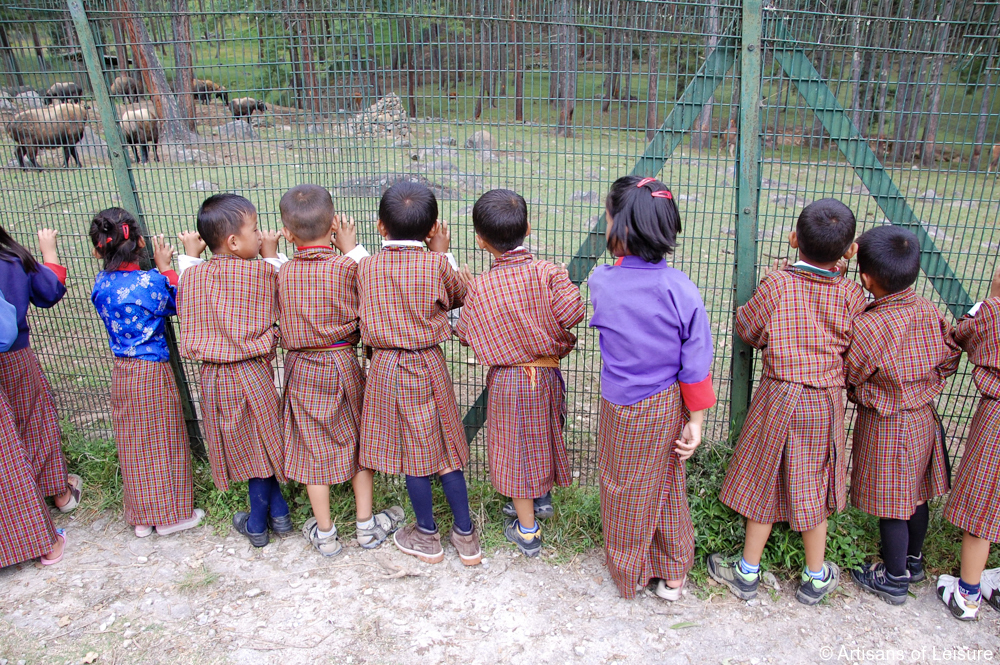 We also arrange visits to various crafts workshops and schools in Thimphu to see artisans at work.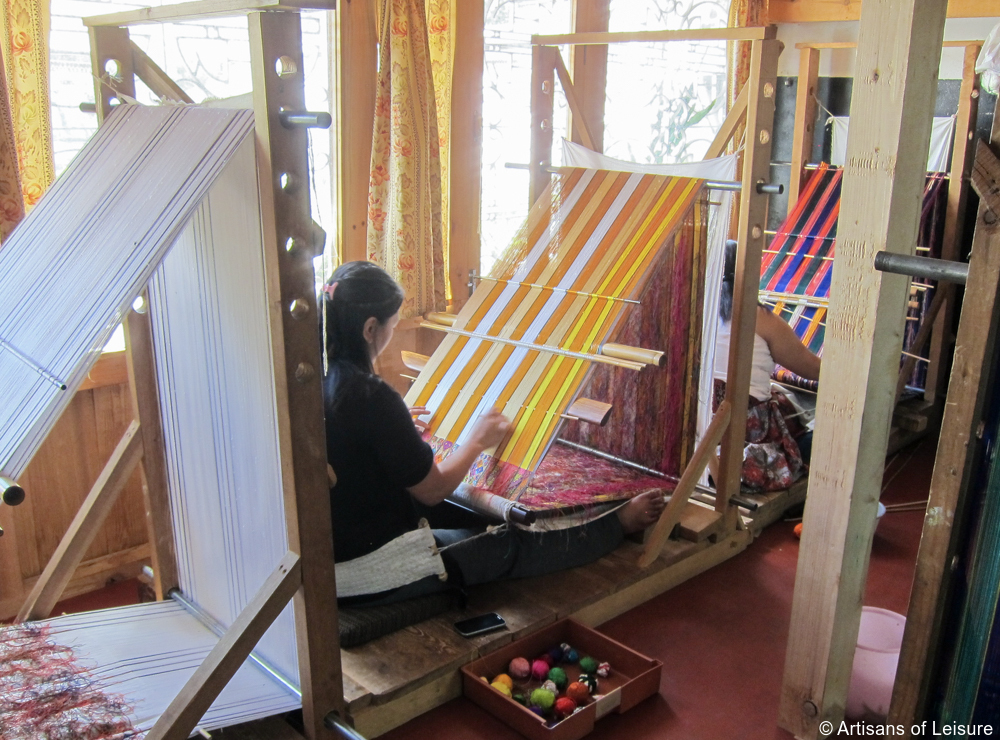 Students in a sculpture class at a local school of the traditional arts learn to make Buddhist images.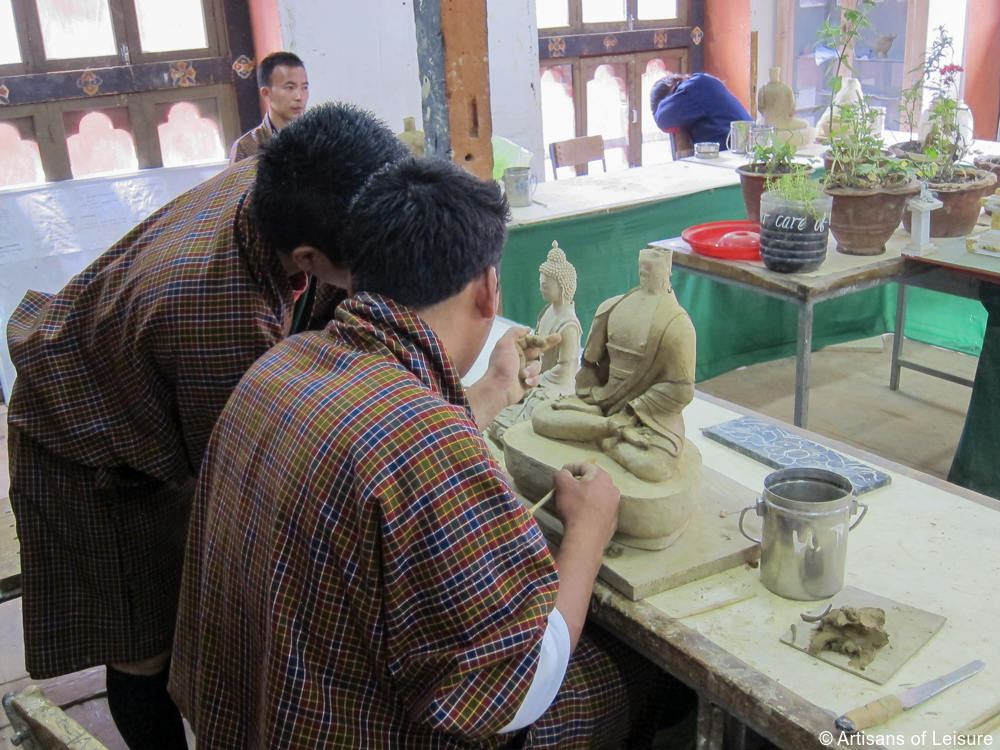 It's very interesting to see papermaking in Bhutan. Entirely handmade, the paper begins as tree bark.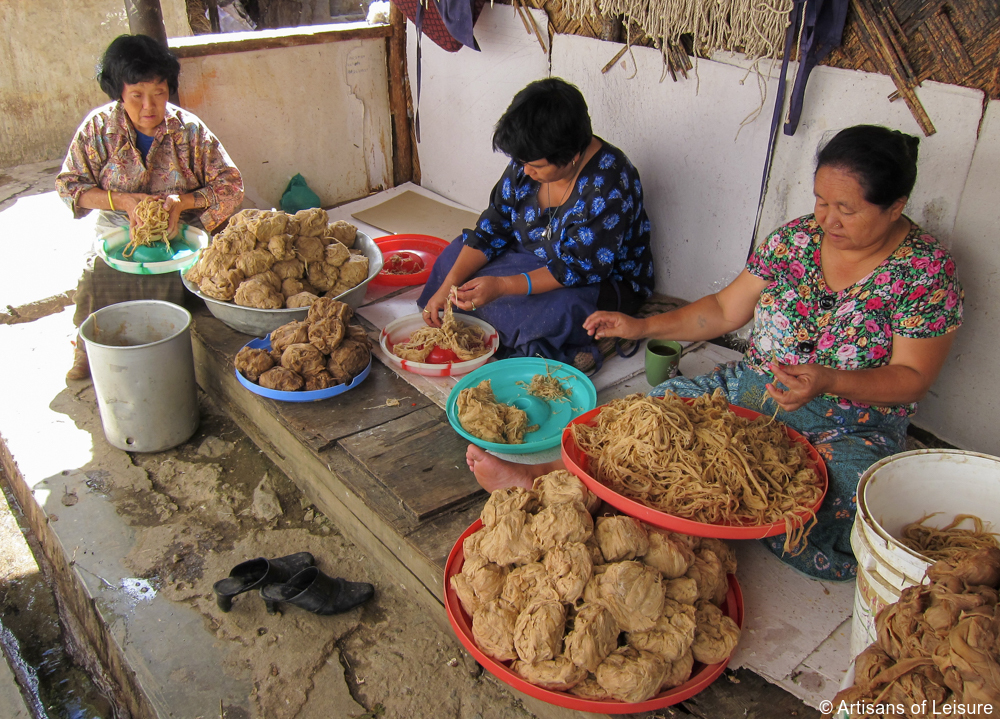 Incense is an integral part of Bhutanese culture. These incense ingredients are for sale at Thimphu's weekend market.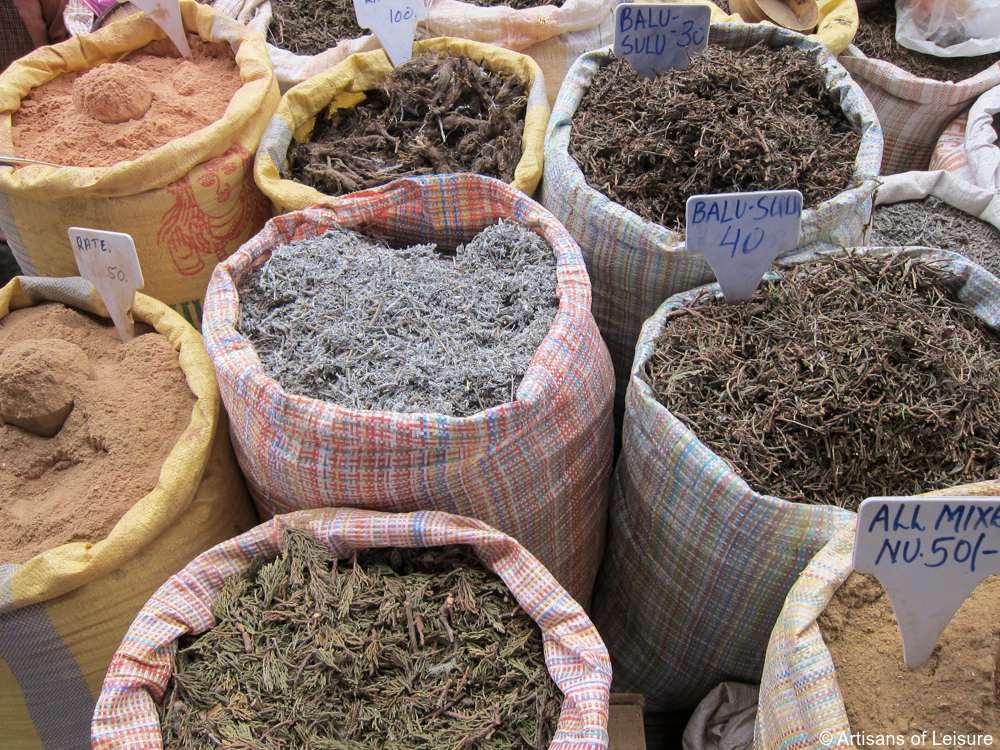 Mushrooms are very popular in Bhutanese cuisine, and local dishes often incorporate seasonal fungi. This delicious plate of gnocchi and chanterelles was served for lunch at one of our preferred hotels, Amankora Thimphu.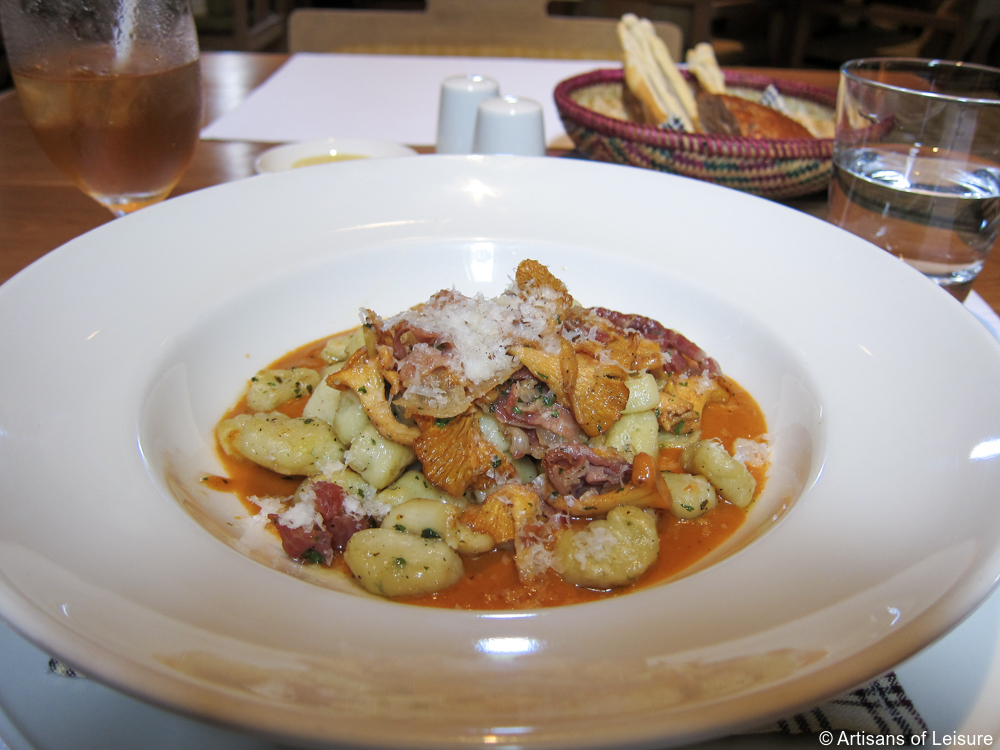 Taj Tashi is another of our preferred properties in Thimphu.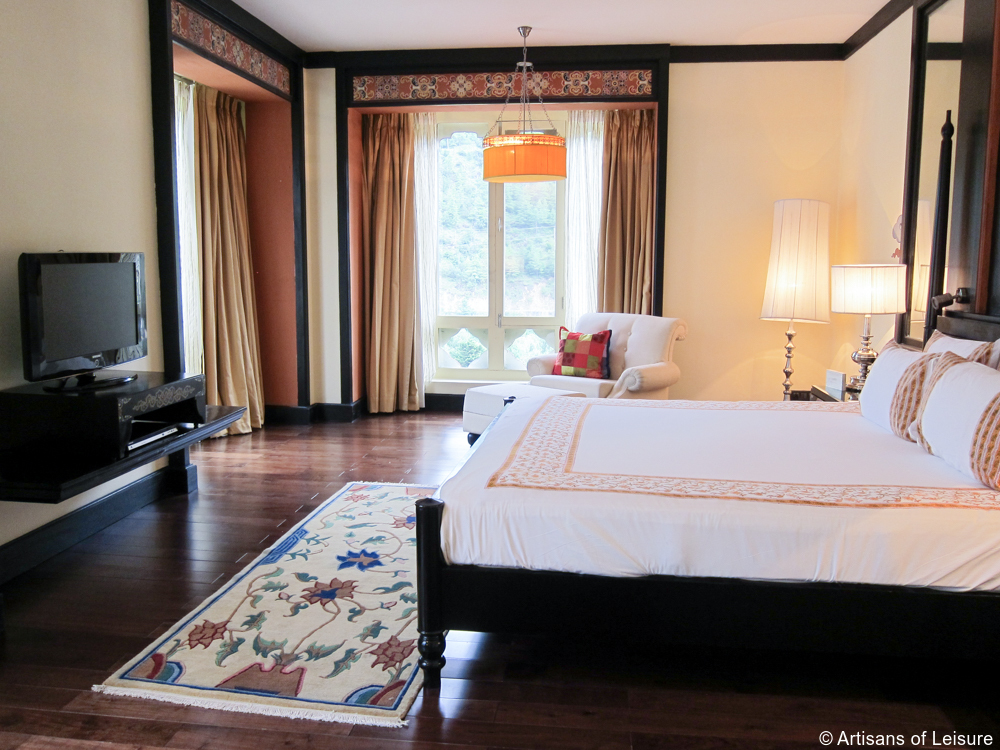 We watched a traditional Bhutanese music and dance performance in Thimphu.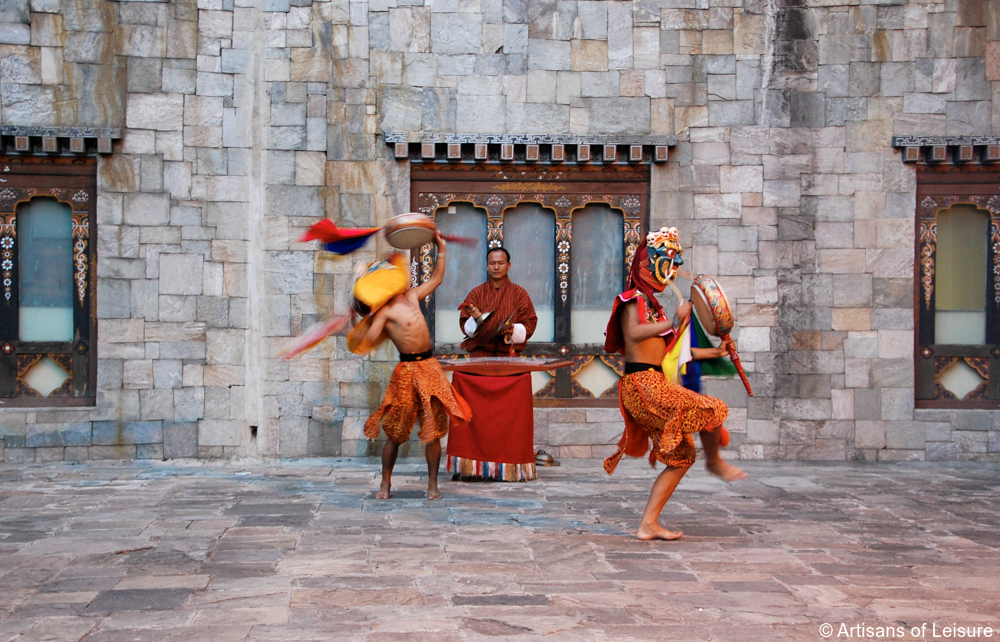 This 17th-century iron bridge is one of only a few still in use in Bhutan.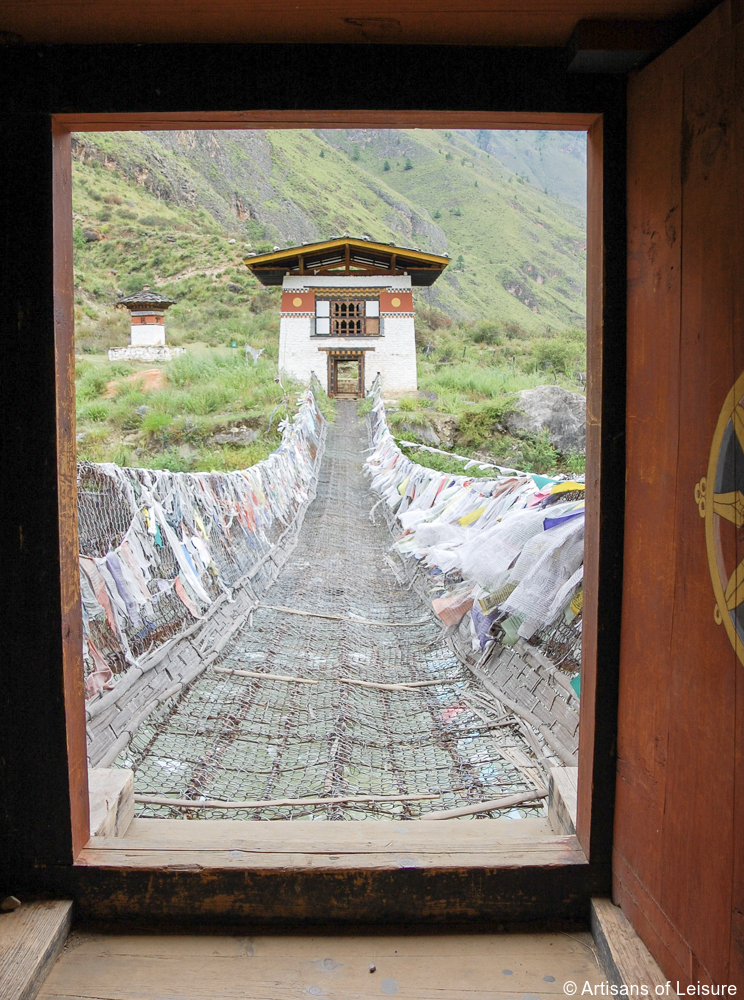 Amankora Paro is one of our preferred hotels in the lush Paro Valley.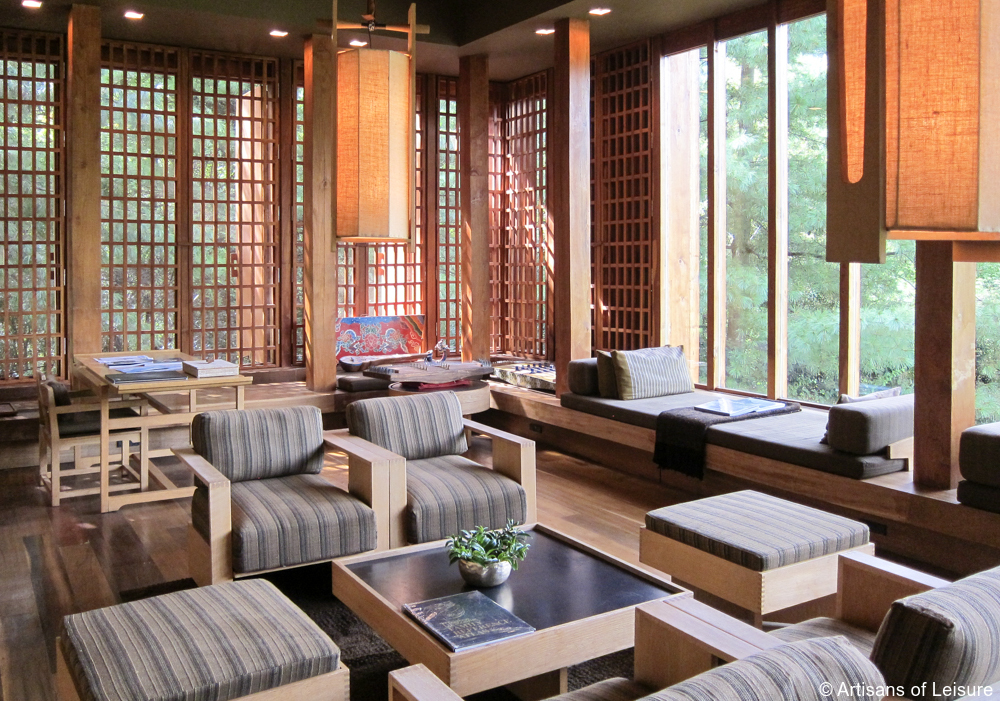 Archery is Bhutan's national sport. Paro is a great place to watch an archery tournament.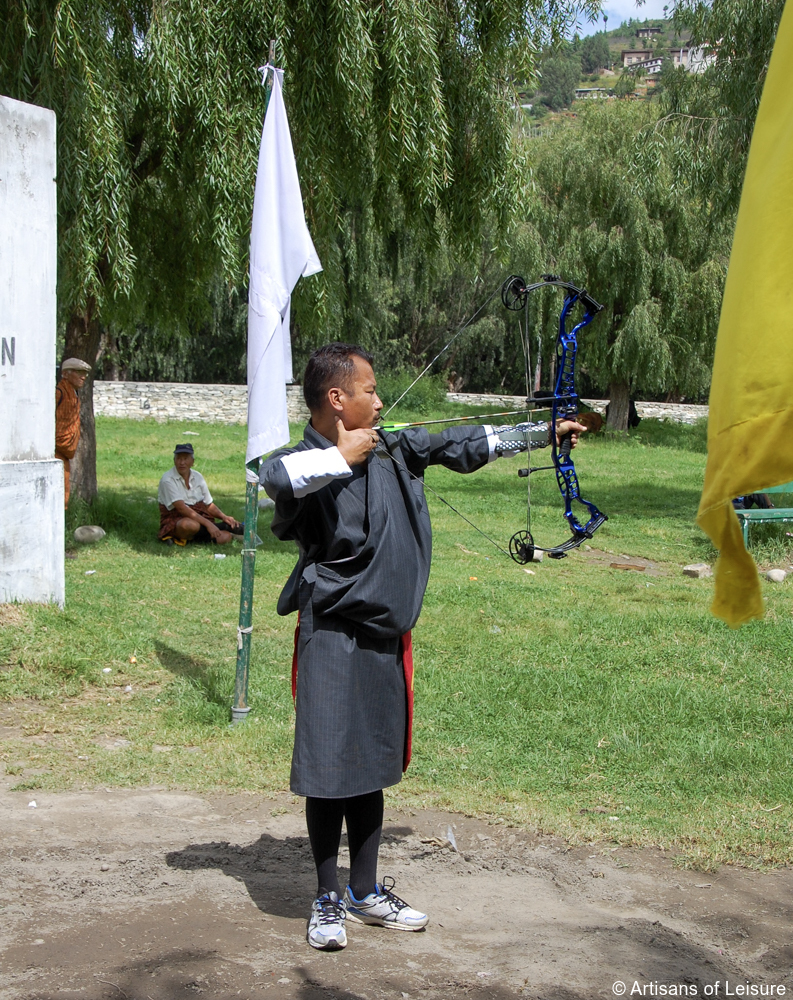 When a competitor hits the target, his teammates do a little victory dance.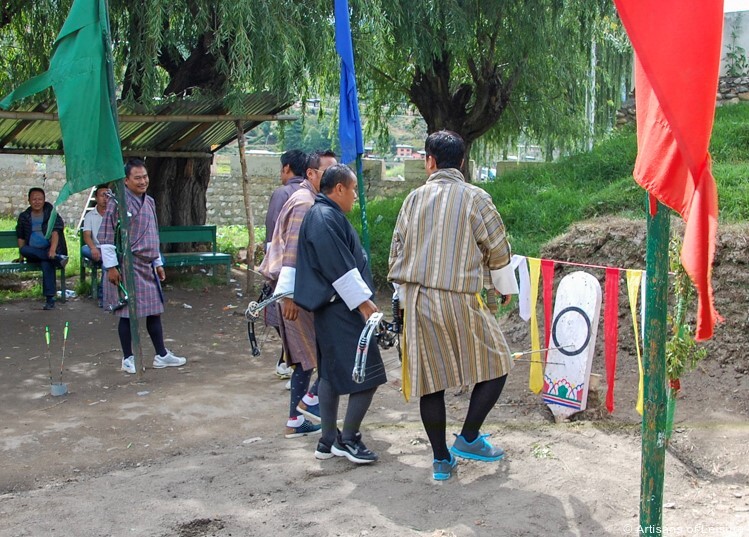 Local merchants at Paro's Sunday market—one of the most interesting and lively in Bhutan—sell a variety of produce, meat, cheese, incense and housewares. These men offer handmade knives and handpicked chanterelle mushrooms.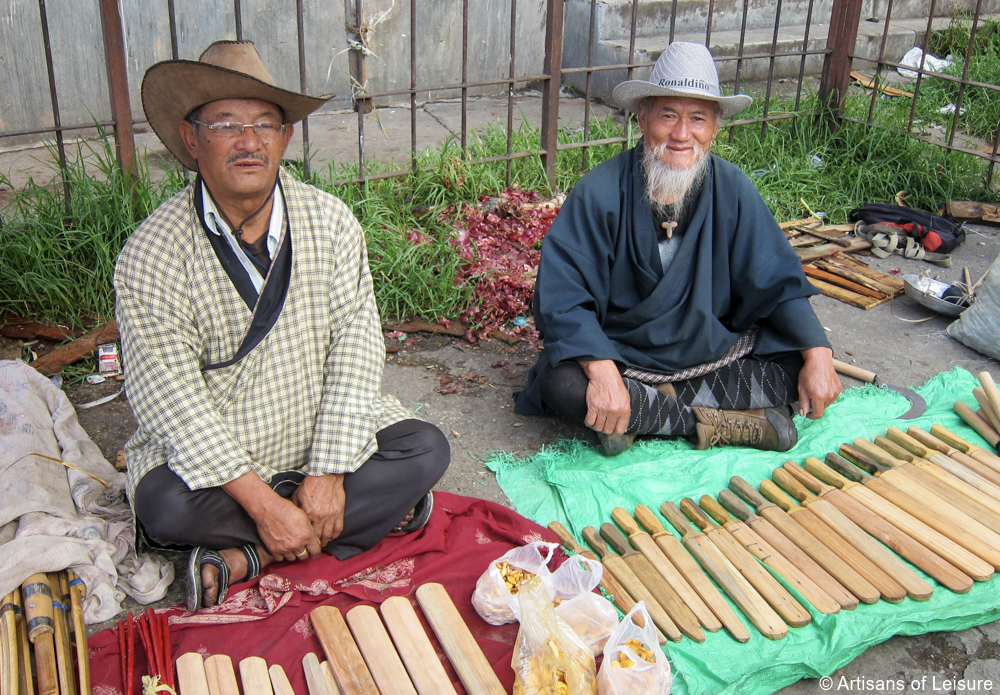 Chilies turn up everywhere in Bhutan: drying on the roofs of houses, piled in stalls at local markets, and adding flavor (and heat) to most dishes.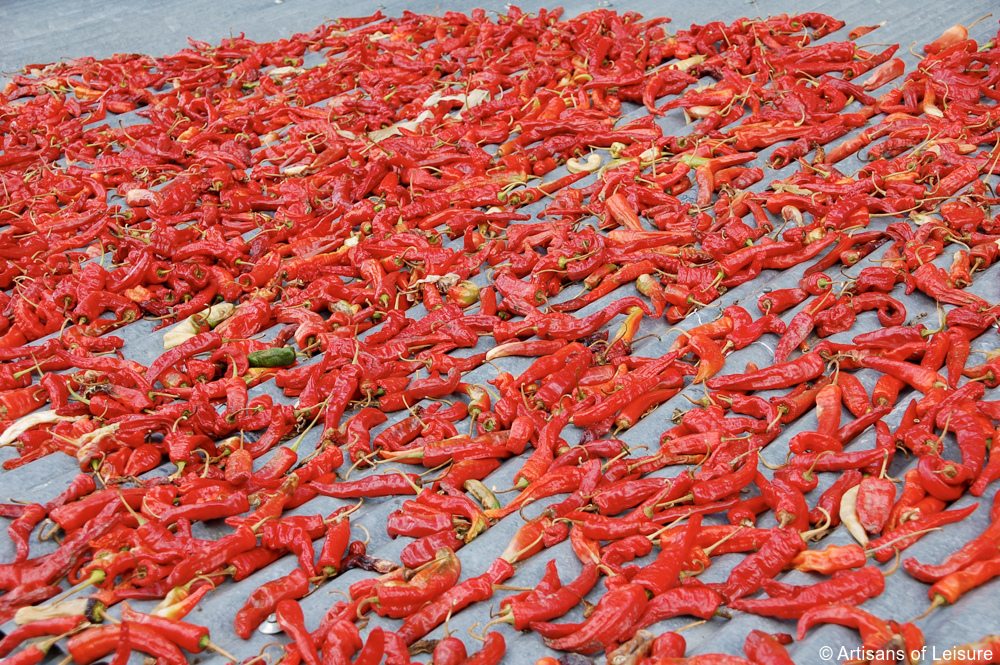 Upon request, Artisans of Leisure can organize overnight and multi-night treks in Bhutan, which is a great way for more active travelers to really immerse themselves in Bhutan's abundant natural beauty.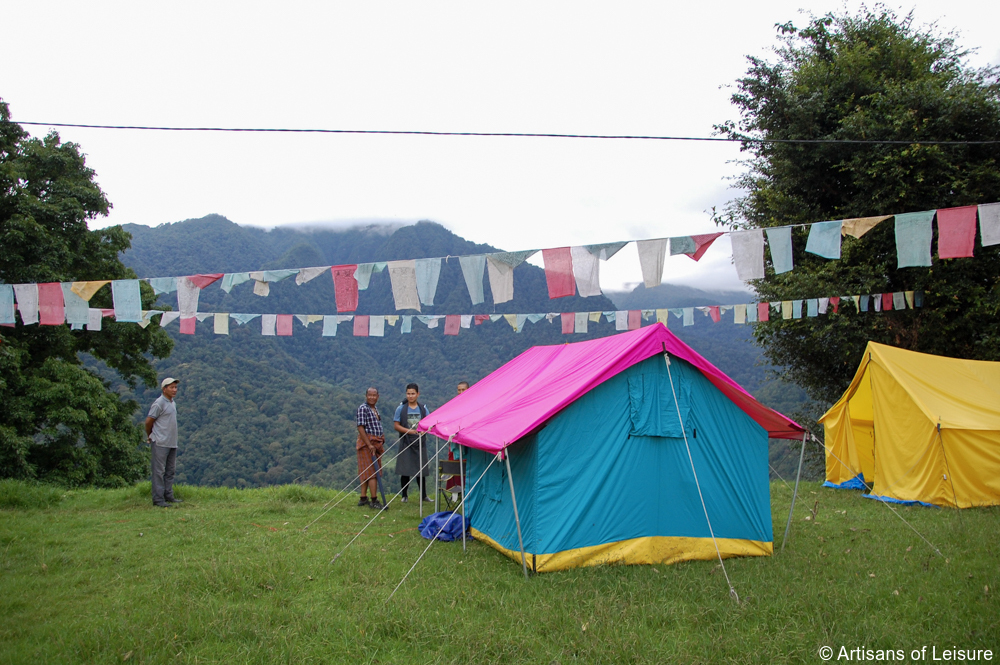 Paro's most famous day excursion (and hike) is to Taktsang Lhakhang, or Tiger's Nest Monastery (visible near the top of the middle peak above). Non-hikers can ride horses to a viewpoint en route to the monastery.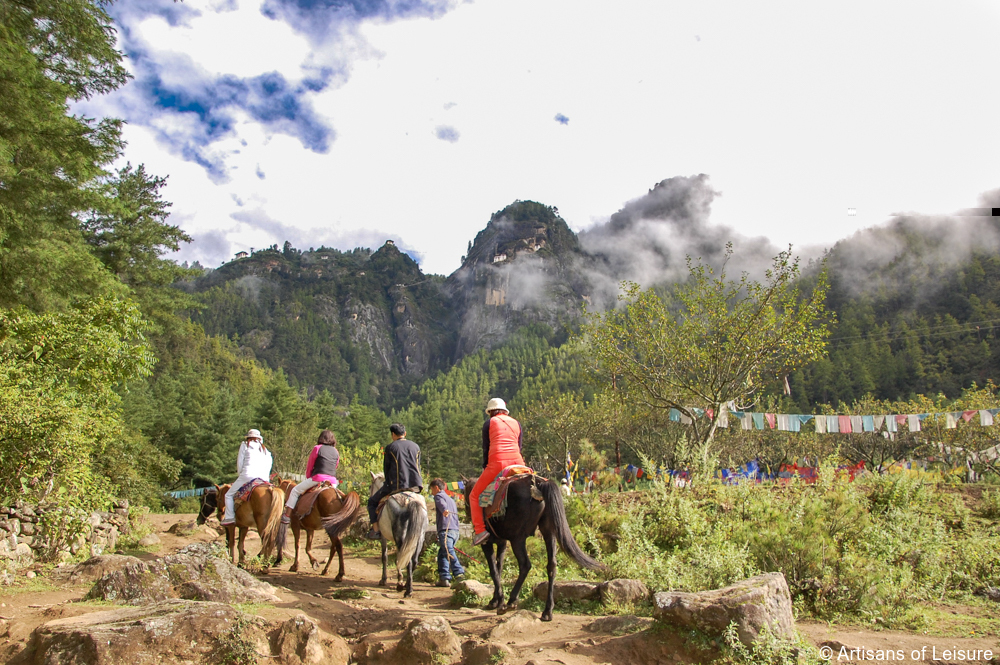 Mist floating through the fern-fringed trees creates an interesting atmosphere on the way to Tiger's Nest.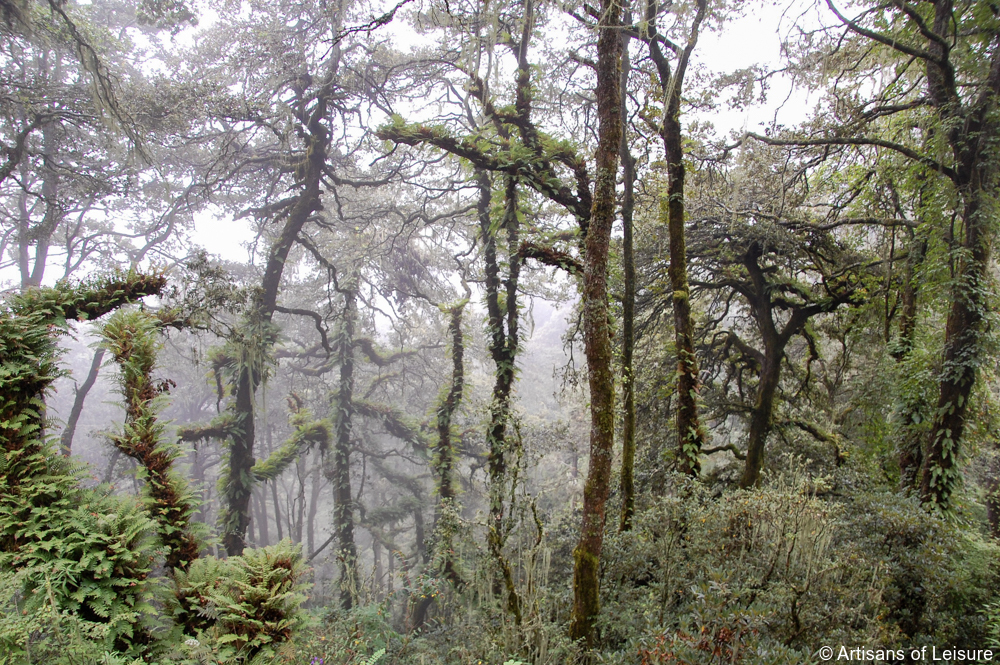 A man collects water from a waterfall near Tiger's Nest.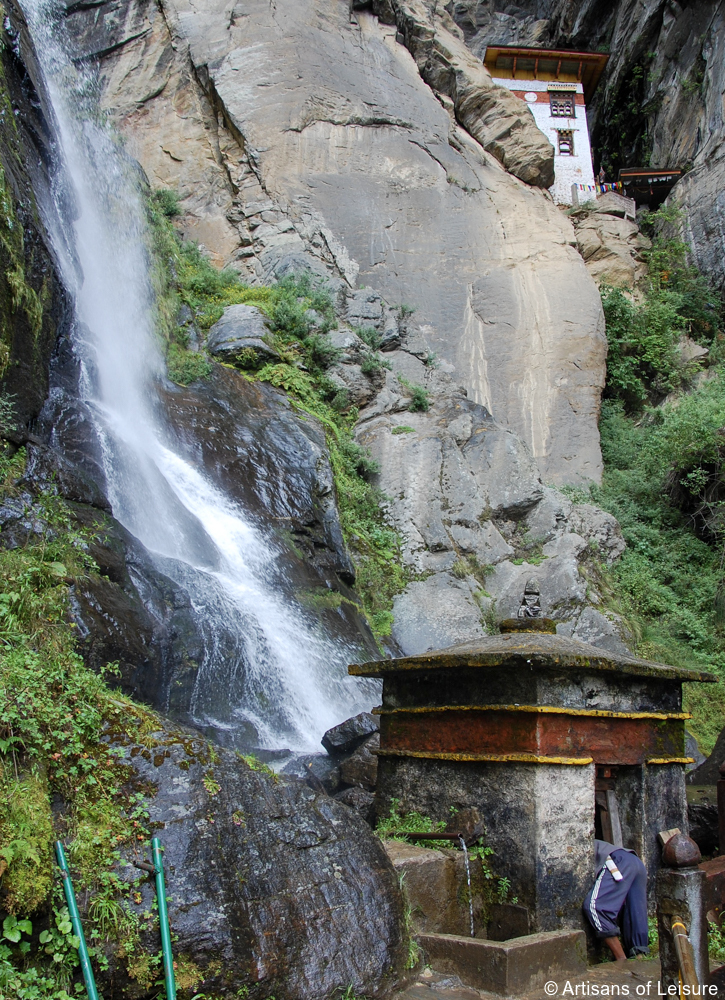 Tiger's Nest Monastery clings to the edge of cliffs.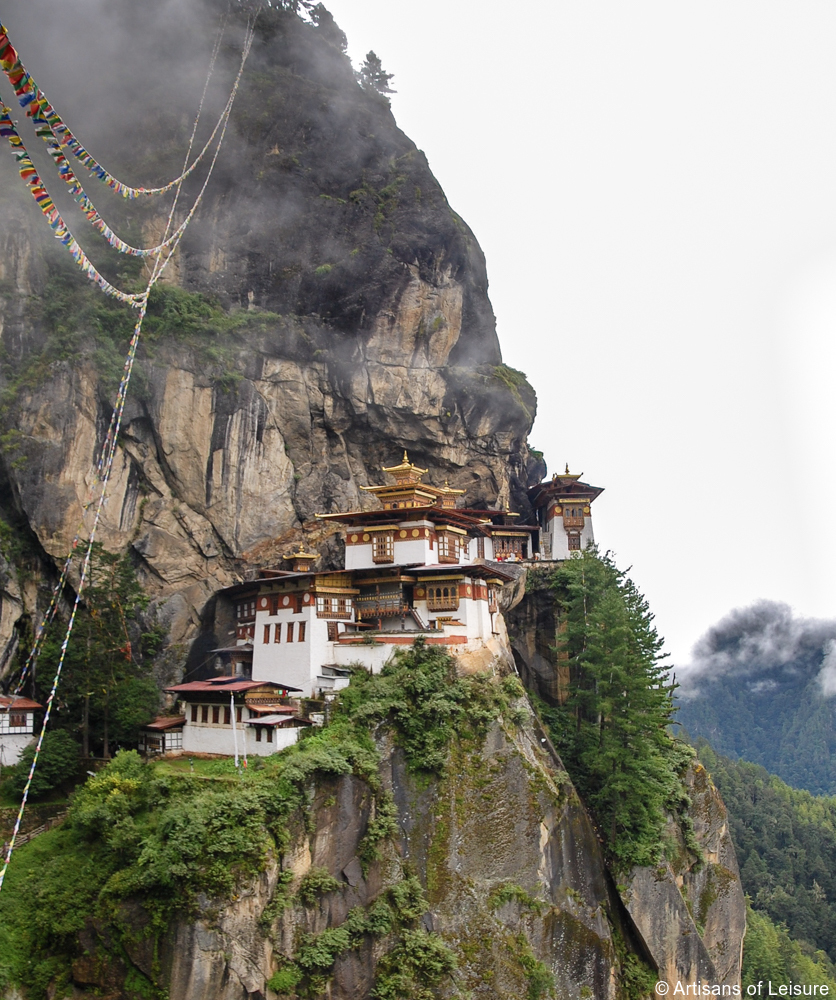 The perfect way to relax after a strenuous hike is with a traditional Bhutanese hot-stone bath, such as this one at the excellent spa at Uma by COMO, Paro.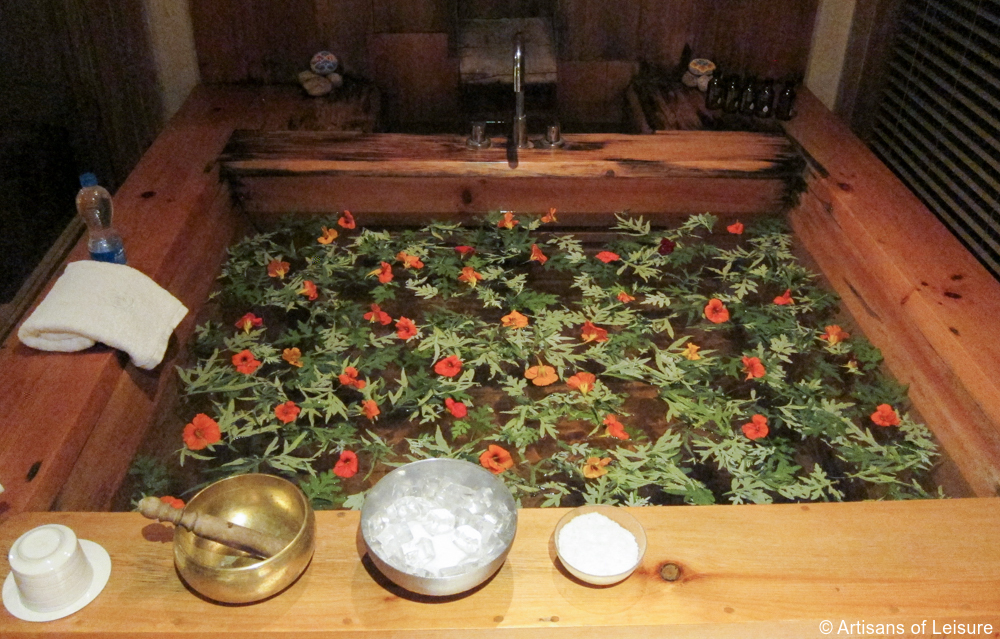 The dining room at Uma, one of our preferred hotels in Paro, has beautiful views over the valley.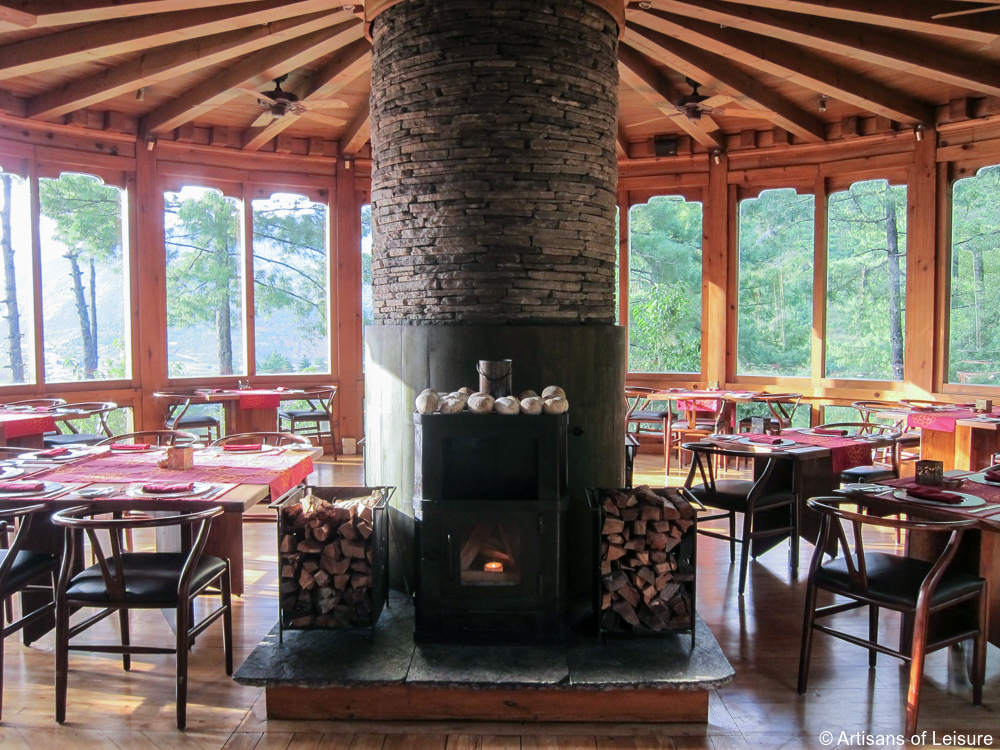 Contact Artisans of Leisure to begin planning the ultimate private Bhutan tour!
Tags: active travel, Aman, Aman resorts, Amankora, artisans, Asia tours, Bhutan, Bhutan tours, Buddhism, buddhist temples, Bumthang, dzongs, hiking, Himalayas, luxury Bhutan tours, markets, Paro, prayer wheels, Punakha, stupa, Thimphu, Tiger's Nest