October 7, 2014
Notes from Our Travelers: A Romantic and Luxurious Honeymoon in Switzerland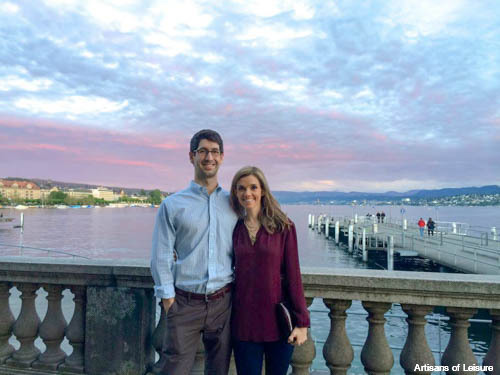 Many of our travelers ask us to plan trips that celebrate some of the most important moments in their lives, including spectacular customized honeymoons.
We were delighted to plan a private tour of Switzerland for Brian and Allison Reichenbach, newlyweds who have generously allowed us to share their photos on our blog.
The honeymooners started in Zurich, with private touring of the historic center and two nights at the Baur au Lac, a luxurious lakeside hotel.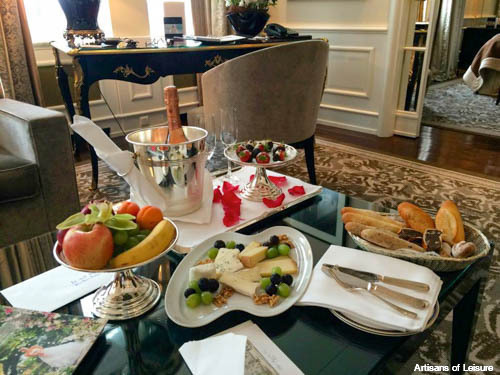 "Welcome reception in our room at the Baur au Lac in Zurich! We were upgraded to deluxe suites at every hotel and each room was more lovely than the last. The most enjoyable part of changing cities was the welcome we received at each new hotel—Champagne, chocolate, cheese, etc.—wonderful!"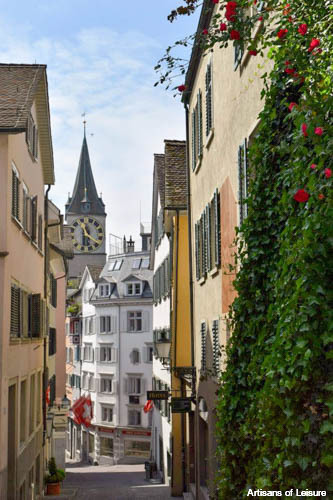 "We received the 5 star treatment everywhere we went, which made travel in a foreign country feel like a true vacation rather than a project."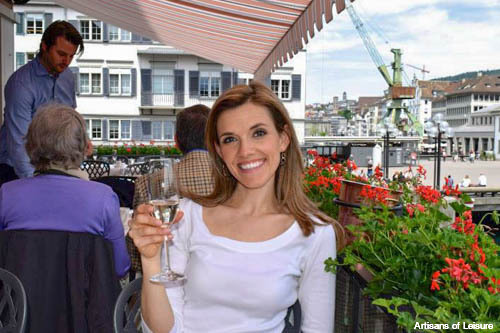 They continued to Lucerne, where a highlight is the historic bridge and its painted panels.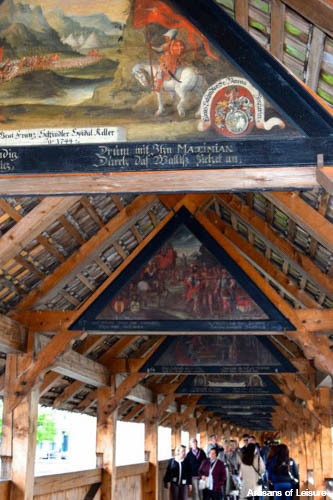 The Reichenbachs said that they enjoyed the cheese in Switzerland, including fondue.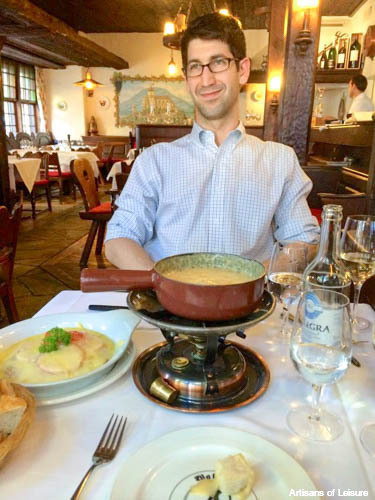 They also visited Reichenbach Falls. In addition to sharing their family name, the waterfall was the setting for a dramatic scene in a famous Sherlock Holmes story.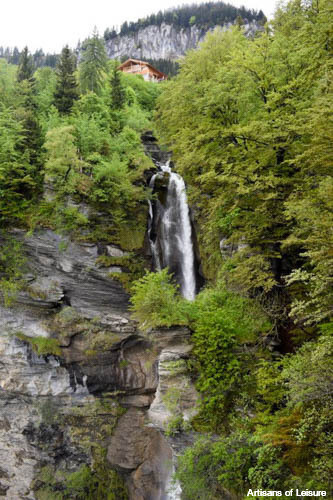 "The special detour we made to Reichenbach Falls was fabulous, and we appreciate Artisans of Leisure's help inserting that in to our travel plans. Worth the detour!"
Next, they ventured high into the Swiss Alps.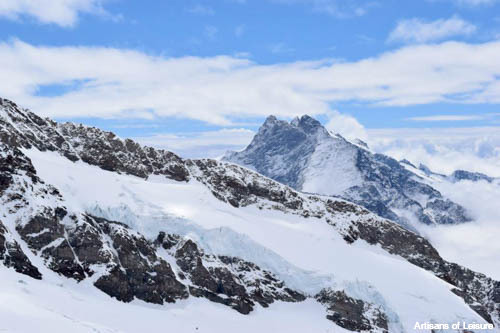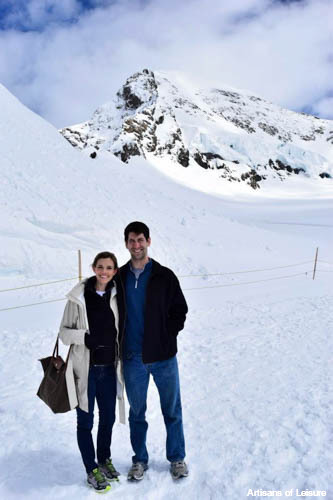 "In Interlaken, our guide took us up to see Jungfraujoch. This man was amazing: a true Swiss mountain guide with wonderful stories about mountain climbing and growing up in Switzerland. He navigated the masses of tourists masterfully and we waited nowhere and saw everything."
They also toured a cheese factory on the way from Interlaken to Lausanne…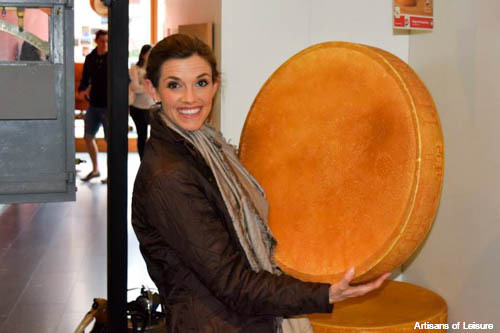 "I wanted to tuck this into my purse…"
…and visited one of Switzerland's most charming small towns.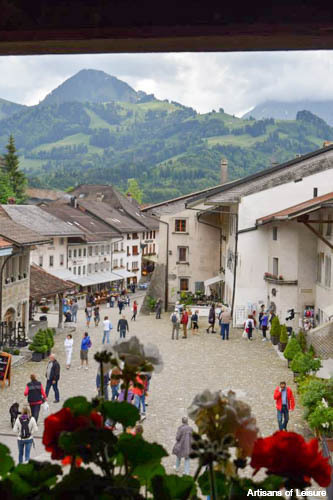 "Our lunchtime view in Gruyeres, where we had tasty raclette. All of our guides gave wonderful recommendations."
The honeymooners ended their tour with several days at the Beau-Rivage Palace in Lausanne.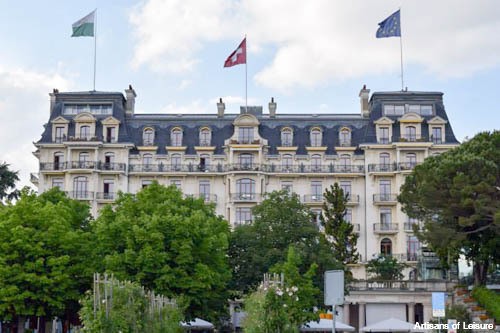 "Every single hotel was absolutely fabulous, but the Beau-Rivage Palace was probably our favorite. Restaurant Anne-Sophie Pic there was also above and beyond—every bite was more interesting and spectacular than the last and the service was wonderful as well."
From the Beau-Rivage, they explored top attractions in the beautiful Lake Geneva region, including Chateau de Chillon.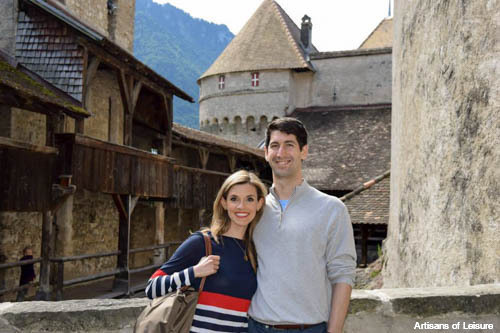 "We loved having a private guide at Chateau de Chillon—it makes a huge difference in how much you learn and how easy it is to navigate. Additionally, you get the chance to chat with local people, learn about the culture, and get recommendations you don't find in the guide books."
They also visited the ancient vineyards in the Lavaux region, where they sampled Swiss wines.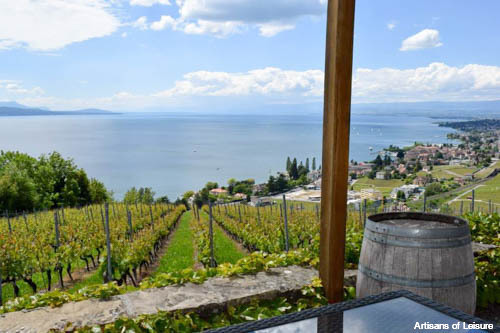 "Our guide worked there at the vineyard and his passion for the wine and the winery itself was so evident that it was contagious. We left with a renewed interest in wine."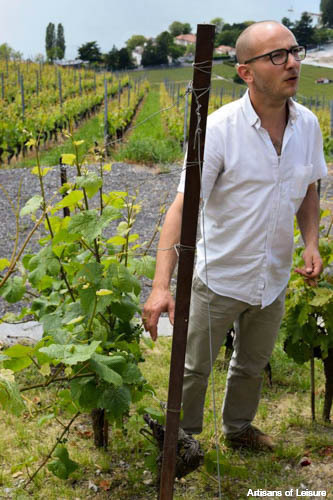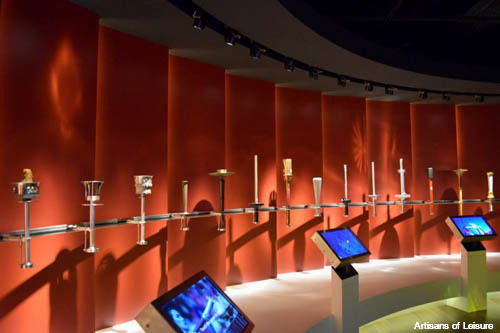 "We also loved the Olympic Museum in Lausanne. We went after our wine tasting and it's a really wonderful museum, just a short walk from the Beau-Rivage Palace."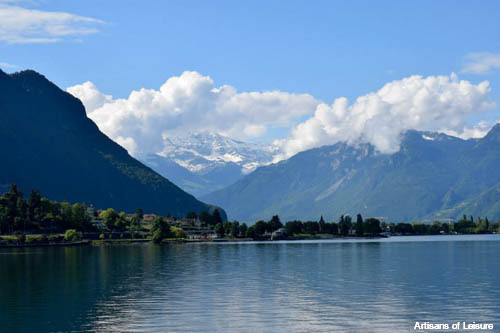 "Other companies we've used aren't even comparable to Artisans of Leisure. Traveling privately with Artisans of Leisure was so much more relaxing and tailored to us and felt much more like a true vacation."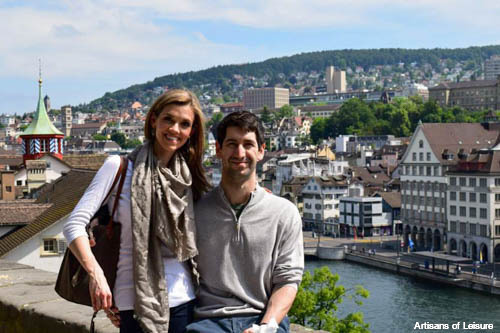 Congratulations again to the newlyweds! It's always gratifying for us to hear how much our travelers enjoy themselves on our tours.
Contact us to learn more about our private Switzerland tours or planning a private honeymoon tour in one of our many other recommended destinations for a romantic getaway.
Destinations: Europe, Switzerland
Tags: Artisans of Leisure, cheese, culinary tours, Europe, Europe tours, honeymoons, luxury honeymoons, luxury tours, nature, romance, Switzerland, wine tours