November 29, 2012
Sicilian Food and Wine: A Delicious History
One of our favorite ways to experience Sicily's unusually complex history is through its delicious food and wine.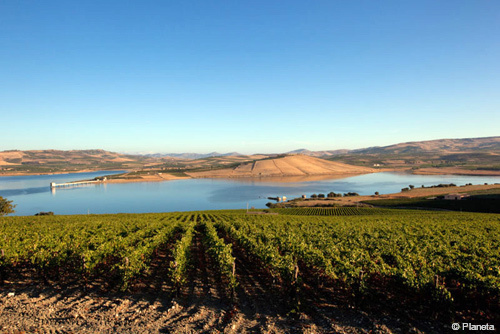 The beautiful Mediterranean island has been colonized, invaded and controlled by many different groups over the centuries, including the Greeks, Romans, Normans, Arabs and Spanish. Each wave of people brought its own ingredients and culinary traditions. The Greeks introduced olives and grapes. The Arabs planted sugarcane and oranges. The Spanish imported chocolate, tomatoes and peppers from the New World.
The Sicilian menu reflects the diverse results in dishes such as Arab-inflected arancini rice balls, Norman-style meat dishes such as braciole, North African-inspired couscous, and Arab-influenced sweets like fruit-shaped marzipan and latte di mandorla (almond milk).
Sicilian cuisine also benefits from the island's highly favorable location and growing conditions. Its dry, sunny Mediterranean climate and fertile soil yield a bounty of fresh fruit and vegetables (figs, artichokes, almonds, blood oranges and citrons to name a few). The surrounding sea provides abundant fresh seafood and pure sea salt. Even the slopes of Sicily's iconic volcano, Mount Etna, support bountiful farms and vineyards.
Wine is another highlight of Sicily's culinary scene. Winemaking on Sicily dates from at least the time that the Greeks arrived in 750 B.C. But over the last decade, the island's vineyards have been getting special attention from innovative producers and curious consumers. Sicily now has over 20 DOC regions (an indication of quality), including one on Mount Etna. Nero d'Avola—a flavorful red wine grape that's one of the 19 varieties native to Sicily—has become the island's best-known varietal. Some of the Sicily's other typical wine grapes include reds such as Frappato, Perricone and Nerello Mascalese, and whites such as Ansonica, Catarratto, Malvasia and Trebbiano. While some grapes are made into varietals others are blended to make popular Sicilian wines such as Marsala, Cerasuolo di Vittoria and Bianco d'Alcamo. Grapes with perhaps more familiar names such as Merlot, Syrah and Chardonnay have also begun to appear in Sicily's vineyards.
On our private Sicily tours, including our new Culinary Tour of Sicily and our Art & Culinary Tour of Sicily, we introduce our travelers to Sicilian flavors—from the ever-popular granita (flavored shaved ice) to the more adventurous pane con la milza (spleen sandwich)—at restaurants, food shops and food stalls.
We also include foodie and wine enthusiast activities such as private tours of Capo market and other food markets; private cooking classes with renowned local cooks in the kitchens of their private homes; private visits to olive estates;  private wine tastings at renowned vineyards where unique Sicilian varietals are produced; private tours of traditional salt pans where sea salt is harvested; private tours of the best Sicilian chocolate shops; private visits to specialty shops to try marzipan, cannoli and other treats; and more.
Culinary touring can also be incorporated into any of our private Sicily tours, which focus on Sicily's incredible cultural attractions (including unique architecture and stunning archaeological sites) and beautiful resorts.
Contact Artisans of Leisure for more information and to start planning a private culinary tour of Sicily.
Destinations: Europe, Italy, Sicily
Tags: art, Artisans of Leisure, beach resorts, cooking classes, educational travel, food, foodie tours, history, lessons, luxury Sicily tours, luxury travel, Mediterranean, olive oil, Palermo, private, private Sicily tours, private tours, Taormina, vineyards, wine