June 10, 2010
A conversation with an expert ranger at Singita, South Africa
Singita safari lodges are among the most exclusive and acclaimed luxury safari experiences in Africa. We recently visited Singita Boulders and caught up with Marc Alkema, one of the head  rangers we use for game drives in Sabi Sand.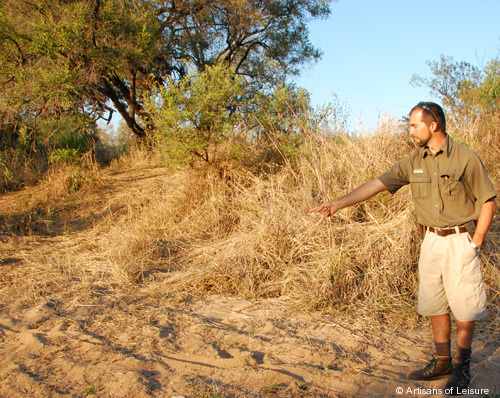 Q: Why did you decide to become a ranger?
A: I was on a family holiday at the age of six in the Greater Wetland St. Lucia Park (Isamangalismo). I was bubbling with excitement when I found myself in that amazing environment. One of the Game Rangers who was working there noticed my enthusiasm and asked my family to accompany them on a crocodile capture that was taking place. Of course, we did not participate but had the opportunity to witness the capture of some massive crocodiles that were to be relocated into other wildlife areas. I will never forget that time!
My life changed after that introduction to nature and has always revolved around animals. I began to appreciate and enjoy the outdoors even more.
When I moved from Kwazulu Natal to Barberton in Mpumalanga at the age of nine, my grandparents took me and my brother into the Kruger National Park. It was the best! I knew for certain that I was to become a Game Ranger and would aspire to work in this unbelievable place.
Besides this incredible career, it is a chance to give back to the environment and teach people about the environment and conservation efforts through tourism and local projects.
Q: Is there anything unique about the qualifications you must have in order to be a ranger at Singita?
A: All guides and trackers have to belong to the Field Guides Association of South Africa in order to be legally accepted by any company. Singita has its own intense guide training program, which comprises theory and a lot of practical training. In addition, we also are trained in a wide range of subjects including wine, astronomy, wilderness first aid, road map orientation, and animal behavior, just to name a few. We at Singita try to encourage growth of our team, and ongoing training makes it great to work for a company like Singita.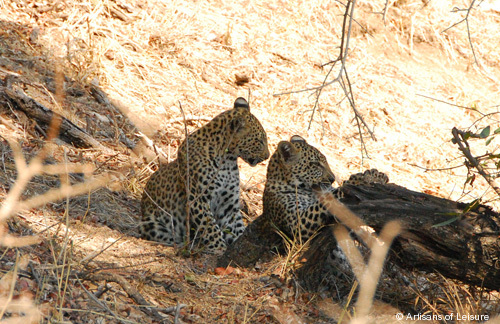 Q: How does the wildlife in this area compare to other areas of South Africa?
A: The wildlife in this area is second to none. I don't say this just because I work here but talk from experience compared to other parks. This natural ecosystem is one of the largest heartlands of wildlife areas in Africa and thus allows for very little interference from humans. This creates the most magical wilderness areas. Anybody who has visited this area will agree that we have an incredible area in terms of the quality and diversity of wildlife that can be seen in a short amount of time.
Q: What do you enjoy most about living in the bush?
A: The best part of living in the bush is to experience a sense of freedom and have the ability to get to know one self quite intimately. The bush gives me a feeling of pleasure and excitement. I always look forward to the next thing that might come around the corner. The bush has lots of surprises and secrets that are revealed in their own time and space.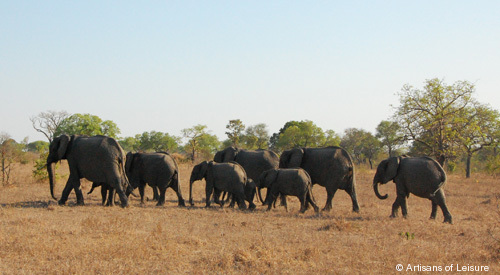 Q: Most rangers work for many weeks at the lodge followed by a few weeks off for holiday. What do you do during your holidays?
A: I love the outdoors and spend as much time away from the cities as I can. I go horse riding in the countryside near my home. I also go camping in various national parks in South Africa and other African countries to gain new experience and improve my knowledge.
I sometimes go home to visit my family back in Barberton, Mpumalanga where I grew up. Barberton is a small country town in a valley with beautiful mountains. I am close to my family and enjoy my time with them.
I also love to travel abroad. I have travelled to New Zealand a couple of times, Australia, France and the UK. Within Africa I have been to Uganda, Zambia, Botswana, Zimbabwe and Swaziland.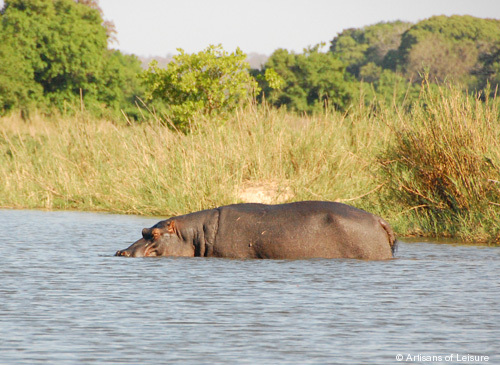 Q: How often do you see the "Big Five" in the Sabi Sand?
A: The Sabi Sands is known to show a high diversity of animals to guests that stay over a short period. In the Sabi Sands, we see members of the Big 5 on every drive. If you were visiting other parks where one travels on roads through spotting and no tracking, it may take you a lot longer.
Q: What is the difference between a ranger and a tracker?
A: A ranger has knowledge of the bush through in depth studies and training. The ranger also has to have basic knowledge of tracking and ability to use these skills to try and find the animals.
A tracker has extensive knowledge based on experiences (often starting at a young age) with tracking, the bush and animals. This knowledge is passed on from generation to generation, traditional among men because they were hunters. In today's life, these trackers use their skills that were passed on over the generations to find wildlife like the Big 5 for Singita's guests. Their knowledge of how animals think and their ability to anticipate where animals will go and what they will do enables them to find the animals faster and successfully.
Trackers also know a lot about the traditional medicinal uses of the vegetation. Again, this knowledge was passed down to them over the generations.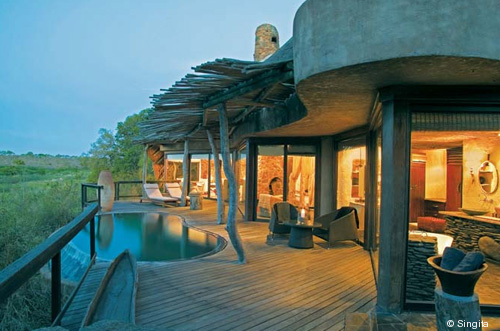 Q: Besides game drives, what other activities do guests most enjoy?
A: Bush walks are the most popular due to the fact that you are on foot within dangerous animals' habitat and there is a thrill of adventure to encounter these animals. Mountain biking is not far behind walking but one often stays to the tracks. The same level of excitement is there. Archery and fishing is not everybody's cup of tea but those who are keen to experience something new find it is fun. Some guests purely love to visit the Singita shop for retail therapy or visit the spa where they can relax and unwind.
Q: If you could be any animal, which would you be?
A: I would love to be an eagle. The freedom of flight and to watch the world go by and all its happenings. There are not many aerial predators who will be hunting you.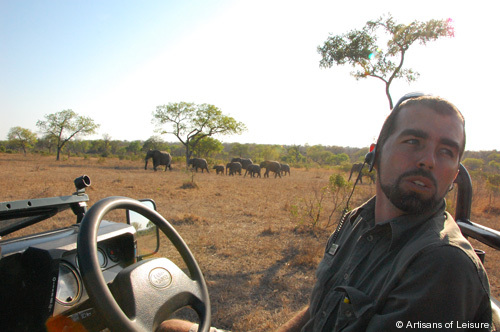 Q: What was it like growing up in South Africa?
A: I am one of the last young generations born in an apartheid era. I grew up seeing segregation and the country change through violence and peace negotiations into where we are now: a New Democratic South Africa.
There were periods of uncertainty for many White South Africans regarding what the future held for them. Due to Nelson Mandela and his foresight due to reconciliation and build a nation together, I knew we had a great future to look forward to.
South Africa is a wonderful place for a young person to grow up. It is so diverse with all the different tribes and languages which make it very unique. I grew up in a liberal home which helped me not to be confused with the government's racial regime and knew from an early age what was right or wrong and my parents allowed me to make my own decisions.
We have great climatic conditions which allow us to enjoy the outdoors as well the abundant wildlife areas we have. This made me fall in love with what I do as a career now.
South Africa is my home and I love it.
Q: What are your hobbies?
A: I love horse riding, hiking on trails, mountain Biking and fishing. I also enjoy to bird watching and reading.
Q: What are you reading these days?
A: A Biography on John Smit, South Africa's national rugby Team captain called Captain in the Cauldron.
Q: What is your favorite food? Any memorable meals by a Singita chef?
A: My favorite food is Braai or barbecue. I love food cooked over a fire. I must say that the Singita chefs do know how to put on a good spread. I love the six course meals they create. The chefs have an incredible ability to give you such different tastes through dishes that complement one another and the various wines on offer.
Q: Which animal is most difficult to spot?
A: Leopard can be difficult to find due to their markings that camouflage so well. They may be in long grass or thick bush within meters from you and you will struggle to see them.
Rare and endangered animals like Black Rhino or Wild dog can be hard to find due to low numbers or low density and chances of coming across them are not easy.
Q: What is your favorite time of the day in Sabi Sands and why?
A: My favorite time of the day is sunrise. I count my blessings that I wake up in this amazing environment every day. It is so beautiful to witness nature at work.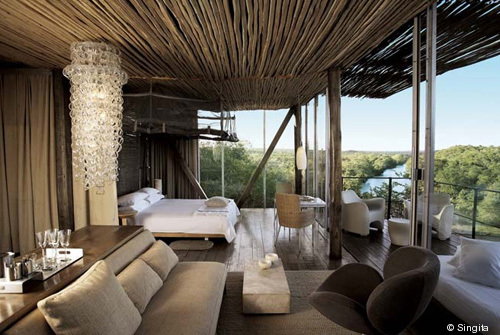 Q: The Singita properties are considered some of the best in the world. Why do you think that is the case?
A: Magnificent lodges, style and décor. The locations that Singita has chosen are unique and abundant in wildlife. The safari experience is very hard to beat. Incredible food and wine. And Singita employs the right people. To work at Singita you have to be the best of the bunch and fit into the Singita family.
Artisans of Leisure's private tours of South Africa include stays at Singita luxury safari lodges.